Mid-Atlantic Blue Ocean Economy 2030
The Mid-Atlantic Blue Ocean Economy 2030 forum assembled leading scientists, policymakers, conservationists, business and community leaders, and communicators to identify opportunities to promote, protect and prosper from the region's largest and most important natural asset — the ocean.
The forum focused on future trends influencing important ocean industries — transportation, energy, fisheries, natural resources and ecosystem services, and travel & tourism, and the impacts of changes in the ocean environment such as ecosystem shift, ocean noise, sea level rise and ocean acidification. Attendees identified trends, shared and common goals, impediments to supporting the blue economy, as well as actions to better align economic growth opportunities and the health of the ocean. Day two examined how the frame of the blue economy and the shared goals that were identified could be used to capture the attention of the public and communicate the importance of the ocean.
The forum was hosted by the Monmouth University Urban Coast Institute with its partner, the Rockefeller University Program for the Human Environment. See below for resources and materials from the forum.
Event Information & Materials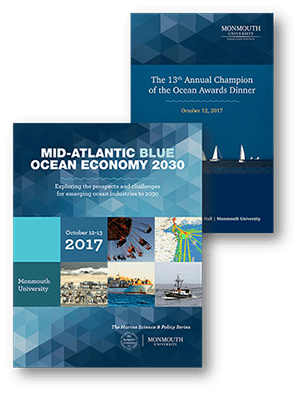 Discussion Papers
Presenter Slides
(In alphabetical order)
Blue Economy Background Resources
Mid-Atlantic Blue Ocean Economy 2030 Videos
Welcome Remarks & Meeting Charge
Speakers: Monmouth University President Grey Dimenna and Urban Coast Institute Director Tony MacDonald
What Is the Blue Economy?
Speakers: Mark Spalding, the Ocean Foundation; Charles Colgan, Middlebury Institute of International Studies at Monterey
Blue Economy Vision for the Mid Atlantic
Speakers: Vice Admiral Paul G. Gaffney II, Monmouth University President Emeritus; Jerry Schubel, Aquarium of the Pacific; Paul Doremus, NOAA; and Rear Admiral Linda Fagan, U.S. Coast Guard
Assessment & Trends Influencing the Blue Ocean Economy
Speakers: Tom Wakeman, Stevens Institute of Technology; Jim Bennett, Bureau of Ocean Energy Management; Dennis King, University of Maryland; Charles Colgan, Middlebury Institute of International Studies at Monterey; and Geoff Lacher, Tourism Economics
Understanding Impacts of Changes in the Ocean Environment
Speakers: Scott Glenn, Rutgers University/MARACOOS; Jon Hare, NOAA Northeast Fisheries Science Center; Howard Rosenbaum, Wildlife Conservation Society; Brandon Southall, Southall Environmental Associates; and Philip Orton, Stevens Institute of Technology
Report Out from Breakout Groups
Speakers: Liz Semple, NJDEP; Donald Boesch, Joint Ocean Commission Initiative; Meghan Massaua, Meridian Institute; and Jay Odell, The Nature Conservancy
Mapping and Visualization to Improve Understanding and Build Public Support for the Blue Ocean Economy
Speakers: Jay Odell, The Nature Conservancy; Malin Pinsky, Rutgers University; and Patrick Halpin, Duke University
Blue Ocean Economy Communications Panel
Speakers: Kristen Grimm, Spitfire Strategies; Mark Spalding, Ocean Foundation; Kris Hoellen, National Aquarium; Stephanie McClellan, University of Delaware
Closeout Panel: What I Heard & Next Steps
Speakers: Lillian Borrone and Donald Boesch, Joint Ocean Commission Initiative; and Tony MacDonald, Monmouth University Urban Coast Institute