Ensuring a Safe Community
Your personal safety and the security of our campus community is a top priority. We take a comprehensive approach to safety and ask that all members of the Monmouth community familiarize themselves with our Guide for a Safe Campus.

The guide contains our safety procedures and resources and is available to ensure everyone has access to the support they need to feel safe.
Monmouth University Police Department
The safety and security of the campus community is the primary responsibility of the University Police Department. Our department has state-certified police officers in addition to safety officers, dispatchers, and various other personnel, all dedicated to providing quality service to all members of the university community.

Police are on duty 24 hours a day – year round.

For Emergencies Call 911
Phone (732) 571-4444
On Campus Ext. 4444
Email mupd@monmouth.edu

Keeping You Safe
While Monmouth's campus and surrounding communities have historically low crime rates, we believe in being prepared for emergencies of all kinds.

Here are some of the ways we are keeping our students and community safe:
20 state-certified police officers, many having more than 25 years of experience in law enforcement.
12 safety officers and seven traffic attendants to provide vehicle assistance, help with medical emergencies, and ensure safe living environments in our first-year residence halls.
More than 90 emergency phones in locations across our 159-acre campus.
Education programs concerning alcohol consumption, sexual assault, violence prevention, and more.
A safe escort service for when you need someone to walk you home on campus late at night.
Regular collaboration with West Long Branch, Long Branch, and Ocean Township police, fire, and ambulance departments.
The use of Regroup, a communications system that connects students to the University instantly should there be an emergency. Sign Up for Regroup.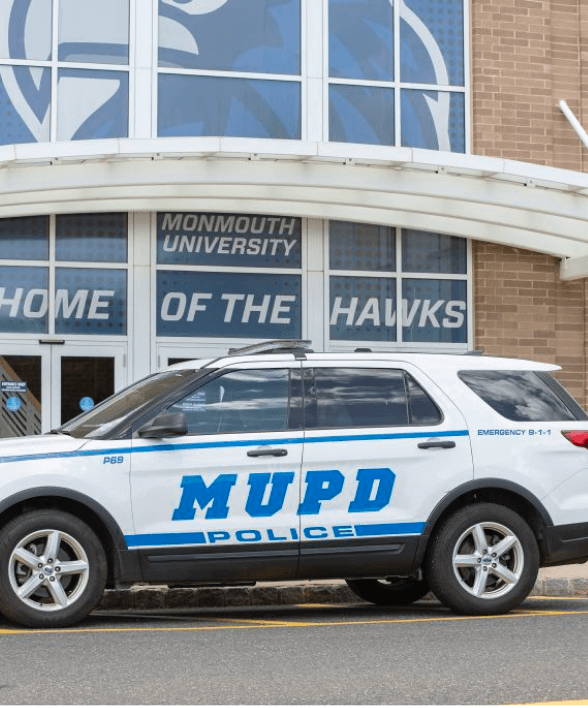 Police
(732) 571-4444
On Campus Ext. 4444
382 Cedar Avenue
mupd@monmouth.edu