The Department of Health Services provides ambulatory healthcare for all Monmouth University students and eligible employees. Services range from interventional, therapeutic care for acute episodic illnesses to preventative health screening and education.
It is the goal of Health Services to remove or alter health-related barriers to learning so that the educational experience at Monmouth University is optimized. It is our mission to promote health, happiness, and well-being.
Hours and Contact Information
Monday to Friday: 8:45 a.m. – 5 p.m.
Services are by walk-in and appointment, call: 732-571-3464 for an appointment – There is no cost to be medically seen by a healthcare provider.
The Health Center is located on University Road on the north campus, adjacent to Birch Hall and the Monmouth University Library. Our mailing address is:
Monmouth University
Health Services
400 Cedar Avenue
West Long Branch, NJ 07764
Phone:732-571-3464
Fax:732-263-5353
E-mail:health@monmouth.edu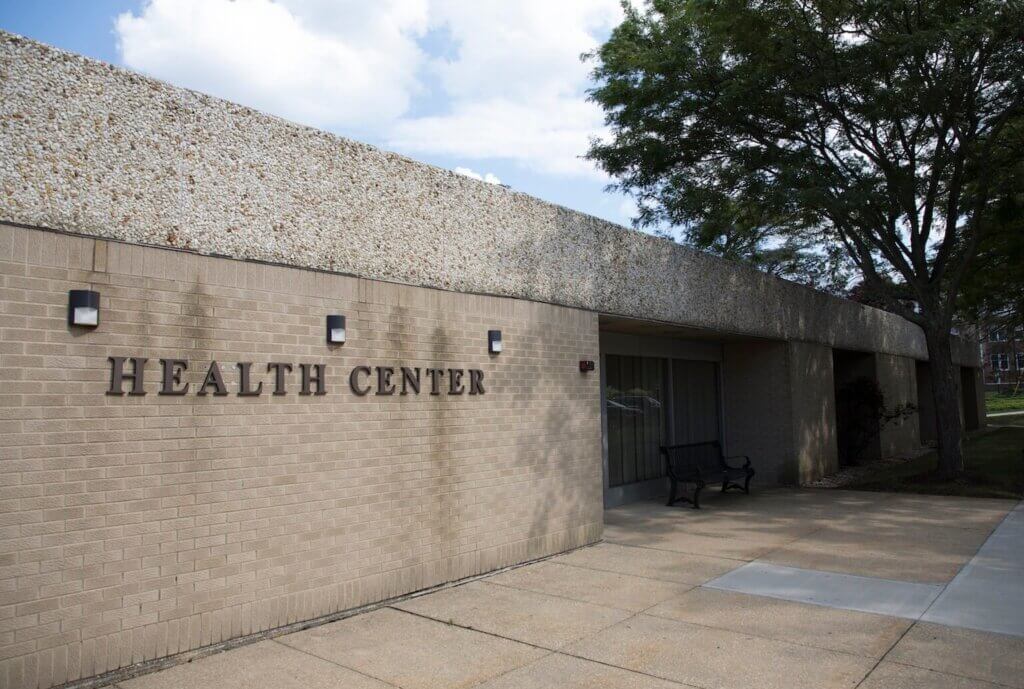 COVID-19 Testing
Persons with COVID symptoms can be tested at the Health Center.
Rapid antigen testing: Results in 10 minutes
Rapid molecular assay test (NAAT): Results in 15 minutes
Release of Medical Information
Medical information will only be released upon written consent from the student. Authorization to Release Medical Information
Emergencies and Campus Injuries
In the event of an emergency, please contact the Monmouth University Police Department (MUPD) by calling 732-571-4444. The MUPD will dispatch an ambulance for transportation to the Monmouth Medical Center Emergency Department.
Campus injuries are to be reported to the Health Center within 24 hours of the incident. The Health Services staff is available to provide medical treatment and/or triage and to assist with the filing of necessary insurance information.
After Hours Urgent Care
Monmouth University Health Services provides medical services to students, Monday to Friday 8:45am to 5:00pm. Students are seen on a walk-in basis and there is no charge to be seen.
Students seeking urgent care services beyond these clinic hours may choose to avail themselves of the following telehealth services for convenient care at an affordable price or visit several nearby, private urgent care centers, which offer later and weekend hours.
Here are a few of the nearby facilities:
These facilities require students to use their individual health insurance plans. Students should first consult with their health insurance company to determine if the chosen facility is covered under their plan as an urgent care service.
For students who require emergency care, please contact MUPD at 732-571-4444