When are you going to study abroad?
Enter the Monmouth Global Programs website here & Apply Now!
Click HERE for more information and to APPLY for SPRING, SUMMER, and FALL 2022 programs!!!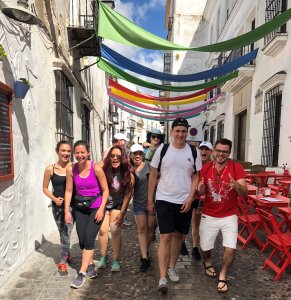 ***Exciting GLOBAL VIRTUAL INTERNSHIP Opportunities***
Learn more, and apply today for a Global Virtual Internship HERE.
Featured Article:   Interning (Virtually) Abroad talks about current Monmouth University student, Mona Ray Cobb, her Global Virtual Internship, and the prestigious scholarship she received that enabled her to have this experience.
Learn more about studying abroad…!
STUDY ABROAD OFFICE HOURS
Monday – Friday
8:45AM – 5:00PM
Attend a Study Abroad 101 Info. Session to hear more about study abroad opportunities.  Held Wednesdays at 2:45PM in Pozycki Hall Room 204 during Fall 2021 and Spring 2022 (starting Sept. 15th).
Join us Friday, September 24, 2021 during Monmouth University's Family Weekend:
Study Abroad Fair
Pozycki Lawn  2PM – 5PM
Rain location:  The Great Hall, Versailles Room
Study Abroad 101 for Parents
Bey Hall, Young Auditorium  6PM – 7PM
"I would tell prospective students that the study abroad program changes you in very positive ways. Trivial problems become of less concern, and you learn to prioritize life. You gain more respect for others and yourself. You also learn to rely less on material objects and more on life experiences. Most importantly, I have learned to stop worrying, live in the moment, and carry on."
—Michelle Myers
Former 'Australia' student