When are you going to study abroad?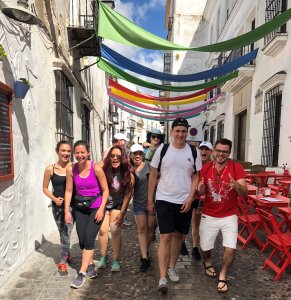 ***Exciting GLOBAL VIRTUAL INTERNSHIP Opportunities***
Learn more, and apply today for a Global Virtual Internship
Featured Article:   Interning (Virtually) Abroad talks about current Monmouth University student, Mona Ray Cobb, her Global Virtual Internship, and the prestigious scholarship she received that enabled her to have this experience.
Covid-19 Information
In response to global travel restrictions and effective immediately, Monmouth University will require all participants in sponsored international travel programs to be fully vaccinated against the Covid-19 virus.
There are no exceptions to this mandate. Please view the following links for more information on Monmouth University Covid-19 requirements/updates/guidelines:
Learn more about studying abroad…!
Study Abroad Office Hours
Monday – Friday
8:45 a.m. – 5:00 p.m.
Attend a Study Abroad 101 Info. Session to hear more about study abroad opportunities.  Held Wednesdays at 2:45 p.m. during the Fall and Spring semesters – stay tuned for upcoming dates & location.
Join us at our next Study Abroad Fair happening in September 2022…stay tuned for details!  Learn more about our study abroad programs and opportunities directly from our faculty, international partners, and the Global Education team.
"I would tell prospective students that the study abroad program changes you in very positive ways. Trivial problems become of less concern, and you learn to prioritize life. You gain more respect for others and yourself. You also learn to rely less on material objects and more on life experiences. Most importantly, I have learned to stop worrying, live in the moment, and carry on."
—Michelle Myers
Former 'Australia' student