When are you going to study abroad?
Enter the Monmouth Global Programs website here & Apply Now!
***SPRING & SUMMER 2021 Study Abroad programs, Global Seminars, and Global Experience programs remain suspended***
Click HERE for more information and to APPLY for FALL 2021, SPRING 2022, and SUMMER 2022 programs!!!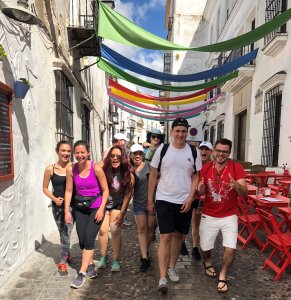 ***Experience Cádiz, Spain in Summer 2021…On-Line!  Click below for details on this course.
Experience Cádiz, Spain – Summer B FS317/417
***Exciting Opportunity During Winter Break 2022…Click below for more information on this Global Seminar.
Learn more about study abroad…!
STUDY ABROAD OFFICE HOURS
IN-PERSON:
Monday  9:30 am – 12:00 pm     
Tuesday/Thursday  9am – 5pm   
Wednesday/Friday  9am – 3pm
  VIRTUAL:
Monday – Friday  9am – 12pm
Click here for Virtual Drop-In Office Hours
"I would tell prospective students that the study abroad program changes you in very positive ways. Trivial problems become of less concern, and you learn to prioritize life. You gain more respect for others and yourself. You also learn to rely less on material objects and more on life experiences. Most importantly, I have learned to stop worrying, live in the moment, and carry on."
—Michelle Myers
Former 'Australia' student