Music and Theatre Arts Faculty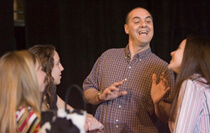 The Department of Music and Theatre Arts has extraordinary faculty members with years of experience in the performing arts.
In an dynamic and interactive department, instructors get to know their students closely and share with them their individual stories of success, in symphony orchestras, touring rock bands, on Broadway, at major record companies, and in the recording studio with award-winning artists. Instructors have worked in a range of fields, including opera, rock & pop music, acting, playwriting, directing, and music business & entertainment media.
Chair
Full-time Faculty
Part-time Faculty
Staff