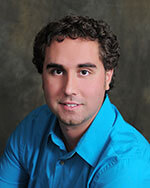 Jonathan McElroy earned his Ph.D. in Music Education at New York University. He earned both his Master of Music in Composition/Arranging, and Bachelor of Music in Jazz Performance on trombone and upright/electric bass from William Paterson University. Jonathan is an active performer who subs on Broadway and off-Broadway, leads a sextet, and composes/arranges for a variety of music groups and artists. Such artists include Alfa Garcia, Adam Pascal, Robert Bannon, South Jersey Area Wind Ensemble, and more.
Publications include a chapter in The Routledge Companion to Creativities in Music Education entitled, "Students as the Educator: A student-centric model for curriculum development" (forthcoming); "The Power of Rap in Music Education: A Study of Undergraduate Students' Original Rap Creations" (forthcoming); and "Composing Your Meaning" (2020) Visions of Research in Music Education.
Jonathan is a professor in the Music and Theatre Arts Department at Monmouth University where he oversees the Music Education program. Jonathan's website is www.jonathan-mcelroy.com.
Education
Ph.D., New York University
M.M., B.M, William Patterson University
Courses
Recently Taught Classes
2023 Fall
2023 Spring
2022 Fall
2022 Spring
2021 Fall
2021 Spring
2020 Fall
2020 Summer D
2020 Spring
Frequently Taught Classes