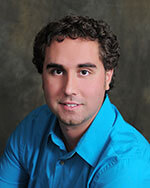 Jonathan McElroy
Jonathan McElroy earned both his Bachelors of Music in Jazz Performance on trombone and upright/electric bass; and Masters of Music in Composition/Arranging, from William Paterson University.
He leads his own sextet, subs in Broadway and Off-Broadway productions, and actively performs nationwide at such venues as the Stone Pony in New Jersey; Arlene's Grocery, Somethin' Jazz Café, CBGB, The Continental, and The Bowery Poetry Club & Café in New York City; Pontiac Grille and Chris's Jazz Café in Philadelphia; as well as in Washington DC, Chicago, Los Angeles, San Francisco, and places in between with his own group, or as a sideman.
Jonathan has also appeared on MTV's "Made" series and TRL series with his band The Sly Caps as a performer and coach. While composing for his own group, Jonathan has also composed for the South Jersey Area Wind Ensemble, Flannery Brothers, singer/songwriter Alfa Garcia, as well as done orchestrations for an original, commissioned musical for the University of Delaware.
In between his travels, Jonathan teaches private lessons as well as music courses at Monmouth University in New Jersey.
You can visit Jonathan's website at www.jonathan-mcelroy.com.
Courses
Frequently Taught Classes
Recently Taught Classes
2022 Spring
2021 Fall
2021 Spring
2020 Fall
2020 Summer D
2020 Spring
2019 Fall
2019 Spring