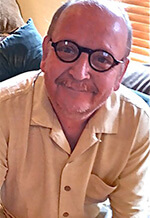 George Wurzbach is a multi-award winning composer and performer. Performing Songwriter Magazine described him as, "A welcome mix of wit, wisdom, and wonder." The unique appeal of his songs is reflected in the number of artist songwriters who have recorded them including, Tom Paxton, The Kingston Trio, David Wilcox, John MacNally, Hot Soup, Seamus Kennedy, Kevin Briody, and many others. His recent work with Paxton was featured on the Grammy nominated album, Comedians and Angels.
After his selection as a Kerrville New Folk Award winner in 1995 George formed the music comedy trio Modern Man with David Buskin and Rob Carlson, earning a BackStage Magazine Bistro Award and several MAC Award nominations while frightening many innocent people.
As a composer, George has scored the musicals; Roasting Alice, a comedy depicting a celebrity roast of Alice by Mad Hatter and crew; and Twelfth Night, Shakespeare with songs; both staged in Woods Theater at Monmouth University. He is currently composing Andy and Leo, a musical adaptation of Bernard Shaw's comedy Androcles and the Lion, commissioned by The Shadow Lawn Theater for summer 2015.
And as a musician, George works in NY as a sideman and session player, and occasionally as pianist on stage with Melanie.
When not performing, George serves as a full-time Professor at Monmouth University where he teaches music theory, composition, and music technology.
Education
M.A., Hunter College
Courses
Recently Taught Classes
2023 Fall
2023 Spring
2022 Fall
2022 Spring
2021 Fall
2021 Spring
2020 Fall
2020 Spring
Frequently Taught Classes