The Monmouth University Pep Band
The Monmouth University Pep Band is under the direction of Jeffrey Cook, Lecturer in Music, and is a recognized performance ensemble within the Department of Music and Theatre Arts. The Pep Band is one of the busiest and most recognized ensembles on campus, performing upwards of 50 times a year.
Affectionately labeled "The Big Sound of the Jersey Shore" by former MU President Paul G. Gaffney II, the ensemble is comprised of both Music majors and non-majors across campus. We are open to anyone interested in sharing their musical pursuits to help support Monmouth University and become an integral part of the campus community.
The Monmouth University Pep Band supports the University's Division I Athletics Department, which competes as a full member of the Colonial Athletic Association (CAA).
We are proud to be endorsees of Vic Firth, Jupiter/Mapex, and Zildjian Cymbals.
Pep Band Application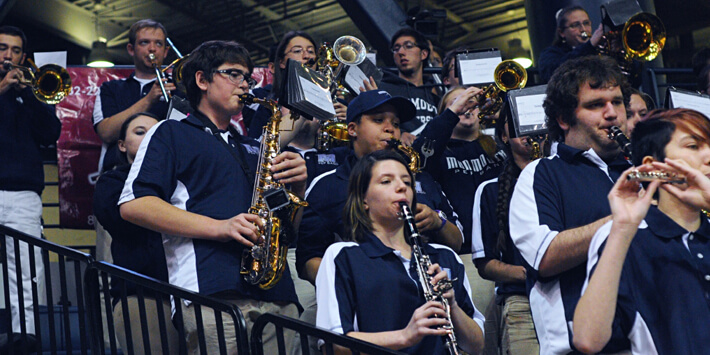 Our Information
Mr. Jeffrey Cook
Director, Monmouth University Pep Band
Lecturer, Dept. of Music and Theatre Arts
Monmouth University
400 Cedar Avenue
West Long Branch, NJ 07764
Pep Band Office Phone: 732-923-4747
If you have any questions, or would like more information, feel free to contact us at jcook@monmouth.edu
Monmouth University Pep Band Media