Faculty-Directed Study Abroad Programs
---
Guided Tour of Russia and Estonia with Professor Thomas Pearson
Moscow-Yasnaya Polyana (Leo Tolstoy estate)-St. Petersburg-Tallinn
August 13-25, 2018

Please contact Tomas Pearson (732-571-3534) or Cindy Bell in the History and Anthropology department (732-571-344)) to confirm your interest in the trip or with any questions.
August 13:  Flight from New York (JFK) to Moscow, Russia
August 14: Arrival in Moscow, Russia and superior room accommodations with breakfast at the Pekin Hotel* (5 nights of August 14-18).  Pekin Hotel is in downtown Moscow approximately one mile from Red Square and the Kremlin.  It is accessible to major historical sites, theaters, restaurants and shopping areas in Moscow; the Tchaikovsky Concert Hall and several major theaters are located across the street from the hotel.
August 16:  Full day trip to Yasnaya Polyana (Tula Region)
Round trip transfers
Visit to the primary estate and main house of the great Russian writer, Leo Tolstoy—This is where he wrote War and Peace and Anna Karenina, among his other literary classics
Visit to auxiliary buildings on the estate which contain exhibits depicting the work of the peasants who ran the estate
Food facilities available (including Prishpekt Café)
August 15, 17, 18, 19:
Moscow
Arrival/Departure transfers and accommodations at Pekin Hotel
Sightseeing: Moscow city tour, Kremlin and Red Square, Armory Museum, Taganka Cold War Bunker Museum, Tretyakov Art Gallery, Novodevichy (New Maiden) Convent and cemetery (resting place of many famous people including Khrushchev and Yeltsin)
Free day to explore Moscow on own (excellent metro system!) including the Old Arbat or do an option (for additional fee), e.g., Pushkin Museum of Fine Arts (world class holdings of European Impressionists), or day trip to Sergiev Posad—site of the
Trinity-Saint Sergius Monastery (main Russian Orthodox Monastery that is the spiritual center of Russia today)
Afternoon train (3:30 pm) on August 19 to St. Petersburg
August 19-24:
St. Petersburg, Russia
Arrival/Departure transfers and accommodations at the Ambassador Hotel (downtown SPB within walking distance of Nevskii Prospekt and major sites including the Winter Palace and Hermitage, Arts Square and the Mariinsky Theatre)
Sightseeing: SPB city tour including the Peter and Paul Fortress and Yusupov Palace (site of Rasputin's murder in 1916 and an art museum); visit to the Hermitage Museum on August 21; Tour of Peterhoff/Petrodvorets—the Summer Palce of the Tsars with extraordinary gardens and gold fountains; Tour of Pushkin (Tsarskoe Selo) and magnificent Catherinean Palace
Substantial free time on afternoons of August 21-23 for extended visits to the Hermitage, river canal boat tours, and shopping
August 24: Morning train to Tallinn, Estonia
Accommodations at Metropol Hotel (downtown Tallinn)
Walking tour of old town Tallinn (beautiful medieval Estonian town with exquisite German architecture)
Evening free for sightseeing and relaxation in the old town
August 25: Ferry from Tallinn to Helsinki, Finland and transfer to afternoon flight home to JFK/New York
*Hotel where my previous groups have stayed (see Pekin Hotel above)
As noted, you will have significant free time in Moscow and St. Petersburg—not available on cruise tours, etc.—to do personal sightseeing, shopping or to do an option at a modest additional cost.  As we get closer to departure we will provide information about some optional evening attractions (Moscow by night, theater, ballet/opera, etc.)
Meals (lunch, dinner)—we have found that having each traveler pay for lunch and dinner works well, as appetites vary, food choices and prices are very diverse, and for this tour food costs should be quite affordable; I've found that the full breakfasts
in the hotels holds most travelers for much of the day We will also have an exceptional national guide, Ms. Marina Fokina, working with us during our entire stay in Russia.  She is a major reason why I have taken MU groups to Russia in 2007, 2009, 2011, 2013, and 2016—and she loves our MU groups!  She is the best in her business!
Land Package Price for Tour
| | | |
| --- | --- | --- |
| | Double Occupancy (2 people/room) | Single Occupancy |
| Group of 10-14 people | $2,405 (Russia) | $3,045 |
| | 265 (Estonia) | 320 |
| Group of 15-20 people | $2,100 (Russia) | $2,740 (Russia) |
| | 210 (Estonia) | 265 (Estonia) |
Land Package Total:
$2,670 for double occupancy for a group of 10-14; $2,310 for double occupancy for a group of 15-20.  For single occupancy the commensurate land package costs for single occupancy are $3,365 (10-14) or $3,005 (15-20).
Because of the still favorable exchange rates in Russia at present and my past business relationship with Russian Consulting and Intourist, the land package rates for this tour are lower than the rates for 2013.
Please note that these projected costs do not include the international flights and Russian visa fees.  Flights booked before March 1, 2018 are expected to cost approximately $1,195 per person (economy fare).  Our carrier will be Finnair.  After March 1 air fares to Europe are expected to rise in keeping with summer bookings.  We will discuss land package and flight details at an upcoming orientation meeting—tentatively planned for December 5, 2017 to take advantage of the excellent air fare prices.
Russian Visa Fees
You have two options here:  a single-entry (one trip) visa that will cost $163; this is recommended for most travelers; or $353 for a three-year, multi-entry visa.
There is a 10-day period for processing single-entry visas.
US citizens do not need a visa to enter Estonia
I expect this tour will be fun, educational, and memorable for our group. It will provide you an opportunity to learn about the rich history and culture of Russia and Estonia, as well as the Soviet period of their history—fitting during this 100th anniversary of the 1917 Revolution.  You will also learn about the relationship between Russia and Estonia.  I anticipate some additional surprises during the trip and chances to meet Russians and Estonians.
Please note that these tour dates are chosen in part to make this educational opportunity available to students and faculty at Monmouth University and to area school teachers and interested MU alumni.  The tour is also open to friends and family of the MU community so please spread the word to your friends.  For those MU students who may be interested I am happy to do an Independent Study course with you in Summer 2018 with this trip as the centerpiece. I have done this for students in the past.  A separate charge will be added for the cost of the Independent Study course.  Please let me know if you are interested.
Please note that I will need a $200 by March 1, 2018 if you are planning to do the trip.  I hope to hear from you!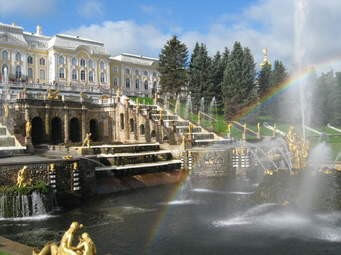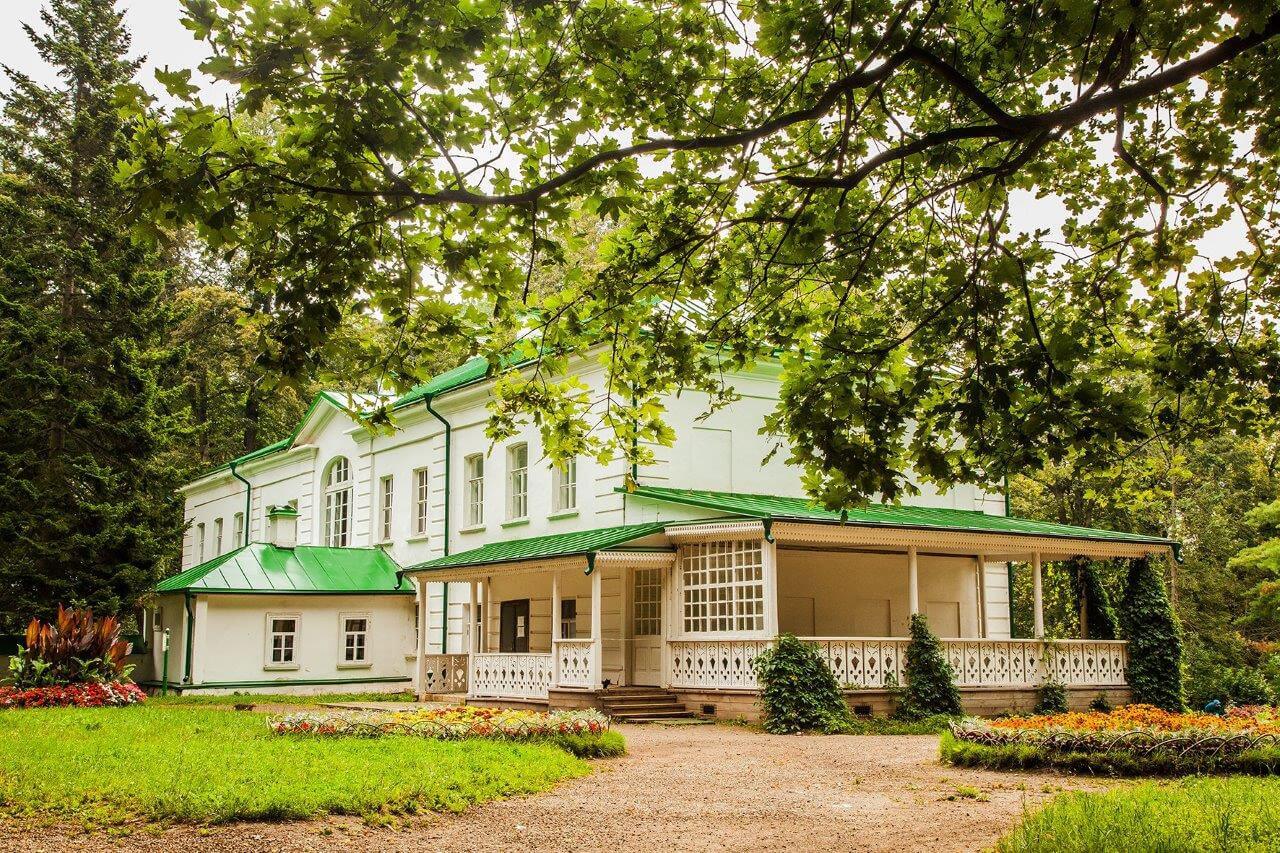 ---
Social Justice in Eastern Europe
AN/PS/SO/SW 371 International Service Seminar | 3 credits | Spring 2018
This semester will focus on Social Justice. Social justice can be defined as the way in which human rights are manifested in the everyday lives of people at every level of society. Students in this class will learn to unite theory and practice by studying theories and policies based on social justice using the context of Eastern Europe in the 20th century and today, enriched by in-country visits to important sites of social injustice. Additionally, students will enhance their understanding of social justice by reflecting on the social, political, and economic factors and policies that affect themselves and others.
Students with faculty at the John Lennon wall in Prague, Czech Republic (March, 2016)
Destination: Budapest, Hungary; Krakow, Poland; Auschwitz-Birkenau, Poland; and Prague, Czech Republic
Travel dates: 3/9/2018-3/18/2018 (Spring Break) (tentative dates)
Travel Arrangements: All travel and accommodations are done through EF Tours.
Academic Credit: 3 credits enrolled in one of the cross-listed sections of AN/PS/SO/SW 371 International Service Seminar
Cost: See the EF tour website for up-to-date price and full itinerary.
Cost includes:
Round-trip airfare – Price includes round-trip airfare for the whole group
Accommodations – 8 overnight stays in hotels with private bathrooms (10 with extension)
On-tour transportation
Regional-style meals – Light breakfast daily; 3 local dinners or 4 with extension
Expert Local Guides – Your expert local guides are natural historians, adding cultural insight and enhancing teaching moments wherever your curriculum takes you.
Worldwide support, safety and security – EF has over 500 schools and offices in more than 50 countries worldwide. We provide 24-hour emergency support service
along with a comprehensive $15 million liability policy that covers you and your institution while abroad.
Flexible Payment Options – Gives more students the opportunity to study abroad by offering two different payment plan options, along with our TripFunder website to help fundraise for the program.
QUESTIONS:
Enroll online. Ask program questions to Dr. Heidi Bludau at hbludau@monmouth.edu.
For questions about payment, insurance and flights,
contact the EF Traveler support line at 877-485-4184
---
International Archaeology Class
People and Cultures of the Caribbean: Study Trip to Jamaica
Professor: Richard Veit
Location: Jamaica
Project Description: People and Cultures of the Caribbean (Jamaica) offers the opportunity to explore Caribbean history and archaeology firsthand. Students travel to Falmouth, Jamaica, one of the Caribbean's best preserved Georgian towns and participate in archaeological excavations and documentation at the Orange Valley Slave hospital. Other significant historic sites visited include Stewart Castle, Port Royal, and sugar and coffee plantations. Students will gain
an enriched understanding of the history and archaeology of the Caribbean.
For more information contact Dr. Richard Veit or 732-263-5699
Cost: Tuition + $1,500 Fee for Room, Board, and In-Country Transportation
Dates: Summer Session A, May 13 – 20, 2017 (3 credits)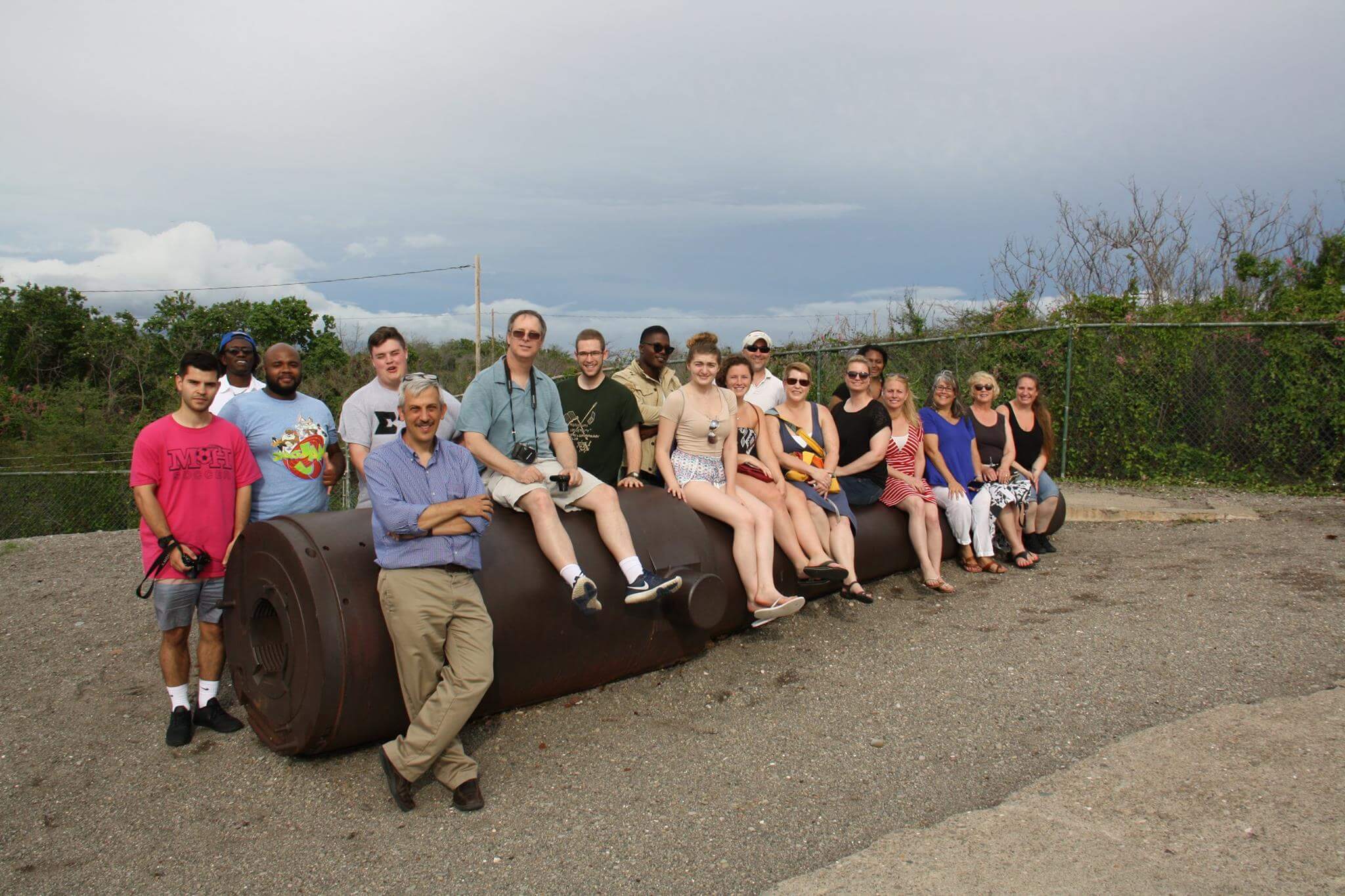 Students and faculty at Fort Charles, Port Royal, Jamaica (May 2017)