Department of History and Anthropology
Anti-Racism Statement
The Department of History & Anthropology at Monmouth University joins the nation in grief and grievance over the extrajudicial killing of George Floyd, on May 25th, 2020, by members of the police force who were sworn to protect him.  As students and scholars of history and anthropology, we are painfully aware that Floyd's death was not a bizarre aberration, but only a conspicuous example in a long history of tacitly-sanctioned violence against Black Americans and members of other marginalized groups.  Believing all communities of conscience must actively resist racism and its concomitant assaults on our civil rights, we, the faculty of the department,
•       affirm that BLACK LIVES MATTER, and
•       will offer courses that study the patterns of human behavior and historical forces in which racism thrives,
•       will establish classroom environments that welcome and foster diversity and respect the dignity of all,
•       will use the Monmouth Biennial Conference on Race to hear and help disseminate scholarship on issues of race and racism,
•       will pursue diversity in faculty hiring,
•       will continue our own un-ending self-education about how to eradicate racism in the academy and beyond, and
•       will seek the collaboration of Monmouth students, in groups and individually, to these ends.
---
The disciplines of History and Anthropology focus on the study of the human experience, past and present. The Department of History and Anthropology at Monmouth University is built on the characteristics that the disciplines share and is supported by those that make each unique. We offer undergraduate and graduate degrees in History and Anthropology, as well as joint degrees in History and Education and Anthropology and Education. The department is also home to minors in History, Anthropology, Archaeology, Geography, Geographic Information Systems, Public History, Race and Ethnic Studies, and Religious Studies. We are committed to providing our students with an engaging, rigorous educational experience that prepares them for diverse careers and for life after college.
So, what can the Department of History and Anthropology do for you?
Our studies use the stories of people past and present to gain a deeper sense of the world in which we live. Our students learn to look outside of themselves to appreciate different viewpoints and learn about themselves along the way. History and Anthropology courses are not just narratives but discussions that help raise your consciousness about important global, historical, and even personal issues related to your place in the world and human history. You will learn to recognize the forces at work by seeing patterns and themes develop in the larger orders of time and geography. You will engage in relative thinking and a global perspective. History and Anthropology provide valuable insights and lessons related to human behavior that can help you not only to understand why people – past and present – think and act the way they do but also to define your own values more clearly.
Secondarily, a degree in History or Anthropology will provide you with more than the actual subject knowledge but also skills that can be applied to any work environment. You will learn versatile research skills such as how to:
approach and solve problems,
think critically using different methods,
apply different perspectives to problems,
collect data in different ways,
read critically and deeply,
analyze information from multiple sources, and
articulate your findings and analysis in both written and oral forms.
When you ask, what can I do with a degree in History or Anthropology?
We answer: Anything you want!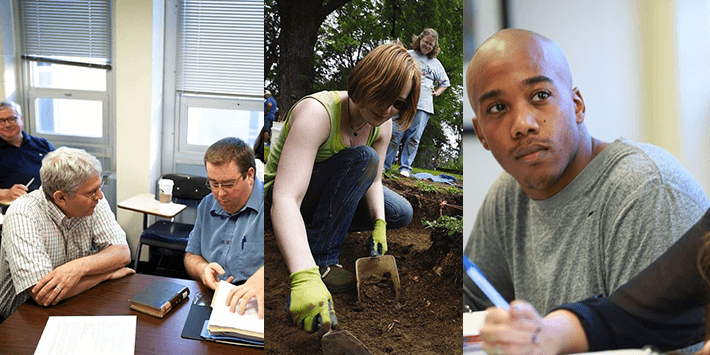 Now which approach is right for you? (Click on a discipline to explore it more.)
Or select a specific degree or minor to explore:
BA in Anthropology | MA in Anthropology
Minors: History | Anthropology | Archaeology | Geography | Geographic Information Systems (GIS) | Public History | Race and Ethnic Studies | Religious Studies
---
---
Black and African Diaspora
Forum United (BADFU)
Presents the weekly podcast: This Week in Black History, Society, and Culture
---
Howard Hall
Room 340
Office Hours:
Monday through Friday
8:45 a.m. to 5 p.m.
For assistance, please contact our Office Coordinator: Debora Graas
---
Like us on
Facebook