The Works in Progress Seminar is a forum for presenting work under way in an area of scholarship or teaching for a seminar-style discussion among faculty of the Department of History and Anthropology and the broader campus community, originally conceived and developed by Dr. Hettie V. Williams. The mission of this seminar is to foster awareness about the research interests among faculty, improve communication about areas of teaching and scholarship, facilitate discussions across disciplines, and encourage collaborative research opportunities. Presentations take place once per month in Fall and Spring semesters from 1:15-2:15 pm, usually on the fourth Wednesday of the month.
If you would like to present in the series, please email organizer Dr. Eileen Walsh.
---
Fall 2023 Calendar
Presenter: Dr. Erik Raj
Title: Designing a narrative-driven video game to build resilience in children who stutter
Wednesday, September 27, 1:15 pm to 2:15 pm in Howard Hall 342
Synopsis:
In this modern age, a substantial number of children happily play video games and consider themselves to be "gamers." Speech-language pathologists who provide therapy to children who stutter can benefit from using narrative-driven video games in therapy because those video games often put players in active positions where they are able to read through meaningful dialogue that ultimately helps the video game's character to move forward toward new levels. Even if the video game character fails in its attempt to move forward, players frequently try again. The positive experiences of not giving up and eventually moving forward within a video game are often able to be used as therapeutic talking points to help encourage children who stutter to not give up and to move forward, as verbal communicators, despite presenting with occasional disruptions in their forward flow of speech.
Therefore, the purpose of this "Works in Progress" presentation is to discuss the rationale for designing a narrative-driven video game, Jump Rogi, to build resilience in children who stutter. Through presenting examples of the story, and exploring the reasoning for specific narrative design choices, audience members will leave the presentation with concrete ideas that connect to developing characters and creating intentional character narrative. Additionally, audience members will learn about the broader experience of stuttering from the perspectives of those who are diagnosed with this unique communication disorder.
---
Presenter: Dr. Rachael B. Goldman
Title: Hiding a Colorful and Patterned Past: Ancient Sculpture and Polychromacity
Wednesday, October 25, 1:15 pm to 2:15 pm in Howard Hall 342
Synopsis:
In 2018, there was a concerted effort by the New Yorker magazine to document and set the record straight concerning reconstructions of polychromed sculpture. This new effort showed the work of the decades-long experience of archaeologists and ancient historians by reconstructing emperors and imperials images of Ancient Greece and Rome. Putting all notions aside about the "whitewashing" of history and bringing the colors to the surface on ancient sculpture and monuments had not reached the mainstream population and was debated vigorously. Recent archaeological studies on ancient sculpture and monuments comment on the complex decoration and exceedingly bright color compositions on the marble showed that the color was intended and not accidental but also correspond with the written record to support their evidence. Text and image play closely together and the literature support when the colors were produced and what was available; certain colors were not available or used as originally thought. The names of the specific colors also show the attitudes of ancient writers. In particular, clothing and appearance of Greek and Roman sculpture command the most amount of attention. It is readily apparent that the ancients preferred bright and complimentary colors, but little attention has been devoted to the exact nature of these patterns and where they drew their inspiration. Through this discussion, I will consider the different color patterns on clothing from decorated sculpture. Among the sculptures that will be considered include temple pediments and decoration, grave markers, imperial busts and inscriptions. To this aim, ancient polychromed sculptures can shed new light on the impact that it had on the larger Ancient Mediterranean and their production methods.
---
Presenter: Dr. Michael Phillips-Anderson, Department of Communication
Title: "The Next America": Race and Rhetoric in the Planned City of Columbia, Maryland
Wednesday, November 29, 1:15 pm to 2:15 pm in Howard Hall 342
Synopsis:
Columbia, Maryland, situated 20 miles southwest of Baltimore, opened to residents in 1967. The plan for the new town was launched in the early 1960s in the midst of the civil rights movement and the growth of suburbs. As part of the New Town Movement, the plan bucked the existing trend of building whites-only suburban bedroom communities, such as Levittown, New York. The planners of Columbia sought to reach an audience that many were not sure existed, people who explicitly wanted to live in racially and economically integrated communities. Developer James Rouse, the leader of the Columbia project, called it "a garden for growing people." Maryland was not an obvious choice to try such an experiment. The establishment of this new town involved an expressed ideology of racial integration in a place that was a slave state through the Civil War and actively enforced the white supremacist policies of the 1960s. That this all took place before the passing of the Fair Housing Act or the legalization of interracial marriage in Maryland demonstrated the challenge that the planners faced.
Plans for the new town were fiercely opposed by people across the political spectrum. Some objected to the plan based on the ideology of the developers while others, claiming to support the value of diversity argued that cities should only grow organically. The planners countered that the way to create engagement among people was to reject the redlining of the Federal Housing Administration that ran rampant in newly built towns and to use intentional design to physically bring people together.
Examining the rhetorical efforts made in designing and promoting the town and assessing its successes and failures can help us understand the rhetoric of place and resistance to diversity in housing that is prevalent today. In both established and newly built communities, rhetorical moves are often made to limit racial and economic integration through the framing of maintaining architectural character, broad opposition to development, and fear of declining house values. Using materials from the Columbia town archives, including speeches and advertising, this project will tell the story of Columbia's founding and its successes and failures in creating "The Next America".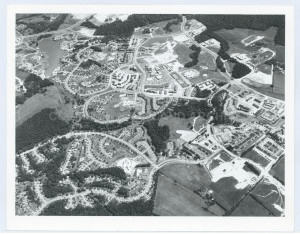 ---
Spring 2024 Calendar
Presenter: Dr. Eileen Walsh
Title: TBA
Wednesday, January 24, 1:15 pm to 2:15 pm in Howard Hall 316
Synopsis: TBA
---
Presenter: TBA
Title:
Wednesday, February 28, 1:15 pm to 2:15 pm in Howard Hall 316
Synopsis:
---
Presenter: Dr. Katherine Parkin
Title: "No Husband, No Abortion": Married Women's Abortion Rights
Wednesday, March 27, 1:15 pm to 2:15 pm in Howard Hall 316
Synopsis: The legalization of abortion in the early 1970s and along with it the right to privacy seemed absolute and definitive. However, the rights of husbands, as understood by the public and the courts, ultimately continued to challenge married women's abortion rights. Before Roe v. Wade, with incremental and untested legalization, many hospitals across the country required spousal consent of husbands for abortions. The hospital administrations' decision to introduce this requirement served two key self-serving elements. First, it quietly achieved a reduction in the number of abortions a reluctant hospital had to perform, as women who did not want to engage with their spouse would not go to that hospital. Second, the signed consent forms offered legal protections against the weight of a husband's civil liability claim, if he wanted to bring suit against the hospital.