Research and Teaching Pedagogy Seminar Series
This seminar provides a forum for both full time and part time faculty in the Department of History and Anthropology to present their research in progress and teaching pedagogy to the campus community. The mission of this seminar is to foster awareness about the research interests among faculty within the department, improve communication about areas of teaching and scholarship, facilitate collegiality across disciplines, and encourage collaborative research opportunities. Presentations will take place once per-month from 1:15-2:15 pm on Wednesdays in HH 342 unless otherwise noted.
If you would like to present in the series, please email Prof. Hettie Williams.
Moderator: Prof. Hettie Williams
---
Fall 2018 – Spring 2019 Calendar
Presenter: Dr. Lisa Vetere, Department of English
Title: "Gothic Affect and Vegetal Presence in Leonora Sansay's Secret History; Or the Horrors of St. Domingo (1808)
Wednesday, September 26,  1:15 to 2:15 p.m., Howard Hall 316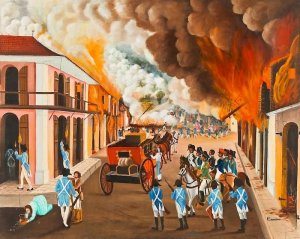 The Department of History and Anthropology occasionally invites presenters from other departments in the Wayne D. McMurray School of Humanities and Social Sciences to participate in our work in progress series. Particularly, scholars from disciplines that overlap or are allied with the various disciplines taught in our department. Dr. Vetere is a guest presenter for this year. She will discuss her latest work in progress in this presentation.
Presenters: Specialist Professor Melissa Ziobro and Eileen Chapman
Title: "Springsteen's 'glory days' now climate-controlled" — and open to YOU!

Wednesday, October 24, 1:15 to 2:15 p.m., Howard Hall 316

Abstract: In 2011, the Bruce Springsteen Special Collection, a fan-curated Archive comprised of nearly 35,000 items from 47 countries, ranging from books and concert memorabilia to articles and promotional materials, moved to Monmouth University. The Collection served the research and informational needs of music fans, scholars, authors, and others with a serious interest in the life and career of one of NJ's most famous sons, "The Boss." On January 10, 2017, a new partnership to grow the Collection into The Bruce Springsteen Archives and Center for American Music was announced.  With Springsteen's involvement, the Center now serves as the official archival repository for his written works, photographs, periodicals, and artifacts. The Center will preserve and promote the legacy of Bruce Springsteen and his role in American music, while honoring and celebrating other icons of American music like Woody Guthrie, Robert Johnson, Hank Williams, Frank Sinatra, and others. The Center will actively seek to stimulate academic discourse and discussion; and will provide entertainment, knowledge, and insight into the works of Bruce Springsteen and other legendary figures of American music. As a February 2018 Inside Jersey article headline cleverly put it, Springsteen's 'glory days' are now climate-controlled, and Monmouth University students are uniquely positioned to benefit from, and even participate in, the preservation of the pop culture/music history of the Garden State and beyond. In this talk, Eileen Chapman, Director of the Bruce Springsteen Archives and Center for American Music, will explore the Center's mission, vision, and collections with the audience. Melissa Ziobro, Specialist Professor of Public History, will discuss how the Center has become a learning laboratory for her students. Together, Eileen and Melissa will discuss ways that YOU might parlay the Center into experiential opportunities for YOUR students in a variety of courses across disciplines. You don't have to be a fan of "The Boss" to appreciate these possibilities!
Presenter: Dr. Hillary DelPrete
Topic:  TBA
Wednesday, November 14,  1:15 to 2:15 p.m., Howard Hall 316
Presenter: Dr. Hettie Williams
Topic:  Laboratory of Democracy: African American Students at Columbia University Before 1954

Wednesday, January 23,  1:15 to 2:15 p.m., Howard Hall 316

Abstract: In the early twentieth century, Columbia University became a place where African Americans could secure degrees across many fields of knowledge including anthropology, medicine, psychology, chemistry, legal studies, education, history, and architecture before 1954. Columbia University produced the largest number of black graduate degree recipients during this era. M. Moran Weston II, founder of Carter Federal Savings Bank, that eventually became the largest black financial institution in the nation, attended Columbia College in 1930, and Zora Neale Hurston secured a graduate degree in anthropology from Barnard in 1935 where she worked with Franz Boas. Charles Drew, who most historians credit with developing the idea of the blood bank, acquired his degree from the College of Physicians and Surgeons at Columbia in 1940 the same year Kenneth Clark received his doctoral degree in psychology from the Graduate School of Arts and Sciences. Several African American specifically interested in the issue of race and education secured their degrees at Columbia University during the 1940s including Robert L. Carter, Marion Thompson Wright, Mamie Phipps Clark, and Constance Baker Motley. This particular cohort of black intellectuals trained at Columbia in the 1940s came to form the research and legal team that made up the legal defense for the plaintiff in the case of Brown v. Board of Education, Topeka Kansas. This paper explores the early Brown generation of scholars educated at Columbia University before 1954 with a particular emphasis on black women such as Wright.
Presenters: Drs. Richard Veit and Heidi Bludau

Topic:  We're going to need a bigger boat to cross the Delaware: Studying the Culture of Revolutionary War Reenactors

Wednesday, February 27, 1:15 to 2:15 p.m., Howard Hall 316

Abstract: On any given weekend, up and down the East Coast of the United States, hundreds of grown men and women don uniforms or petticoats, tramp to historic sites, and reenact the battles of the American Revolution.  Guns are fired, cannons thunder, and soldiers are struck down. Then, like spirits of the past, the soldiers and civilians disappear back to their day jobs as accountants, teachers, homemakers, and physicians.  The battlefields grow silent once more.  This presentation examines the culture of American Revolutionary War reenactors using the ethnographer's lens and is part of a larger study titled, "Our Unfinished Revolution."   Our research is framed by a series of questions. Why do people reenact the Revolution?  What messages are they hoping to convey to onlookers?  Who participates in reenactments? Where do they find their equipment?  How does being a reenactor shape one's understanding of the past and help individuals create meaningful identities today?  Come hear about our ongoing study of Revolutionary War reenactors.
Presenter: Dr. Nancy Mezey
Topic: "Work in Progress: Illuminating the Affects of Climate Change on Families"

Wednesday, March 27,  1:15 to 2:15 p.m., Howard Hall 316
Presenter:
Dr. Louis Rolsky
Topic:"In Defense of the Public: Religion, American Liberalism, and the Production of the Christian Right"
Tuesday, April 30, Reading Day, 1:15 to 2:15 p.m., Howard Hall 316
Abstract:This talk first explores the recent history of American religious liberalism as illustrated through the career of television producer and writer Norman Lear. It argues that Lear's actions and writings can be understood as representative of a "spiritual politics" as deployed and articulated by "the Religious Left" since the 1960s. At the same time, I contend that Lear contributed to a much longer tradition of "framing" religious conservatism as perpetually maturing and in need of liberal guidance in American public life. In this sense, Lear's significance in the history of American religion is a complicated one, one that requires descriptive and theoretical attention to both "the Religious Left," and perhaps more importantly, "the Christian Right." The talk concludes by pursuing the question of how conservatives themselves understood such commentary, and how they, too, used various American constituencies to produce "the Christian Right" on behalf of a re-branded Republican party.