Research and Teaching Pedagogy Seminar Series
This seminar provides a forum for both full time and part time faculty in the Department of History and Anthropology to present their research in progress and teaching pedagogy to the campus community. The mission of this seminar is to foster awareness about the research interests among faculty within the department, improve communication about areas of teaching and scholarship, facilitate collegiality across disciplines, and encourage collaborative research opportunities. Presentations will take place once per-month from 1:15-2:15 pm on Wednesdays in HH 342.
If you would like to present in the series, please email Prof. Hettie Williams.
Moderator: Prof. Hettie Williams
---
Fall 2017 – Spring 2018 Calendar
Presenter: Dr. Maryanne Rhett

Title: "Harem Peeping and Bloody Scimitars"  
Date: Wednesday, 9/27/17
Time: 1:15-2:15
Venue: Howard Hall 342  
Abstract: Long before the Golden Age of comics, in what I'm dubbing the "Platinum Age" Islam, Muslims, and the Islamic world were an important fixture in U.S. popular culture, particularly comics and related artifacts (between 1880 and 1922). These artifacts — cartoons, comics, editorial cartoons, serialized advertisements, and other similar materials – allow us to explore how the Islamic world and its people were understood by the American government and people, and how this knowledge production created the framework around which domestic and international relationships were formed. Pulling from American newspapers, journals, and magazines, representing a wide swath of American popular culture and discourse, the reflections and illustrations these artifacts offer are united in their depiction of "Oriental" portrayals, uses, and treatments in an era that is largely assumed to have been one of American un-interest in the region, peoples, or religion. My research during the 2016-17 year helps me to resituate the U.S. not outside of the Islamic world, but within it and by using the everyday medium of comics to interpret how the U.S. populous conceived of its place 
vis á vis
 the Islamic world.     
Presenter: Dr. Geoff Fouad
Title: "A study of different survey methods for the development of an experiential education course to map the bottom of coastal lakes in Monmouth County, New Jersey" 
Date: Wednesday, 10/25/17
Time: 1:15-2:15
Venue: Howard Hall 342  
Abstract: Coastal lakes are a distinctive feature of Monmouth County, New Jersey, with potentially large implications for flooding surrounding communities. Many of these lakes are drained by engineered outfalls, and understanding the storage capacity of the lakes is critical for flood control projects. To complicate matters, the storage capacity of lakes can change due to infilling. Therefore, it is crucial to have an accurate estimate of a lake's storage capacity on a regular basis. Estimates of storage capacity are derived from bathymetric surveys of lake bottom, but bathymetric surveys using hydrographic equipment are costly. An alternative would be to develop a course in which students learn field mapping techniques and collect tape-down measurements of lake depth to estimate storage capacity. First, a study is needed to evaluate if sparsely distributed tape-down measurements can be used to accurately estimate lake storage capacity. In the summer of 2017, the Urban Coast Institute surveyed a series of coastal lakes using a sonar aboard an autonomous boat. These hydrographic surveys served as reference storage capacities of lakes for comparison against simulated tape-down surveys using random points in 50-m grid cells. Storage capacities derived from the two survey methods were compared, and lakes with flatter bottoms may be more suitable for tape-down surveys. Results for the development of an experiential education course will be discussed.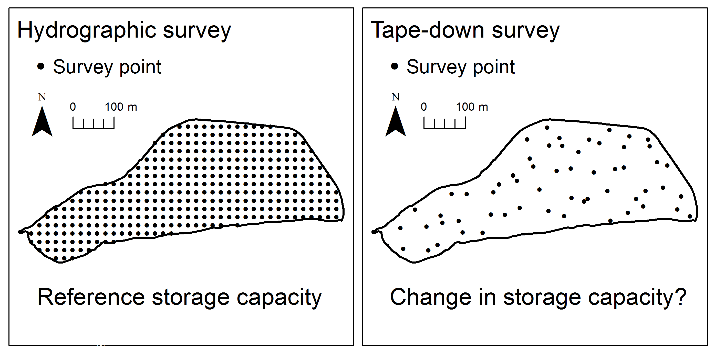 Schematic of different survey methods and research question of study (left).

Autonomous boat equipped with a sonar for the hydrographic surveys (right).
Presenter: Dr. Fred McKitrick
 Date: Wednesday, January 24, 2018
Time: 1:15-2:15
Venue: Howard Hall 342 
Dr. McKitrick will discuss his latest research.
Presenter: Dr. Richard Veit
Title: "Cannons by the Courthouse: Memory, Commemoration and the Material Culture of Conflict in Modern Suburbia"
 
Date: Wednesday, 2/28/18
Time: 1:15-2:15
Venue: Howard Hall 342 
Abstract:Scattered throughout the suburban Northeast are relics of past conflicts: cannons, tanks, artillery shells, and even helicopter gunships.  To the casual observer, it might appear that the numerous municipalities that make up the seamless suburbia of northern New Jersey are ready to use lethal force to defend their municipal boundaries against all manner of threats.  However, these relics of past conflicts look backwards, not forwards.  They are reminders of past wars, places of public commemoration highlighting shared sacrifice and loss, emphasizing community values.  Often located near courthouses, in parks, or by VFW and American Legion posts, they also serve a didactic function and keep memories of past conflicts alive.  Although inspired by ancient traditions, they date primarily from the period after the Civil War.  This paper examines select examples from Middlesex, Somerset, and Union Counties in New Jersey in order to better understand the history and functions of these commemorative monuments. 

Presenter: Dr. Fred McKitrick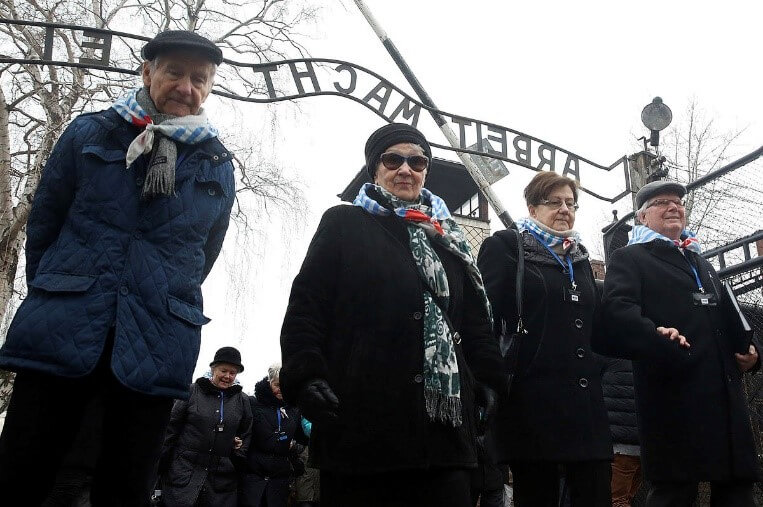 Title: "German Memory after World War II:  Amnesia or Confrontation?"
  Date: Wednesday, 3/28/18
Time: 1:15-2:15
Venue: Howard Hall 342 
Abstract: In the first decades after the end of war, Germans in acts of commemoration had to deal with their own suffering (bombed out cities, hunger, refugees) as well as the unprecedented suffering they had inflicted on others.  While today no national culture has confronted the crimes in its past with the directness that the Germans have, this path has been neither direct nor inevitable.
Presenter: Dr. Chris De Rosa
Title: "The U.S. Army and the Transformation of the Southern Electorate"
 

Date: Tuesday, 4/10/18
Time: 1:15-2:15
Venue: Howard Hall 342 

 Abstract: From the end of the Civil War until President Hayes ordered the troops
guarding the last reconstructed state governments back to their barracks in
1877, the U.S. Army was on duty in the former rebel states, carrying out duties
vital to the reconstruction of the nation.  The extent to which
Reconstruction succeeded in transforming the electorate of the south owed much
to federal power, armed and manifest.  Without army protection, violent
anti-reconstructionists threatened to sweep away any meeting, court, polling
place, or person who dared to defend the rights of the freed people.  Only
the presence of troops could force anti-reconstructionists, even if
temporarily, to the margins of political activity, and allow for a
revolutionary realization of American democracy.  Conversely, the nation's
unwillingness to sustain and extend the military presence in the south made
that realization tragically brief.