Welcome faculty! The following services are provided by The Office of the Registrar: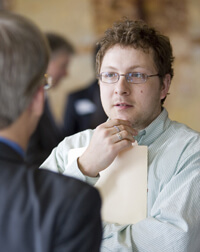 WebAdvisor for Faculty
Monmouth University provides faculty with online student information through WebAdvisor for Faculty; access is available through the University portal using your Monmouth University login and password.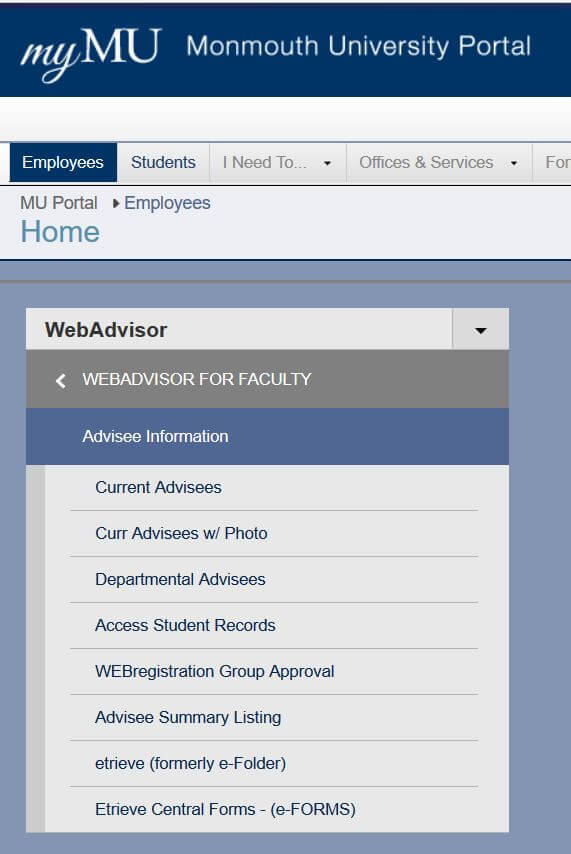 Advisee Information on WebFaculty includes:
Current Advisees (your assigned advisees)
Departmental Advisees (all majors in your department)
Etrieve (formerly e-FOLDER access to the student's file)
Etrieve Central Forms (e-FORMS, to approve advisee requests)
Class Rosters
Online class rosters are available to faculty through WebAdvisor for Faculty. The online rosters reflect current enrollment and are updated immediately when a student adds, drops or withdraws from the class. The online class roster displays the student's name, ID. NO. and class year.
The WebAdvisor for Faculty roster also permits you to expand the student information to include contact information (address and phone), program information and advisor. The roster is available in two versions: with and without the student photo.
Lastly, WebAdvisor for Faculty roster enables you to download the data into an excel spreadsheet.
Please note: No paper or e-mail rosters are provided. The only roster available is from WebAdvisor for Faculty.
Class Roster Verification
Once add/drop concludes, faculty are required to review the final online roster and to report on the accuracy.
Class roster verification is not available until add/drop concludes and the verification needs to be completed by the due date.
Once faculty report a discrepancy between their roster and attendance, the Registrar's Office attempts to contact the student to correct the problem. The Registrar's Office is not permitted to change a student's registration based upon attendance feedback.
Department chairs, school deans, and the Provost will be informed of classes that were not verified.
Important
Once add/drop concludes, do not permit students to attend class if they are not listed on the class roster.
Any student attempting to attend a class for which he/she is not registered should be immediately sent to the Registrar's Office.
WebAdvisor Grading
Faculty use their WebAdvisor for Faculty account to provide online grades:
Midterm and Final grades for Undergraduates
Final grades for all students
Undergraduate Midterm Grades
See the Academic Calendar for the due date.
Midterm grades are immediately viewable by students
The Registrar's Office sends midterm grade information via the student's e-mail accounts to undergraduate students. Paper copies are not mailed unless a student has specified that a FERPA grade report be provided to a specific person(s), these grade reports are mailed to the address on file.
Final Grades
The Registrar's Office sends grading information via the student's e-mail account, paper copies are not mailed unless a student has specified that a FERPA grade report be provided to a specific person(s); these grade reports are mailed tot he address on file.
New faculty who have not used WebAdvisor for Faculty to submit grades should access the system as early as possible in order to resolve potential problems in advance.
"I"ncomplete grades require a default grade and an expiration date.
If a student on your final grade roster NEVER attended, see the instruction sheet provided by the Registrar's Office for instructions.
When entering dates, use MM/DD/YY format and include slash marks.
Grade changes AFTER final grades are complete require a "Change of Grade" Etrieve form (e-FORM).
Please check the grading confirmation sent via e-mail to your Monmouth University e-mail to verify receipt and accuracy.
WebAdvisor Grading: Frequently Asked Questions
The Registrar staff monitors the e-mail account regol@monmouth.edu. Send questions during non-business hours.
The following "grades" are administratively assigned and not available for faculty use:
"W" – Withdraw
"T" – Transfer credit
"AU" – Audit
"NR" – Not Reported
"X" – Credit by Exam
"Q" – Waived
Changes of Grade
In those cases where a faculty member determines that a change of grade is warranted, the request must be submitted and approved by the department chair and school dean.
All changes must include specific reasons that support the proposed change.
Students are not permitted to complete or submit additional work after a term/semester concludes in an effort to improve a grade, unless the original grade was an incomplete.
Changes beyond one year require the additional approval of the Academic Standards and Review Committee (ASRC)
Changes to grades after a student has graduated will not be considered.
Faculty requesting a change of a final grade (within one calendar year) are required to complete a "Change of Grade" Etrieve form (e-FORM). Faculty can access Etrieve Central Forms (e-FORMS) from the University portal. Please login to the portal and select the "Registrar's Office" from the "Offices and Services" dropdown. The requests for a change of grade will be routed to the department chair and school dean for their approval.
Classroom Scheduling: Information/Procedures About Classrooms/Computer Labs
Classroom/Computer Lab Room Assignments
Classrooms and computer labs are assigned by the Office of the Registrar. Approximately two weeks before the beginning of the semester or summer session, room assignments are finalized, but are subject to change
You may check your classroom assignments using WebAdvisor for Faculty. Classrooms are furnished with the number of chairs or desks that the rooms should have, based on capacity. If you have more students than available seats, please do not take chairs or desks from other classrooms or change your classroom on your own. Inform your department chair of the issue, and if necessary, your chair should request a change by e-mail to sambrozy@monmouth.edu for a room change or an alternate solution. Room changes are not automatic (space is limited at peak times) and can only be accomplished if space permits. Additional use of classrooms and labs is available only after all academic classes have been scheduled. If you need to reserve a lab room or classroom, in addition to your assigned classroom, please login to the University portal (myMU), choose "Systems" and then select "EMS". The Event Management System (EMS) will allow you to submit an additional classroom/lab space request form; instructions for using EMS are available on the site. Since most or all classrooms and lab room are heavily used, reservations can only be made if space is available.
If you have problems with or questions about the technical equipment in the classroom (i.e., LCD projectors, computers, overheads) call the HelpDesk at extension 3539. AV equipment can be ordered through the HelpDesk at extension 3539 or send an e-mail to helpdesk@monmouth.edu.
If you require certain materials in the classroom (i.e., lecterns, extra blackboards) or need to report a facility problem (i.e., heat, light fixture) you should call Facilities Management at extension 3425 or submit an online Facilities Management Service Order. Service orders can be submitted on the portal, select "I Need to…".
Department Meeting, Academic Event or Program Scheduling
Event Management Systems (EMS) allows staff and faculty members to check room availability and schedule meeting space.
Login to the University portal.
Choose "Systems" and then select EMS, Event Management System.
Submit a Faculty/Staff Meeting Space Request Form.
Additional instructions are provided in EMS for your reference.
Pending requests can be viewed using the "My Events" tab which is located in EMS after login.
Scheduling of a room is completed in the order that requests are received. If the space you are reserving is available, your request will be processed and the reservation will be confirmed on the EMS software within three (3) business days. If a conflict exists, you will be contacted by the Office of Conference Services and Special Events.
Submitting a Room Request does not ensure that the space is available. Please be aware that departments may be asked to shift into another meeting space to better accommodate the University's overall needs for meeting space.
Planning an Event on Campus
When planning an event on campus please utilize the information/requirements provided within the Event Management System (EMS). Guidance regarding parking, room layout, food service and multimedia are all included in the system. If additional assistance is required please contact Conference and Program Services at extension 2199.
Early Registration and Approval Switch
Students may self-register online for classes, add, and/or drop courses utilizing WebAdvisor for Students in the portal. In order to self-register they must be granted approval by their academic advisors. The mechanism advisors use to grant this approval is the advisor "switch" in WebAdvisor for Faculty.
Undergraduate students, upon acceptance, have their ability to self-register switch defaulted to "No," whereas the graduate students' ability to self-register switch is set to a default of "Yes."
Students who are in a "conditional" admittance status or who are on academic probation will not be permitted to utilize self-registration until their status has changed to non-conditional or they are no longer on academic probation. Therefore, these students are required to register in their academic department with their advisor's assistance.
Faculty advisors can activate their advisees' ability to self-register individually or as a group.
Monmouth University offers a year-long registration (Summer—Fall—Spring) and typically opens early registration in March/April. Undergraduate students are assigned "first-opportunity" to register based upon their completed credits; graduate students are randomly assigned first-access dates and times.
Questions regarding WebAdvisor Registration, early registration, and the advisor "switch" should be directed to Lynn Reynolds in the Registrar's Office.