The following Registrar resources are available to currently enrolled students at Monmouth University.
Registration and Academic Audit
Policies and Procedures
Registration
Monmouth University offers annual registration each March/April for the summer, fall and spring terms.
Continuing students are randomly assigned a "first access" date and time for their first opportunity to register.
Registration continues until the conclusion of the term's Add/Drop Week. See the Academic Calendar for dates.
NOTE: Should we experience any technical difficulties during registration, it will be closed down. In-person registration will continue as scheduled.
Academic Audit
Matriculating students at Monmouth University are provided with access to an Academic Audit that charts the progress the student is making toward completion of his/her program of study.
The Academic Audit is an unofficial document and not a substitute for a transcript, certification, or any other official University document.
The Academic Audit includes:
An assessment of all degree requirements for the program of study, including total credits earned, major and overall G.P.A.'s
A display of transfer credits along with a listing of courses taken.
Course exclusions such as those based on incomplete or failing grades.
Approved and processed exceptions
Add/Drop Classes
Monmouth students are provided with student portal, myMU, that allows students in good academic standing to make and change their registrations.
Additionally, Etrieve Central Forms (e-FORMS) are available for your use:
Registration: Add Open Course Form
Registration: Withdraw from a class
Important Definitions
Add Class

Increase course load for a term. Student may incur additional tuition charges.

Drop Class

Remove class from registered load prior to the end of the term's Add/Drop period. Eligible (if qualified) for tuition refund.

Withdraw from a class

Remove class from registered load after the conclusion of Add/Drop but before the "W" deadline. The refund will depend upon when the "withdraw" is processed.

Tuition Refunds for Drops and Withdraws

Determined by date the withdraw is received in the Registrar's Office
Leave of Absence
Continuing matriculated students may take a leave of absence (LOA) if they intend to be away from the University for a full semester. A leave of absence enables students to resume studies under the curriculum of record.
A leave of absence e-FORM must be completed online each semester and submitted electronically to the Registrar's Office by the deadline date. There are no extensions or exceptions.
WEBregistration
Students can self-register online beginning at the time and date they are authorized, providing that they have consulted with their academic advisor and received permission to self-register using web registration from the student portal. For specific dates and times for registration, review the information previously distributed by the Registrar's Office.
Enrollment Verification
Monmouth University reports enrollment status for all currently enrolled students to the National Student Clearinghouse (NSC), an organization that provides lenders with up-to-date status on student enrollment. The NSC now provides current Monmouth University students with Enrollment Verifications. This allows Monmouth students to print verification certificates, view their enrollment history, and all verifications of enrollment provided at the student's request through myMu. Students will also be able to check loan deferments sent to their lenders, and link to real-time information regarding their student loans.
To request an Enrollment Verification please login to the Monmouth University student portal myMu. Choose the I Need To… tab for students and then select National Student Clearinghouse Login Verification. Use the links below to assist you with obtaining an Enrollment Verification from the NSC. If you require additional assistance please contact the Registrar's Office at 732-571-3477, by e-mail at registrar@monmouth.edu, or you may visit our office in the Great Hall, room 208.
FERPA
What is FERPA?
FERPA stands for The Family Educational Rights and Privacy Act. This is a federal law which restricts unauthorized access to a student's academic, financial, and disciplinary information without prior consent from the student. The student may grant access to individuals that they chose by completing a FERPA waiver form using e-FORMS which are accessible from the student's account on the myMu portal. Students may also grant proxy, view-only access to their grade reports. See the information below for additional details.
When do I complete a FERPA form?
Students normally submit a FERPA Waiver in August, just before the start of the fall semester. Once a FERPA waiver is in place, it will not expire until such time as the student provides written notice to do so.
To waive your FERPA privacy rights and designate another person access to your restricted records, complete a FERPA waiver.
To grant proxy, view-only access to your grade reports use the Parent Proxy login page.
To withhold your directory information, complete a FERPA – Do Not Disclose.
Personal Information
How do I notify the Registrar's Office that my address has changed?
Currently enrolled students must login to Etrieve Central forms (e-FORMS), accessible from the student portal, myMu. Please submit a Change of Address form. International students must change their address with the International Student Services Office.
How do I notify the Registrar's Office that my name has changed?
Currently enrolled students use Etrieve Central Forms (e-FORMS), accessible from the student portal, myMu. Name changes are only processed for currently enrolled students. A student must submit appropriate legal documentation to support the requested name change. Original documentation must be provided to The Office of the Registrar (Great Hall, Room 208) within five (5) working days of submitting this form, or this form will be returned to the student, unprocessed. All supporting original documentation will be returned, intact, to the student, once the name change has been processed. Valid original documentation includes:
Birth certificate (with raised seal)
State issued marriage certificate
Divorce decree (with statement noted authorizing the name change)
Court order
U.S. citizenship papers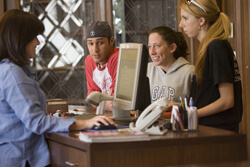 Can I see what the University has in my student folder?
Yes, you can, provided you have been a student within the last five years. A 48-hour notice is requested. Call 732-571-3477 to arrange an appointment. If you were a student longer than five years ago, your academic transcript, which is your permanent record, is the only information available.
My records have been subpoenaed, but I don't want anyone to have them. How can I prevent the University from turning over my records to the court?
The University must comply with any and all subpoena for records or it may be found to be in contempt of court. A subpoena for records can be "quashed," but the quash is in motion of the court. Consult with your attorney. If you notify us that proceedings for a quash are in progress, you must subsequently forward to us the court motion to quash. If the University does not receive official court documents of a quash, it is bound to comply with the demands of the original subpoena.
What Is Directory Information?
Directory information is information released to the public upon request. This includes:
Address
Biographical data for public relations purposes
Birth date
Birthplace
Class Level
Dates of attendance at Monmouth University
Degrees and awards received at Monmouth University
Degree Candidacy
Degree Status
Major field of study
Most recent previous educational institution attended
Participation in recognized activities and sports
Official Student Email Address
Photographs of student
Registered credits for the current term
Student's name
Student's I.D. Number
Telephone Number
Veteran status
Grades and Final Exams
Grades
You will be notified by e-mail when your grades have been posted and are available to view on WebAdvisor for students which is accessible for the Monmouth University student portal.
Grades are usually posted within 24 hours of the grade submission deadline as published in the Academic Calendar.
If you have any questions about your grades, please check with the instructor or the department that offered the class.
Exams – Fourteenth Week Information
The Fourteenth Week Schedule (final exam) schedule is available shortly after midterms have concluded. Students with three or more final exams scheduled on the same day can choose to reschedule so that no more than two finals are taken on any day. It is the student's responsibility to work with faculty towards rescheduling finals. All rescheduled exams must be completed by the last day of finals.
Graduation and Diplomas
Diplomas are awarded in July, August, January and May. Only students who have completed all degree requirements are invited to participate in a Commencement ceremony.
For complete commencement information, please visit the official Monmouth University Commencement Web site.
Graduation Requirements
Students should consult with their academic advisor and utilize their academic audit to be sure that all graduation requirements have been met.
In order to be considered for a degree or certificate, students must file an application with the Registrar's Office, available from the student portal, myMu. Undergraduate students are required to submit An Application for Graduation form after the completion of seventy (75) credits, graduate students must submit the application after the completion of eighteen (18) credits. Students who do not submit the application will have blocks placed on their ability to register until the application has been submitted and processed.
Application Deadlines For Graduation
| Graduating In: | Application Deadline: |
| --- | --- |
| July | June 15 |
| August | August 1 |
| January | December 15 |
| May | March 1 |
Rank
Monmouth University does not rank students or graduates.
Diploma Name
Diplomas are printed with your name as listed in the Monmouth University student information system. Please see the Application for Graduation Diploma/Certificate for more details.
Transcript
Current students, former students and alumni who attended Monmouth University after 1990 may request transcripts through the National Student Clearinghouse Transcript Ordering Center. The Clearinghouse will provide either electronic or printed copies of your transcript for a small fee. Students who attended prior to 1990 should email registrar@monmouth.edu for additional information on how they may obtain their transcript.
During a period of approximately two (2) weeks when grades are being recorded and processed at the conclusion of a semester, transcripts cannot be issued for currently enrolled students.
A transcript is an official record of a student's entire academic record at Monmouth University. It reflects all coursework, graduation requirements and grades, in term order. Transfer credits accepted by Monmouth University are not displayed as individual courses. Monmouth University does not release the transcripts from institutions previously attended by the student.
Other information on the transcript includes:
Name as it appears in the Monmouth University Student Information System
Major (if currently enrolled)
Degree/Certificate Program
Degree/Certificate conferral date (if applicable)
Honors earned
G.P.A.
Credits earned
Transcript Holds
Issuance of transcripts must first be cleared by the Bursar's Office or
any other University office to ensure that there are no outstanding
obligations. The University may withhold transcripts, or information
related thereto, if an outstanding balance exists, or if repayment of a
loan granted either by or through the University is in arrears. Transcripts cannot be produced for anyone whose record has been put on hold for an outstanding University obligation.
Unofficial Transcripts
Unofficial transcripts are available to currently enrolled students by using your WebAdvisor student account. Please login to student portal myMU to view your unofficial transcript.
Frequently Asked Questions:
How do I obtain a transcript?
Currently enrolled students, former students and alumni may obtain a printed and PDF(digital) copy of their transcript through the National Student Clearinghouse.
Why can't I order a transcript by phone or e-mail?
In accordance with University policy as well as with federal privacy laws, your signature is required for release of your academic transcript.
How long does it take to obtain a transcript?
The Registrar's Office requires an average of five business days to process a transcript request. This does not account for mailing and delivery time. During University peak times, at the beginning and end of each semester, please allow additional time for processing your request.
Can I have a printed transcript faxed?
No. Transcripts are printed on security paper which when faxed, obscure the academic information.
Veterans
The United States Veterans' Administration supervises a variety of education assistance programs for eligible veterans, war orphans, surviving spouses or children of veterans killed while on duty with the Armed Forces, disabled veterans, dependents of veterans with service related total disability, and certain members of the selected reserve.
Students who wish to utilize veterans' education benefits must identify themselves to the Coordinator of Veteran Services so that the proper certification procedures are initiated for the appropriate educational benefit program.
Inquiries concerning eligibility may be directed to the Veterans' Administration, US Dept. Regional Office (1-888-442-4551); or to the Monmouth University VA Certifying Official at 732-263-5258.
Please visit the following Web sites for additional veterans' resources at Monmouth University
WebAdvisor for Students
Current Monmouth University students can access the student portal, myMU to conduct their academic business.
Frequently Asked Questions
I am not attending this term. What do I do?
Currently enrolled students must complete a leave of absence form, available using Etrieve Central Forms (e-FORMS). Please login to the student portal go to the WEBstudent menu to access e-FORMS. Please be sure to submit your form before the deadline which is the end of add/drop week of the current term.
How do I add or drop a class?
If you are permitted to use WEBregistration, you may add or drop a class during continuing registration or during add/drop week using your WEBstudent account. If you do not have permission to WEBregister, your departmental advisor can assist you. The Registrar's Office can assist you with changing your schedule, provided that you bring a signed copy of a "Registration: Add Course" form with you to our office. We cannot change your schedule over the phone unless you are removing all classes within the add/drop period.
After the conclusion of add/drop week of any particular semester you must use either a "Registration: Swap Class" or "Registration: Withdraw from a Class" form available on e-FORMS.
How much money will I get back after I drop a class?
The Registrar's Office does not have access to any of your financial records. Please direct this question to the Bursar's Office by dialing 732-571-3454. You may also reach them by e-mail at bursar@monmouth.edu.
How do I change my major?
You may change your major using e-FORMS. Please access your WEBstudent account and select e-FORMS.
How do I declare/remove a minor?
The Declare or Remove a Minor form is available on e-FORMS. Please access your WEBstudent account and select e-FORMS.
Can I attend classes at another institution at the same time while I am a Monmouth University student?
No
Does Monmouth University have any study abroad programs?
Yes. Monmouth University offers several opportunities for their students to study abroad. A complete list is available in the University catalog. You may also contact the Study Abroad office by dialing 732-263-5377. If you decide that you will be studying abroad using a non-Monmouth program please be sure that you will be participating in a program being offered by an approved or accredited U.S. institution of higher education. You must also submit a Permission to Study Abroad – Non-MU Program. This form is accessible in Etrieve Central Forms (e-FORMS) in the student portal.
How do I locate the buildings and rooms on my student schedule?
A building code key is included on each student schedule. The building code key is also listed on the Registration Information page of the Monmouth University Web site. Please use the downloadable campus map to locate each building on the campus.
What are Etrieve Central Forms (e-FORMS)?
Etrieve Central Forms (e-FORMS) are electronic versions of Monmouth University forms. They were developed to provide students with a much more convenient way to submit requests and make changes. To submit a student Etrieve form please login to the student portal, select Registrar's Informational Site. The forms are automatically routed for approval; the routing information is located at the bottom of each form. Students may review sample student Etrieve Forms on the myMU portal.
If you require further assistance please call the Registrar's Office at 732-571-3477.