Welcome former students and alumni! The following Registrar services are available:

Diploma Replacement
A lost or damaged diploma will be replaced for a $50 fee when you submit a notarized Diploma Reorder Request. See the form for additional details and requirements.
A replacement diploma is not the same as an original. A replacement diploma is printed with the original graduation date, but with current signatures and noted as a replacement.
Enrollment/Degree Verification
An enrollment/degree verification will verify dates of attendance, student status by term and degree earned, if applicable. It is typically requested for health insurance, employment and credit verification purposes. No grades or graduation information is provided on an enrollment verification.
Monmouth University has authorized the National Student Clearinghouse to provide enrollment/degree verifications for former students and alumni. The National Student Clearinghouse can be contacted at:
Web: www.degreeverify.org
Mail: National Student Clearinghouse, 2300 Dulles Station Boulevard, Suite 300, Herndon, VA 20171
Name Changes
Your name of record is the name listed in the Monmouth University Student Information System.
Former Students and alumni who are reapplying to Monmouth University and who plan to change their name must mail a notarized Name Change Certificate along with the required legal documentation to support the requested name change. Original documentation must be provided to the Office of the Registrar (Great Hall, Room 208) when submitting this form, or this form will be returned to the student, unprocessed. All supporting original documentation will be returned, intact, to the student, once the name change has been processed. Valid original documentation includes:
Birth Certificate (with raised seal);
State Issued Marriage Certificate;
Divorce decree (with statement noted authorizing the name change);
Court Order;
U.S. Citizenship Papers
Transcripts
A transcript is an official record of a student's entire academic record at Monmouth University. It reflects all coursework, graduation requirements and grades, in term order. Transfer credits accepted by Monmouth University are not displayed as individual courses.
Other information on the transcript includes:
Name as it appears in the Monmouth University Student Information System;
Major (if currently enrolled);
Degree/Certificate Program;
Degree/Certificate conferral date (if applicable);
Honors earned;
G.P.A.;
Credits earned
Ordering a Transcript
Currently enrolled students, former students and alumni may obtain official printed or electronic copies of their transcript by submitting a request to the National Student Clearinghouse.  These transcripts are considered official copies and can be produced on demand. If a transcript is immediately required, an electronic copy must be chosen by students, former students, and alumni.
NOTE: Student transcripts cannot be produced for anyone whose record has been put on hold for an outstanding University obligation.
During University peak times at the beginning and end of each semester, please allow additional time for processing your request.
Transcript Frequently Asked Questions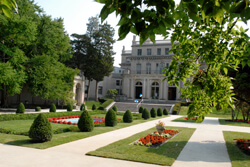 Why can't I order a transcript by phone or e-mail?
In accordance with University policy as well as with federal privacy laws, your official consent is required for release of your academic transcript.
How long does it take to obtain a transcript?
If your request to the Clearinghouse is received before 4:00 pm (E.T.) the printed transcript will be mailed the following business day. Students and alumni will also have options, at an additional cost, to have their printed transcripts mailed overnight, sent certified mail, and mailed to an international address.

Please note: the Clearinghouse envelope containing the transcript cannot be opened by a student or alumnus since it will render the transcript, "unofficial".
Can I have my transcript faxed?
No. Transcripts are printed on secure paper which when faxed, obscure the academic information. A PDF copy of your transcript is available from the National Student Clearinghouse if you require an electronic copy. The Clearinghouse will also provide official hard copies as requested.
Can I obtain an official transcript?
Yes. You may request and receive an official transcript, however, they are normally provided to third parties because once opened they are no longer considered official.
Can I obtain an unofficial transcript?
No. Unofficial copies are not available. However, currently enrolled students may view a copy of their academic audit via their student Student WebAdvisor account, which is accessible from the student portal, myMu.
Degree Audit After Graduation
If you have already graduated, you will no longer be able to access your Academic Audit. Academic Audits are only provided to currently enrolled students.
If you need information not included on your official transcript, such as courses applied to the program and major G.P.A., please contact your academic department directly.