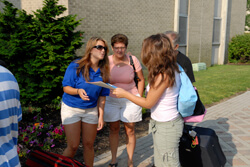 We recognize that parents provide a great deal of financial and emotional support to their children while they attend Monmouth University. However, we must balance this recognition with the fact that our students are adults and their legal rights must be fully respected. Please use the links below for information on privacy rights and other items of interest to Monmouth parents.
FERPA AND PRIVACY RIGHTS
Federal Family Education Rights and Privacy Act (FERPA).
Monmouth University strictly follows the privacy regulations outlined in FERPA, which regulates a wide-range of privacy related activities.
For more information on FERPA, visit the Department of Education Web site.
ENROLLMENT VERIFICATIONS AND TRANSCRIPTS
A student is the only one who may order an academic certification or transcript for his or her academic record. If you wish to receive either one, you should ask your son or daughter to submit a request. A new request needs to be made each term.
See below for basic descriptions.
Enrollment Verification:
An academic certification is an official document that verifies dates of attendance, award of degree, and student status (full-time or part-time) by term. It is typically requested for health insurance, visa, employment and credit verification purposes. Monmouth University reports enrollment status for all currently enrolled students to the National Student Clearinghouse (NSC), an organization that provides lenders with up-to-date status on student enrollment. The NSC provides current Monmouth University students with Enrollment Verifications. Students should login to the Monmouth University Portal, myMU to request a verification through the National Student Clearinghouse.
Transcript:
A transcript is an official record of a student's entire academic record at Monmouth University. It reflects all coursework and grades by term. Other information on the transcript includes:
Name as it appears in the Monmouth University student information system
Major (if currently enrolled)
Degree/Certificate program (if applicable)
Degree/Certificate conferral date (if applicable)
Honors earned
G.P.A.
Credits earned
Currently enrolled students, former students and alumni may obtain an official copy of their transcript by submitting a completed Request for Transcript of Academic Record form. There is no fee for printed transcripts provided by the Registrar's Office.
Electronic transcripts may also be requested through the National Student Clearinghouse, these are also official PDF copies which can be produced on demand. If a transcript is immediately required, this is the method that must be chosen by students, former students, and alumni.
NOTE: Student transcripts cannot be produced for anyone whose record has been put on hold for an outstanding University obligation.