B.S. in Biology with a Concentration in Molecular Cell Physiology

Patrycja Bolewska, B.S. Biology with concentration in Molecular Cell Physiology, '12, is a senior scientist in the Case Investigation and Resolution department at Roche Molecular Diagnostics. She currently lives in New York City with her boyfriend and their cat, Deli.
In her own words:
My whole life I was waiting for new opportunities. I was never timid or shy. I would rather say that I usually was the person who was not afraid of anything and always bravely trying new opportunities. In 2007, I decided to leave my country (Poland), family, and friends, and come to the States as an au pair. I thought that this was an excellent opportunity to learn English, get familiar with the American culture, and of course, bring some money back home. I did not truly realize at the time that I was making a momentous decision in my life. Academic goals were always incredibly important for me so, after being six months in the US, I enrolled at Brookdale Community
College (BCC) in Lincroft, NJ. My experience at this institution gave me a very firm base to launch my academic and career goals. However, after two years at BCC it was time for me to move on to fully accomplish those goals. Brookdale could not accommodate my program of study, and I knew that I must transfer to an institution that was better equipped to give me the tools necessary for my success. I decided to visit the Monmouth University campus and meet with staff from the admissions office. After the visit, I had no doubts that Monmouth was an ideal place for me. I started my first semester at Monmouth in the fall of 2010.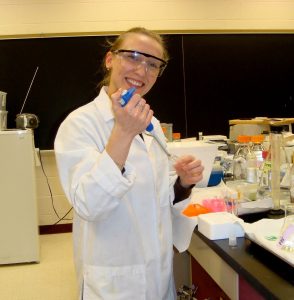 The most valuable aspect of being a student at Monmouth was to gain knowledge from amazing mentors and professors. The Monmouth biology curriculum offered small classrooms and very interesting courses. During lectures, professors encouraged me to ask questions and to openly discuss any topics with my classmates. After a while, I knew almost all students from my year and the faculty and staff members in the Edison Science building. I strode through the science corridors comfortably as if I was at home. During my first semester, I approached Dr. Rhoads and expressed my interest in his research. Initially, Dr. Rhoads was skeptical about letting me join his research team and suggested that I complete upperclassman level work. However, after the first few months in his Biochemistry course, Dr. Rhoads approached me and asked if I was still interested. I was ecstatic! My dreams came true and I was spending a lot of time in the laboratory learning new lab techniques, performing experiments, and generating results, which contributed to new findings. Dr. Rhoads was a great mentor; he guided and challenged me throughout the time I spent in his laboratory, which made my research experience truly amazing. Through research, I gained many invaluable skills, which made me stand out from my classmates and colleagues. I learned how to work independently and in a team, to think critically, to present and speak publicly, and to organize my work to deliver on time. In addition to performing research at MU, I participated in the inaugural Summer Research Program and I was a member of Beta Beta Beta.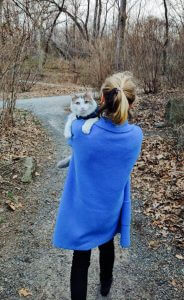 After graduating in May 2012, I made job searching my full-time assignment. In June, I received an email from the Dean of the School of Science, Dr. Palladino, who said that a former student who is a director at a department at Roche Molecular Diagnostics was looking for fresh graduates for a six-month contract assignment. I checked out the website, responded to an email with my resume, interviewed, and started working in July. As a scientist in
Case Investigation and Resolution (CIR), I was responsible for providing superior level of product support to worldwide affiliates for Roche Molecular Diagnostics Virology, Genomics & Oncology, and Microbiology diagnostics
assays and instruments. In addition, I investigated and monitored trending of product complaints, and collaborated with various stakeholders (Research & Development, Quality Assurance, and Quality Control). I used high-level biology knowledge I learned at Monmouth in my everyday tasks. Technical and personal skills I learned doing research allowed me to perform really well and succeed. My six-month contract kept being extended. Eventually my director and manager offered to apply for an H1B visa for me so I could stay longer with the company. In 2015, I enrolled in a full-time graduate program at Columbia University and in October 2016, I graduated with an M.A. in Biotechnology. Currently, I am a senior scientist at Roche Molecular Diagnostics in a technical team of the CIR department. This is a very rewarding position; every day brings a new challenge. We are responsible to ensure our products, which are used in patients' diagnostics are safe and effective by providing accurate results that influence the lives of many patients.
I have gained much from the time I have spent at Monmouth University; the education I have received has put me in a position to achieve my goals at a higher level. I know that Monmouth has given me a firm base to propel my future accomplishments. If I had to choose my undergraduate institution again, it would be Monmouth!