Featured Alumnus:
Krystle Hinds, BS in Mathematics and Secondary Education, 2007
Krystle is currently an applied research mathematician for the federal government.
In Her Own Words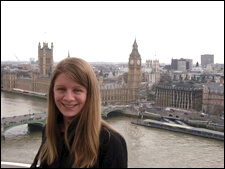 I entered Monmouth with a vague idea of what I wanted to do in life, and even major in. Even now, I still feel that the career possibilities are endless. I eventually settled on a double major in mathematics and secondary education, while also participating in the Honors School. Although I enjoyed my education classes and student teaching, it was the math department and faculty that became a second home and family to me. Unlike many of the students, I actually got to know the faculty and worked with them one-on-one for several projects: honors thesis, independent studies, and also as president of Kappa Mu Epsilon. There were several professors who, perhaps unbeknownst to them, really helped shape my career path.
Sometime during my sophomore year, Dr. Thomas Smith encouraged me to look into the many careers available to mathematicians. He was aware that I was an education major and expecting to become a high school math teacher, but he felt that I should be introduced to all that my major could offer me. From his suggestions, I found several careers that piqued my interest. At this point, I did not change my career direction or major, but I kept this information tucked away in the back of my mind.
During my junior and senior years, I worked with Dr. Joseph Coyle and Dr. David Marshall on an honors thesis that would go on to win an award, lead to a recruitment offer from Google, and be a major factor in a job hire to a summer internship with the federal government. The impact of my thesis, as well as its real-world topic, really demonstrated to me the power and importance of mathematics in everyday life.
As my junior year came to a close, I began thinking more decisively about life after Monmouth. It had always been a goal and a dream of mine to get a master's degree, so without much hesitation I began applying to various schools. In September 2007, I found myself on the campus of Boston College.
At Boston College, I was provided with many opportunities and new experiences. I was a teaching assistant my first year and a teaching fellow my second year, which meant I taught my own calculus course and that my education degree was finally being put to good use. In the fall of my first year, I began looking to the summer. What would I do? I had a summer job in a risk management department back home that I could fall back on, but I was looking for something different. I thought back to the conversation I had with Dr. Smith and found summer internship opportunities available through the federal government. I applied and was accepted. In the summer of 2008, I trekked down to the DC area to begin what would become my current career.
These days, I do not do a lot of mathematics. I tutor the occasional calculus student to appease the teacher in me, but at work I am focused on real-world problems, learning and using skills in signals analysis, biometrics, computer programming, and algorithm/software development. It was never a passion of mine to sit down and work on theorems and proofs; instead I have preferred applications and making a difference. In my current position, I accomplish both. My work has also afforded me opportunities to travel to areas such as England, France, Hawaii, Colorado, and Florida, in addition to having a flexible schedule that has enabled me to pursue my own personal travel interests and hobbies. Currently, I am playing soccer, studying the French language, and learning how to play the guitar.
Would I have done anything different? Is it difficult being a female mathematician in a predominantly male occupation? What is next? Being a young female mathematician, I am often asked these questions.
I try never to have regrets and have succeeded in this endeavor. However, I have learned a great deal since stepping onto Monmouth's campus back in 2003. Monmouth and its faculty have a lot to offer. In general, I do not feel students make the most of the opportunities they are given. I would encourage incoming students to look to the future and plan accordingly. For example, even though I always knew I would get a master's degree, I never really planned for it. In hindsight, I would have taken some different courses or done more independent studies, which would have better prepared me for higher learning. Trying new internships and gaining experience in your future occupation is also vital. Keep an open mind, expect the unexpected, and network with as many people as possible. There are many people with more knowledge and experience. Utilize them.
As far as being a female mathematician, I have to honestly say that I never felt an impact until I began my career. In opposition to the statistical norm, females actually comprised the majority of my classes in both my undergraduate and graduate experiences. Although I am a minority now, it has never prevented me from doing my job, pursuing my interests, or applying and being accepted for a position. I would love to see more females in the science fields and urge them to pursue their goals and dreams.
I have never been one to sit still for long. As a result, I am constantly trying new things, to better myself professionally and personally. With this continued learning, my future seems limitless. As of now, I know I want to become more involved in managerial positions and will likely seek an MBA. Additionally, starting my own business holds a certain appeal. However, I know I have plenty of time to make these decisions and accomplish various goals. For now, I am keeping all of my options open, continuing my career as an applied research mathematician, and soaking up all of the opportunities presented. I have Monmouth University, its faculty, and the experiences and knowledge they provided me to thank for the excellent start.