BS in Biology, 1991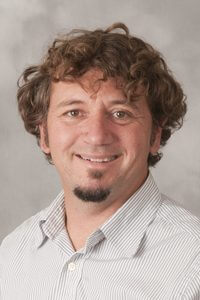 When I look back at my time at Monmouth I fondly remember it for all of the life-long friends that I made, the perspectives that I gained, and, of course, for the outstanding science education that was imparted to me by my professors. I was a returning student at the time and had enrolled following a significant break from higher education. After only a short time as a Biology student I found myself both challenged and empowered.
The importance of a strong foundation in the basics cannot be overstated if you are planning a career in science. I feel as though I left Monmouth on a rock solid footing. I really appreciated that my biology degree required a broad spectrum of scientific knowledge. In order to understand life on Earth you need to have a strong understanding of, not only biological concepts, but also mathematics, physics, and chemistry. A degree in biology gives you choices.
I left Monmouth with every intention of attending veterinary school after I took some time to figure out where I wanted to live and maybe make a little bit of money. After a little consideration (about a day) I figured that my generally laidback attitude and love of the outdoors was a good fit for the Pacific Northwest. So, off to Seattle I went. Soon after arriving, I answered an ad in the local paper advertising for a job as a fisheries biologist. I had been a SCUBA instructor for about five years at that point and I really liked fish. My biology degree qualified me for the position so it sounded perfect! About a month after my interview I was on a plane destined for a tiny speck in the Aleutian Islands of Alaska. I spent the next two and half years collecting fisheries data aboard commercial fishing vessels in the Gulf of Alaska and The Bering Sea. While at sea I realized that I should follow my true passion and pursue a graduate degree in marine science instead of veterinary medicine.
I enrolled at Western Washington University the next September to pursue a degree in Marine and Estuary Science. I chose WWU because the marine science degree program was cross-disciplinary and there were classes offered from every department in the School of Science. While my concentration was officially in biology, my interests were not confined to just the biological parts of the system. I was intrigued with how the physical properties of water influenced life in the oceans. My thesis research involved studying how the planktonic larval forms of some common marine invertebrates were influenced by chemical cues and turbulence in the water column. The four professors that comprised my graduate committee came from four different departments at the university: biology, ecology, geology, and mathematics. My strong and varied undergraduate education from Monmouth sure came in handy. I was not only well prepared for the coursework, but had the confidence to go outside of my comfort zone.
Since receiving my Master's Degree, my career path has rarely wavered from educating people about science and the world that we live in. I take science and science education very seriously, but try hard to keep it fun and interesting. Shortly after permanently entering the work force I started a company that specializes in public education. Ionature LLC is a design and fabrication company that specializes in zoo, aquarium, and natural history museum exhibits. As a creative consulting firm
our work is diverse. We design and build naturalistic animal enclosures for public zoological parks, create interpretive materials for the same institutions in order to explain the exhibits to the public, and produce video for the internet and for television. Our clients include the Bronx Zoo, National Aquarium, San Diego Zoo, American Museum of Natural History, The Discovery Channel, and more.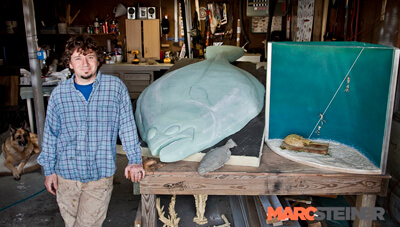 I have since relocated back to New Jersey and run my company out of a home studio and fabrication facility in Point Pleasant. When I'm not on the road my commute to work is ideal; I fall out my backdoor and I'm there. I have recently started teaching classes in marine science as an adjunct professor at MU. I am very proud of my biology degree from Monmouth and feel as though every opportunity was available to me after graduation. You get out of college what you put into it. It sounds like a cliché, but its true. Science is important and science education is about collecting the tools that are going to change the world for the better. This is the message that I would like to impart to everyone who enjoys my work in museums and zoos around the world and what I would most like to pass on to my new students at Monmouth University.