B.S. in Chemistry with a Concentration in Advanced Chemistry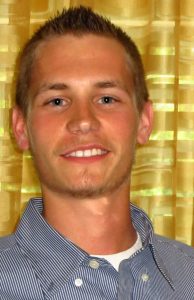 Kevin Wioland '14 B.S. (Chemistry) is an analytical chemist for the United States Army at the Aberdeen Proving Ground in Maryland. Here is his story, in his own words:
I began my education at Monmouth University (MU) in the fall of 2011 having previously graduated from Ocean County College with an Associate's degree in liberal arts the year prior. I choose to major in chemistry with a concentration in advanced chemistry knowing the difficulty that lay ahead but excited to learn about the wonderful world of chemistry that had fascinated me for so many years. Throughout my time at MU I was involved in numerous activities related to the chemistry department. At a particular point I held the position of treasurer for the Chemistry Club, worked as a lab assistant for Dr. Kosenkov's computational chemistry and molecular modeling class, and was involved in the 2014 Summer Research Program. Moreover, I also participated in undergraduate research within the Kosenkov Computational Chemistry Research Group where I investigated a specific class of molecules named viologens. These compounds are interesting in that they are solvatochromic and change color when placed in solvents of differing polarity. Applying computational chemistry techniques and
hundreds of hours of computer time we were able to improve our understanding of these types of compounds and the underlying molecular mechanism that occurs. I sincerely enjoyed research with Dr. Kosenkov and being a part of the research group. Dr. K was always available for assistance when needed and consistently pushed you to perform at your best. Likewise, all of the professors within the chemistry department genuinely wanted each and every student to succeed and achieve greatness. They have a true passion for teaching and as a direct result have helped me develop into the person I am today.
In addition to student research, I was fortunate enough to be accepted for an internship position at the National Institute of Standards and Technology (NIST) in Maryland during the summer of 2013 . Here I was able to get first-hand experience working in a professional laboratory which helped to develop my skills for the future. While at NIST I worked on a project developing standards for new technology which involved the detection of trace amounts of explosive particles from a distance (standoff detection). Utilizing a specialized inkjet printer, various explosives were solubilized and subsequently "printed" onto chemically treated substrates. From here the explosive particles were physically and chemically analyzed in order to obtain information as to their size, shape, distribution and composition.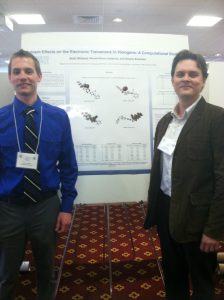 After graduating from MU in 2014, and as a direct result of the internship experience, I decided to continue my education and pursue a Master's degree in forensic science at Towson University in Maryland. Throughout my time at Towson University I became fascinated with the analytical chemistry side of forensic science and decided to focus my energy and effort into this field.
Fast forward to today and I have since graduated from Towson University with a Master's degree in forensic science and have recently secured a job with the United States Army working as an analytical chemist at the Aberdeen Proving Ground in Maryland. Here I will be tasked with performing analysis on chemical warfare agents, explosives and biological warfare agents both within the United States and abroad. I am extremely excited to begin a career that will allow me to put the knowledge I have gained at Monmouth University and elsewhere to good use, potentially making a difference in the world.
Overall, my time spent at MU has been wonderful and I truly have no regrets. The knowledge gained, friendships made and memories acquired will be with me forever and I am grateful MU was there to aid as a stepping stone for my future.