Darnell Leslie graduated in 2017 with a bachelor's degree in Software Engineering and a minor in Computer Science.  He recently retired from a professional football career and is currently studying to take his Software Security Plus Certification.   He recently took some time to share his experience at Monmouth and how it has impacted him to date.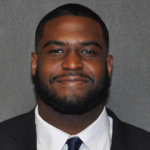 I chose Monmouth because I am from Maryland, and Monmouth was not too far from home.  I was recruited by the football team and offered a full scholarship to play. My mom and I visited the campus in the spring of my senior year of high school. We were very impressed with Monmouth.  It is a beautiful campus.  I liked that it is small and close knit, and I knew that I would not have to look too far to find the resources I might need.  My mom liked that even though I was going to be playing football, the Monmouth athletic department stressed the importance of academics.  She liked that there was a dedicated Athletic Academic Support area and special space just for student athletes to study.
Monmouth has a great support network.  Balancing academics and athletics can be challenging.  Athletes cannot miss class for their sport, so arranging our schedules around practice, workouts and team meetings can be very challenging.  As I got further along in my studies, class selection options became narrower, and there were times when I had to leave early or miss class due to travel, the only time an athlete can miss a class, and only with faculty approval.  The CSSE faculty, particularly Dr. Rosca, were helpful in so many ways.  I always knew that if I didn't grasp something the first time, my professors would be there to help me.
Since I graduated in 2017, I have been playing professional football.  I recently retired from the XFL, where I was playing with the New York
Guardians.  As much as I love football, and as blessed as I was to play, my real passion has always been technology.  I love everything about it, particularly that it is ever-changing.
Attending Monmouth University challenged me to grow in so many positive ways. Being a student athlete at a university that takes academics so seriously allowed me to never settle on the field or in the classroom. After earning my certification in Security +, I have aspirations of working for the Department of Defense as an Information Systems Security Officer. I hope to continually educate myself by earning various certifications within the Information Technology field. Learning never stops, and I plan to stay informed about IT and the latest changes that come with it.