Keeping Students on Track!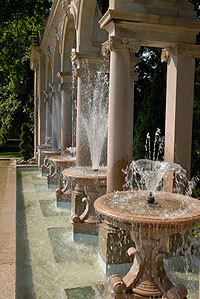 GOAL OF THE PROGRAM:
Monmouth's Early Warning System (MEWS) is used to monitor the academic progress of specific student groups.
This program provides a timely approach to monitoring and identifying students who are experiencing academic difficulty and connecting them to their academic advisors.
STUDENT POPULATIONS BEING MONITORED
Currently, the populations being monitored include:
All first-year students
All transfer students
All athletes
All undeclared sophomores
All students registered with the Department of Disability Services (DDS)
All students participating in the Educational Opportunity Fund (EOF)
All students identified by the Academic Standards and Review Committee (ASRC)
International students
Military veterans
HOW MEWS WORKS
MEWS is an electronic checklist located on WebAdvisor that faculty members can use to notify academic advisors that their advisees in the MEWS population are experiencing academic difficulty.
When a faculty member electronically submits the MEWS checklist, both the advisor and student are notified by e-mail.
Students receive specific information about possible classroom issues and are advised to contact their advisor to discuss difficulties they might be having in a specific course and to work on strategies to overcome those difficulties. The Center for Student Success has various academic resource information included in the e-mail to assist the student.
Advisors receive the e-mail checklist of concerns and are encouraged to reach out to the student to discuss the MEWS report.
After discussing the MEWS report with the student, the advisor is encouraged to complete the MEWS Advisor Follow-Up form in WebAdvisor. The form outlines the specific strategy agreed upon by the student and advisor in order to improve the student's academic performance.
Only faculty members who have students in their classes, who are in the MEWS population, are sent an e-mail. Faculty members are advised to go to WebAdvisor to complete the MEWS checklist for each MEWS student.
A checklist must be completed for each student on the faculty member's MEWS roster.
If a student is not having problems, the faculty member must check the box "no problem."
The MEWS reporting period has a deadline and a report must be submitted on each student on the MEWS roster before the deadline.
For the program to be successful and effective, we must have 100% participation: this includes reporting students with no problems.
Individual students may be added to MEWS via request.
We thank you for your continued cooperation.
Danielle Schrama, Director of MEWS