First Generation Student Support at Monmouth
Welcome first generation students and families. We are honored to be a part of your of educational journey. Monmouth Hawks fly together and we look forward to supporting you in your success as the First to Fly!
First-generation college students can be defined as the first member of their family to attend college or as students for whom neither parent/guardian earned a four-year degree; they may have some college experience but have not attained a baccalaureate degree (in the U.S.).
Our first generation student support initiatives are designed to connect you with exceptional Monmouth student success resources and a caring campus community to guide you on your journey to degree completion and beyond.
About Claude Taylor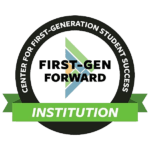 Claude Taylor serves as Director for Academic Transition and Inclusion at Monmouth and is a Lecturer in the Department of Communication. Claude leads the campus-wide initiative First to Fly: First Generation at Monmouth designed to offer academic, social, and personal support for students who identify as a first-generation. Claude also seeks to advance equity, inclusion and intellectual curiosity through his services on the President's Advisory Council for Diversity and Inclusion, Black and African Diaspora Forum United (BADFU), Institute for Global Understanding (IGU) Faculty Advisory Council, and Program Member in the Program in Gender and Intersectionality Studies (PGIS).
Resources