Tailgating at Monmouth University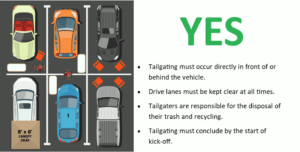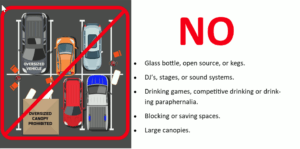 As a member of the Homecoming committee, SGA has taken an active role in creating the University's guidelines for tailgating.  It is SGA's belief that when fans tailgate in a responsible manner, it sets a positive tone, whereby promoting the tradition and privilege of tailgating at Monmouth University.  We encourage all Monmouth students and fans to review the tailgating guidelines listed below before they come to campus to tailgate.
ONE CAR = ONE SPACE: Please be considerate of your fellow guests. Tailgating should be limited to the lined parking space and the area directly behind or in front of each vehicle. Blocking drive lanes is prohibited.
Fans will be allowed to enter the parking commuter lot at 9:30 a.m. on game day.
Fans may tailgate before a home game and then again for up to 2 hours once the game has ended. Fans may not tailgate during the game or at halftime. Once the game begins, fans must enter Kessler Stadium or vacate the parking lots.  Members of the Monmouth University Police Department will walk through the commuter parking lot 30 minutes before the start of the game to remind patrons of this rule. 
For the safety of all our patrons, kegs, party balls, common source/mass quantities of alcohol, hard liquor, and glass containers are not permitted.
All University and state regulations that pertain to the legal consumption of alcohol will be enforced.  Providing alcohol to minors under the legal age to drink is a violation of law and subject to criminal prosecution.
Drinking games and paraphernalia are not permitted, will be stopped, and will be confiscated.
Tailgating will take place only in the commuter parking lots 13, 14, 16, 18 and in parking lot 25 for fans with reserved parking.
Patrons may bring in and set up a single canopy only on game day which may not exceed 8 feet by 8 feet. The tent must be removed at the end of game day.  See diagrams for proper set up.
WASTE:  Fans are responsible for disposing of all waste, trash and recycling at their tailgate.
Gas and charcoal grills are permitted.
Animals are not permitted on campus.
Bands, DJ's, loud music, stages, or platforms are not permitted in the parking lots.  Sound systems must not produce sound in excess of 65 decibels (New Jersey State Ordinance).
Tailgates must provide food to their guests if they also plan to serve alcohol.
Soliciting and outside caterers are not permitted.
Fans are required to pay a parking fee of $10.00 for each vehicle that enters the University parking lots.  If a vehicle leaves and attempts to return, the fan will once again pay the parking fee.
Recreational vehicles are allowed space permitting.
Please note that the tailgating guidelines apply to all home games including Homecoming. Thank you in advance for playing an important role in helping make the tailgating experience safer and more family friendly.  SGA looks forward to seeing you at all of our home games this year!
FLY HAWKS!