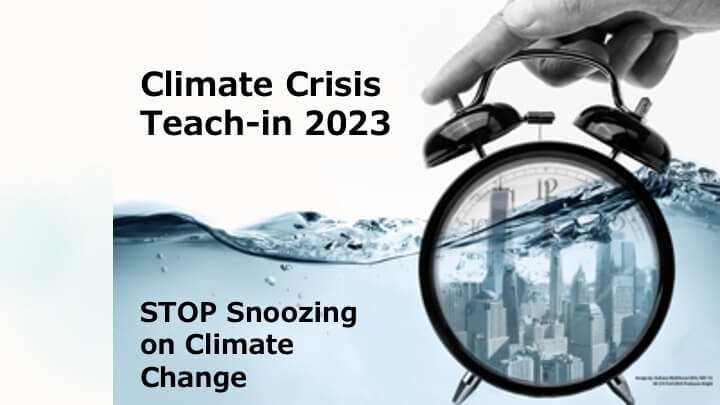 The climate crisis or climate emergency is a threat to life on earth as we know it and will bring immense suffering. The goal of the climate crisis teach-in is to generate discussion about climate impacts and solutions with the goal of improving life for humans and other living things.
The Climate Crisis Teach-in is an ongoing event in the Spring Semester 2023. If you would like to contribute an event or have questions please contact Dr. Catherine Duckett.
We are in the process of planning the 2024 Climate Crisis Teach-In. A comprehensive slate of events are planned for the Spring Semester of 2024. For information about climate related events or to propose an event please reach out to Dr. Duckett.
Upcoming Events
MARCH TO END FOSSIL FUELS
SEPT 17TH – 1PM – NYC – 56th & Broadway
Because the Climate Crisis Teach-In began as a way to raise awareness of the climate crisis and of climate solutions. We are informally supporting the March to End Fossil Fuels. A group will be meeting at the Long Branch train station at 9:50 am to board the train and travel to the march.
Prior Events
January 30, The Sea at our Doorstep – How rising sea level will change our coastal communities in the next 30-years and beyond
This will be a joint presentation by Prof. Matt Pacicco and Dr. Tom Herrington, followed by discussion and Q & A with Dr. Gina McKeever of the Kislak Real Estate Institute, 6:15 pm E 201
The elevation of the sea relative to land has varied greatly over the history of the Earth, from 330 feet higher than today during the Cretaceous Period 100 million years ago to 400 feet lower than present at the end of the last glacial maximum 22 thousand years ago. In the distance past and the present, Global mean sea level rise is a direct effect of climate change, resulting from a combination of thermal expansion of warming ocean waters and the addition of water mass into the ocean, largely associated with the loss of ice from glaciers and ice sheets. Sea levels will continue to rise due to the ocean's sustained response to the warming that has already occurred—even if climate change mitigation succeeds in limiting surface air temperatures in the coming decades. Due to the increase in global warming over the last century, sea level along the U.S. east coast is projected to rise, on average, 10 – 14 inches (0.25 – 0.35 meters) in the next 30 years (2020 – 2050), which will be as much as the rise measured over the last 100 years (1920 – 2020). Beyond 2050, uncertainty in sea level rise projections increases substantially, due to uncertainties in future greenhouse gas emissions and in long-term ice sheet stability in a warming world. The rise in sea level will create a profound shift in coastal flooding by causing tide and storm surge heights to increase and reach further inland, making coastal communities that are already experiencing increased frequency and intensity of coastal flooding more vulnerable to widespread damage. This presentation will review the processes on Earth responsible for sea level elevation changes and what the consequences will be for our coastal communities over the next 30 years, and what the consequences could be through the end of the century. A recording of this presentation is available on the UCI blog
Feb 2, 7 p.m. Dr. Christopher Rowe, "Climate change and reptiles – an unfolding saga in the Chesapeake Bay", on Zoom
Reptiles are a unique group of vertebrates that are under severe pressure from numerous, anthropogenic sources. An estuarine turtle in the Chesapeake Bay, the diamondback terrapin, is facing reproductive changes as the temperature of its nests get warmer, producing fewer male hatchlings. Future reproductive effects are likely to be exacerbated by widespread loss of critical habitats due to rising sea level. The combination of warming temperatures and rising sea level will present substantial challenges for populations of diamondback terrapins in the future.
University of Maryland Center for Environmental Science.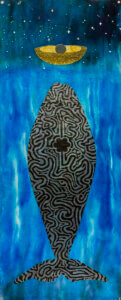 Feb 6, Prof. Kimberly Callas "The Night Sea Journey" at 6 p.m. Great Hall
An Artist Talk by Associate Professor Kimberly Callas
Abstract: Associate Professor Kimberly Callas will give an artist talk on artwork she created during a two-year Monmouth Fellowship where she served as the artist-in-residence for the Urban Coast Institute. During the fellowship, Callas created a series of large scale (10') drawings that connect images of the ocean, ocean archetypes, and the human body. Inspired by historical nautical charts that were hand-drawn and mounted on muslin, Callas' drawings are made of graphite, dye, and India ink on paper and dyed muslin. They are then mounted on canvas. On the drawings, Callas uses latitude and longitude lines and depth charts to 'specifically place' the work in places that follow the Right Whales' annual migration through the Jersey Shore. The drawings include symbols like the Whale, Fish, Boat, Net, Horizon Line, and archetypes like 'the night sea journey', a journey, navigated by stars, to a new shore. This talk is co-sponsored by ArtNOW.
Climate Modeling to save lives on earth, a Workshop using the EN-ROADS climate simulator, Catherine Duckett, Tuesday Feb 28 at 6:30-8 p.m., E201
Saving lives involves understanding which carbon sources contribute more to climate change so that people can make better policy decisions. The United Nations and others use climate modeling software to explore climate solutions to inform public policy. In this workshop we will use similar software to explore which climate solutions result in the greatest impact to projected temperatures.
Workshop participants will be trained on the EN-ROADS system and explore the climate impacts of various technologies and policies. Participants will form a plan to save lives by reducing global warming and discuss the most effective technologies and policies after running various simulations.
En-ROADS is a global climate solutions simulator that allows users to explore the impact of roughly 30 policies—such as electrifying transport, pricing carbon, and improving agricultural practices—on hundreds of factors like energy prices, temperature, air quality, and sea level rise. Developed by Climate Interactive, the MIT Sloan Sustainability Initiative, and Ventana Systems, En-ROADS is a system dynamics model carefully grounded in the best available science, and has been calibrated against a wide range of existing integrated assessment, climate, and energy models.
It's Subject to Climate: Teaching Climate Change in the Updated New Jersey Student Learning Standards. Lauren Flood and Ben Charles, Via Zoom, Thursday March 9th, at 6:30 p.m.
This session will show pre-service teachers, teachers and college faculty how to find and use tools to develop strategies for teaching about climate change. Learn how to use a free online hub called the New Jersey Climate Change Education Hub to access professional development opportunities, climate change primers for teachers, lesson plans, and teaching resources.
Bilingual Poetry Reading (Portuguese and English) by Salgado Maranhão & Alexis Levitin Weds. March 29 6-7:30 p.m., Julian Abele Room (Great Hall)
Maranhão's poetry explores, via metaphor, the various kinds of devastation we bring upon our lands and thus upon ourselves.
Born in the impoverished interior of Maranhão, in northeast Brazil, Salgado Maranhão became one of the most prominent Afro-Brazilian poets. Twice winner of Prêmio Jabuti, he has been awarded major prizes from the Academy of Brazilian Letters and the Writers' Union. Five collections of his work have appeared in English: Blood of the Sun (2012), Tiger Fur (2015), Palavora (2019), Mapping the Tribe (2020), and Consecration of the Wolves (2021), all in Alexis Levitin's translation. In addition to seventeen books of poetry, he has written song lyrics and made recordings with some of Brazil's leading jazz and pop musicians.
Alexis Levitin translates works from Portugal, Brazil, and Ecuador. His forty-eight books of translation include Clarice Lispector's Soulstorm, Eugenio de Andrade's Forbidden Words, Astrid Cabral's Cage and Gazing Through Water, and five collections by Salgado Maranhão, including the most recent, Consecration of the Wolves. He has served as a Fulbright Lecturer at the Universities of Oporto and Coimbra (Portugal), The Catholic University in Guayaquil (Ecuador), and the Federal University of Santa Catarina (Brazil) and has held translation residencies at the Banff Center (Canada), The European Translators Collegium (Germany), and the Rockefeller Foundation Study Center in Bellagio (Italy).
This presentation is co-sponsored by the Department of English, Monmouth Intercultural Center, Institute for Global Understanding and Department of World Languages and Cultures
Are the Answers to Climate Change 'Blowin' In The Wind'? – A Marine Science and Policy Perspective on Offshore Wind Energy in the Mid-Atlantic Bight. Drs Jason Adolf, Keith Dunton & Prof. John Tiedemann. Monday April 10, 6:30 p.m., E201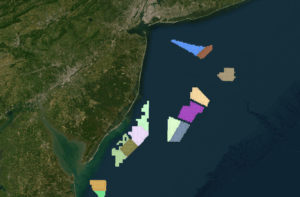 The development of offshore wind energy as an alternative to fossil fuel-based energy is happening rapidly on the continental shelf off the coasts of New Jersey and New York. However, there is a combination of excitement and reservation among academic, environmental and stakeholder groups surrounding this issue – while the need for non-fossil fuel energy is clear, the potential impacts off offshore wind development on the marine environment and economy are unclear. This session will highlight the regulatory, permitting, and monitoring process involved in offshore wind development and highlight the involvement of Monmouth University faculty and students in fisheries monitoring plans aimed at detecting potential impacts of offshore wind development. Non-invasive techniques such as environmental DNA (eDNA) analyses and acoustic telemetry will be discussed with regard their role in the broader picture of understanding the continental shelf marine ecosystem and potential impacts of offshore wind.
What remains: Ghost forests, what we have lost and gained. Dr. Pedram Daneshgar, Tuesday April 4 at 6:30 p.m., E201
Climate change induced sea level rise and storm related flooding events have had a dramatic effect on the coastal ecosystems of New Jersey. Salt water intrusion into coastal forests that are normally buffered by salt marsh ecosystems forests results in extensive tree die offs leaving behind what has been termed a "ghost forest," a novel marsh hybrid ecosystem filled with dead trees. Often these ghost forests are invaded by non-native species like phragmites, which completely alter the function of the ecosystem. Dr. Pedram Daneshgar will share the work his lab has done exploring the Ecology of ghost forests specifically looking at how the forest communities are changed. Then he will discuss preliminary work on restoration strategies for these forests.
Ecological Restoration Project for the Climate Crisis, Saturday, April 22, Earth day, from 9:30-11:30 am, Van Court Park.
Many people feel helpless in the face of the climate risis, but there are many solutions. One solution that is well within the power of most people is strengthening the suburban environment. Environments highly impacted by human intervention especially those with a high proportion of non-native plants are ecologically less stable and less resilient to the assaults of climate change. Environmental remediation by removal of invasive plants and replanting or planting native plants in areas disturbed by humans is partial ecological restoration. As part of the Climate Crisis Teach-In Dr. Duckett will lead interested students and other members of the community in an ecological restoration project on Elinor Ave at Ross Lake Park and at adjacent Van Court Park. Volunteers will be shown how to identify the most common invasive vines and weeds. Volunteers will cut and remove these "invasives"s. Areas suitable for replanting will be planted with hardy native species such as goldenrod, violets and snakeroot.