About the Department
To be an Art and Design major means that students work creatively and critically in order to communicate effectively with visual images. Within our intimate learning environment, the faculty members of the Department of Art and Design at Monmouth University work together to offer an innovative curriculum in Animation, Graphic and Interactive Design, Interactive Media, Photography, Studio Art, and Art History. We are committed to educating students who seek challenging and comprehensive studio experiences. While our coursework begins with a strong emphasis on foundational skills, we also believe that providing educational opportunities beyond the classroom is a rewarding experience for our students. With this goal in mind, all Art and Design students work on projects with community partners or complete an off-site internship in preparation for their careers. Many of our students gain noteworthy firsthand experiences during and after school, especially due to our proximity to New York City and Philadelphia.
About Our Programs
We respond to current needs within visual communication fields by offering a competitive B.F.A. degree with concentrations in Animation or Graphic and Interactive Design. The B.F.A. with a concentration in Graphic and Interactive Design has the complete designer in mind with instruction spanning print design, UI/UX, motion graphics, and web design. The B.F.A. with a concentration in Animation explores all aspects of the animation process including storyboarding, character and environment design, 3D modeling, rigging, animation, rendering, sound, and VR.
Our studio-based B.A. degrees offer students solid and expansive studio experiences in the visual arts with personal, one-on-one instruction from professional, practicing artists. The B.A. in Art with a concentration in Photography is a focused course of study in the aesthetic and technical aspects of fine and applied photographic practice, including an array of digital and film-based skills. B.A. in Studio Art students complete coursework in painting, drawing, printmaking, ceramics, and sculpture, using both traditional as well as emerging technologies that include laser cutting, digital sculpting, and 3D printing. Professional practice, such as writing artist statements, CVs, and grants are built into the B.A. program. B.A. in Art students also have the option to complete up to 12 advanced credits of independent study in a specific area of their interest.
For students training to become teachers, we offer the B.A. in Art and Education with Endorsement in K-12 Education in Art. Students who follow this course of study complete a range of traditional Studio Art courses along with their School of Education course requirements, or they can major in Art as an undergraduate student and then complete their Masters in Art of Teaching (M.A.T.).at the graduate level.
Art History is included in all of our majors and enriches the program experience. Our specialized offerings for Minors include Art History, Asian Studies, Graphic and Interactive Design, Interactive Media, Photography, and Studio Art.
The creative mindset of majoring in Art and Design lends itself to a variety of dynamic career paths. These include working as a fine artist, photographer, graphic designer, or animator, but also as an exhibition designer, art director, illustrator, UI/UX designer, arts administrator, and much more. Recently our graduates have worked or interned for employers that include Apple, Bayer HealthCare, IKEA, MasterCard, The Metropolitan Museum of Art, Nickelodeon, and the NFL with many of our alumni serving as intern site supervisors for our students. Other MU graduates have continued on to graduate school in art, design, or art history and museum studies, which opens additional doors in creative professions.
B.F.A. in Design and Animation (Animation Concentration)
From Stop Motion to VR, explore the many applications of Animation.
B.F.A. in Design and Animation (Graphic & Interactive Design Concentration)
The Design program offers a professional degree program specifically created to prepare students for a career in graphic design and its many associated career directions.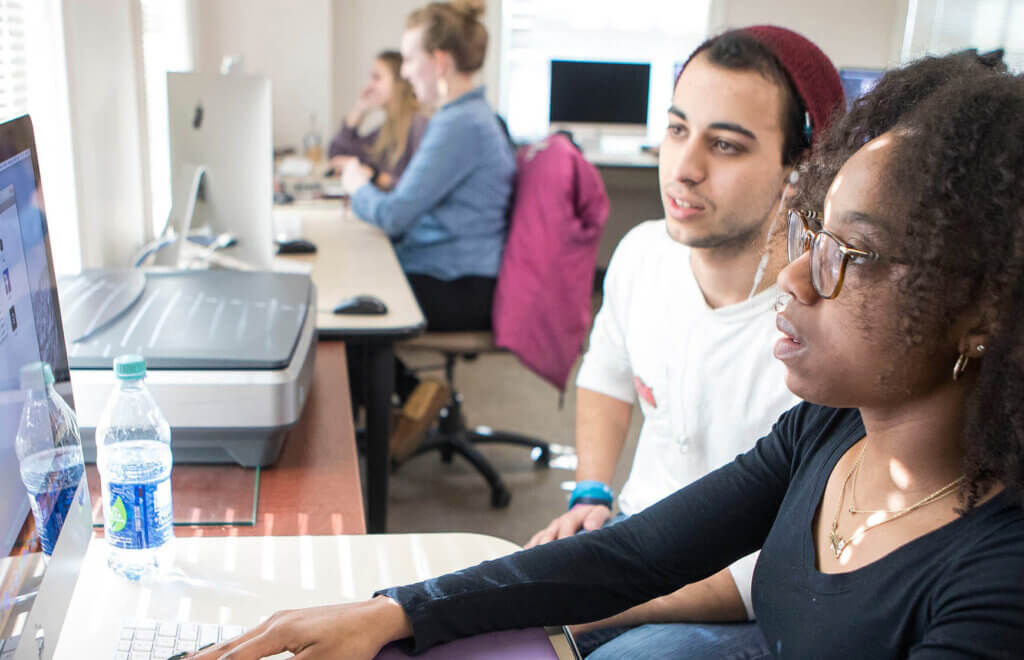 B.A. in Art (Photography Concentration)
The Photography program offers two tracks design to provide students the opportunity to choose a course of study that more closely suites each individual's interests and goals.
B.A. in Art (Studio Art)
The Studio Art program is designed to teach liberal arts students to express themselves in the plastic arts through visual media and to think and act creatively.
Art & Design News
Enrica Taormina
Secretary
Art and Design
Rechnitz Hall, 202