Welcome to the School of Social Work at Monmouth University! We are glad that you have found us and we hope you will spend some time reviewing our Web site and considering our program. Remember, we are always willing to speak with prospective undergraduate or graduate students in person, or by telephone, to further explain our program and answer any questions you may have.
If you would like, we can also arrange for a tour of the campus or you may want to sit in and observe a social work class. Meetings with other areas of the university like Undergraduate or Graduate Admission and Financial Aid are all possibilities as well.
---
---
Why Social Work?
Social work at its very core exists to serve vulnerable and oppressed people. If you are interested in one of the "helping" professions then you are already on the right track in considering social work. In fact, social work is one of the most versatile "helping" professions. Professional social workers practice in a wide variety of settings. Many social workers work in healthcare, nursing homes, and mental health agencies. Schools also employ significant numbers of social workers. There are social workers employed in the correctional system, in drug and alcohol addiction programs, in public social service agencies, and in private family service agencies. Social workers also work with people with disabilities, with children and families, with veterans and the military, and in higher education. Some licensed clinical social workers are in private practice and provide a variety of forms of psychotherapy for their clients. Others practice their skills in the field of international or community based social work or social activism, working to bring about systemic changes to improve the quality of life for large numbers of vulnerable, marginalized, or oppressed people.
Social work education extends well beyond the classroom. As a student you will be simultaneously learning theory and skills while applying this knowledge in actual practice settings. Social work education is, and always has been, an apprenticeship-based education. Whether you are pursuing your BSW or your MSW degree, you will be in an internship two to three days per week (for undergraduate seniors). This allows students to utilize the skills and apply the theory students are learning in real world social work employment settings under the supervision of a trained social work field supervisor. Upon completion of your degree you will also have gained real experience both for your resume and for application in assisting/partnering with clients and communities. Social work is a licensed profession in all 50 states. In New Jersey specifically, the BSW degree allows you to become a Certified Social Worker (CSW) while the MSW degree allows you to become a Licensed Social Worker (LSW). After two years of supervised clinical social work practice you are eligible to become a Licensed Clinical Social Worker (LCSW). The LCSW license is required for private practice. No other degrees are eligible for licensure in social work. The MSW degree also allows you to become a Certified School Social Worker.
Our profession has received numerous accolades for our work and commitment to serving people in need. It has also received some attention from sources such as the Career Journal of the Wall Street Journal, which ranked social work as one of the eight best professions to be entering. This is partly due to higher salaries than typically perceived by the general public, and strong demand, which creates an excellent job market for professional social workers. Also, the United States Department of Labor, in its Occupational Outlook Handbook predicts demand for social workers to continue to grow much more than average over the next decade and beyond. (View the US Department of Labor Statistics for Social Work.) In addition to a strong job market, social workers generally consider their careers highly satisfying. (View Help Starts Here.) Your source for professional advice, inspiring stories – even a social worker directory.
Why Monmouth University?
Monmouth University is a private, comprehensive, residential, non-sectarian institution of higher learning located on 159 acres in West Long Branch, New Jersey, less than one mile from the Atlantic Ocean. Currently the University offers 56 degree programs to approximately 6,400 undergraduate and graduate students, through its eight schools, numerous institutes and Centers of Distinction. A limited amount of graduate student housing is available through the Office of Residential Life.
Monmouth University is an independent, comprehensive, teaching-oriented institution of higher learning, committed to service in the public interest, lifelong learning, and the enhancement of the quality of life. Monmouth University promotes creativity, intellectual inquiry, research, and scholarship as integral components of the teaching and learning process. This is accomplished through a dynamic, interactive, interdisciplinary, and personalized education that integrates theory and practice with traditional and progressive pedagogical approaches. Cognizant of cultural diversity and the dynamics of scientific, social, and technological change, faculty and staff engage in ongoing assessment and improvement of the curriculum and other university programs to meet the needs of students and the community. Monmouth University enables undergraduate and graduate students to pursue their educational goals, determine the direction of their lives, and contribute significantly to their profession, community, and society.
Faculty at Monmouth University are committed to teaching, and while still producing nationally and internationally recognized scholarship, the classroom remains of central importance. The 159 acre campus is beautifully manicured and always a pleasure to be on. Our newly renovated library is equipped with state of the art amenities and technology. Located less than a mile from the beach, the University setting is an unparalleled co-curricular experience.
Why Social Work at Monmouth University?
Faculty, staff, and administration within the School of Social Work are fully committed to excellence in the delivery of your academic and professional preparation. The social work program at Monmouth University is unique in many ways, and the curriculum and field program are built to ensure student engagement with faculty, administration, and of course, each other.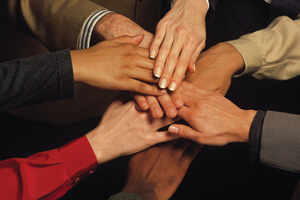 The School of Social Work has built a program around the ideals of advancing human rights and social justice. It is expressly our intention to produce practitioners whose current and future work is grounded in a commitment to human rights, and to that end, the United Nations Universal Declaration on Human Rights is a central hub around which all else is connected.
BSW level (100 through 400 level) social work education and the first year of the MSW program (500 level) are designed to provide you with skills and experience at the foundation or generalist level. In the second year of the MSW program (600 level) you are learning a specific specialization or "track." The Monmouth University program offers a choice of two tracks, Clinical Practice with Families and Children (CPFC) or Global and Community Practice (GCP).
Clinical Practice with Families and Children prepares students for counseling and providing services to families and children specifically, including seminars on practice skills for working with families and children. The CPFC track offers students many diverse, clinical field practicum sites across New Jersey and into New York City and Philadelphia. The School also offers a Post-Master's Certificate in Play Therapy for students interested in pursuing work with children.
Global and Community Practice prepares students for community based work both domestically and internationally. Internships throughout New Jersey and New York City offer students the ability to work with asylum seekers, refugees, in program development and more. The ICD track offers its students the opportunity to do eight to ten week internships abroad in a number of different countries, such as India, Ghana, Chile and more.
BSW students who declare their social work major as freshman, have the option of enrolling in a special five year program in which they can earn both their BSW and MSW degrees. In addition, the BSW program has a very active Social Work Student Society which welcomes majors of all class level. Regardless of when a student declares social work as their major, they will eligible to apply for "advanced standing" for their MSW degree program here at Monmouth University or in most MSW programs nation wide. This allows for a one year full time MSW program (30 credits) rather than a two year program (60 credits) for applicants without an undergraduate degree in social work.
The School of Social Work has maintained a commitment with the State Department of Children and Families (DCF), providing tuition and stipends for BSW seniors who will complete their internship with the Division for Youth and Family Services (DYFS). This program, the Baccalaureate Child Welfare Education Program (BCWEP), is a statewide program in collaboration with seven other New Jersey social work education programs of higher learning. Students interested in working within the area of child abuse and neglect, family preservation, foster care, and adoption should consider this program.
Internships play a crucial role in the development of social work practitioners in social work education everywhere. In the School of Social Work at Monmouth University the field model reflects the student centered nature of the School and University. Each student meets with a full-time field administrator to discuss what skills and experience they would like to gain in their internship and field staff will select agencies for the student to interview with. This ensures that students have the opportunity to gain experience relevant not only to their chosen track and class level but to their personal and career interests as well.
The School of Social Work uses a cohort model with incoming classes so you will be going through the program with a close knit group of peers with whom, we have observed, you will likely keep in touch with throughout your career. Classes are strictly enrollment capped for the MSW program to keep class sizes manageable and to foster interaction and discussion.
In addition to offering a Post Graduate Certificate in Play Therapy program, the MSW program allows students to earn credits toward their Substance Awareness Coordinator (SAC) certification in conjunction with other graduate programs on campus. Students can also work toward their License in Clinical Alcohol and Drug Counseling (LCADC) and complete all required coursework through the social work program, much of which is embedded into curricular elective offerings. Internship hours spent in the field of addictions may also be counted toward the hours required for this license.
Lastly, social work education at Monmouth University is fully accredited by the National Council on Social Work Education. We have operated a continuously accredited BSW program since 1978 and a continuously accredited MSW program since 1998. In 2005, the Council on Social Work Education recognized Monmouth's program with its national award for Exemplary Leadership in Advancing International Social Work Education. The program has received awards from the National Association of Social Work (NASW) New Jersey Chapter for Excellence in Social Work Education and for being a "Trailblazer" in social work. The State of New Jersey's General Assembly has recognized the program formally as being an "Important and Praiseworthy Educational Organization." The MSW program has also been recognized as a "Top 100" program by US News & World Report.
Additional Information