Global and Community Practice
In the online Global and Community Practice (GCP) concentration, you'll develop assessment, planning, intervention, and evaluation skills addressing the concerns and needs of communities, organizations, and groups in local and global contexts. Our faculty are engaged globally through involvement with the International Federation of Social Workers at the United Nations and the International Red Cross, as well as through local organizations in Monmouth, Ocean and Middlesex counties of New Jersey. In addition, Monmouth's School of Social Work helps to organize the annual Social Work Day at the United Nations conference.
Community Practice
Community practice involves taking planned action to build capacity to address common concerns of people in communities, groups, and organizations through supporting and developing local leadership. It includes growing and strengthening diverse social networks and economic arrangements to enable communities, groups, and organizations to meet their own needs and to thrive.
There are five GCP concentration courses:
SW-613: Social Work Leadership and Management
SW-615: Advanced Global and Community Practice
SW-617: Environmental Justice and Sustainable Development in Social Work
SW-623: Social Innovations
SW-625: Program Planning and Evaluation
The sequence of these courses will prepare you for advanced social work practice with groups at the global and community levels. These courses will help students concurrently taking their field practicum apply engagement, assessment, intervention, and evaluation theories and strategies learned in the classroom to their internships.
Field Placements
In your field placement, you may develop effective programs, advocate for policy changes, work with community groups to build capacity, develop peer-based support systems, design and implement social media campaigns, raise funds through grant-writing, plan and implement events, provide prevention education and community outreach, and more.
Internships are available locally, throughout New Jersey, and in the Philadelphia and New York City areas. In the spring semester of the concentration year, students can go abroad for their field internship to Costa Rica, Vietnam, Guatemala, and Ireland.
A small sample of the internships that some of our recent graduates were placed in includes:
United Nations, International Federation of Social Workers
Garden State Equality, Asbury Park, NJ
Valley Against Sex Trafficking, Allentown, PA
Financial Success Center Initiative at the Affordable Housing Alliance, Neptune, NJ
Big Brothers, Big Sisters of Monmouth and Middlesex Counties, NJ
Monmouth University Office of Fraternity and Sorority Life
Ironbound Community Corporation (environmental justice), Newark, NJ
UN University for Peace, Costa Rica
Visiting Nurse Association of Central Jersey Community Health Center, Asbury Park, NJ
Youth Advocate Program/Siempre Bien, Guatemala
Dottie's House (post-domestic violence empowerment), Brick, NJ
Interfaith Refugee and Immigrant Services and Empowerment, Highland Park, NJ
Redeem-Her (support for women reentering the community from rehab, jails and prisons), Neptune, NJ
Juvenile Justice Commission, throughout NJ
Fulfill, (hunger prevention), Monmouth and Ocean Counties, NJ
Program Delivery
The Global and Community Practice (GCP) concentration is offered through an online format. For regular standing students, the first year of the degree will be hybrid delivery, and the second year will be solely online, completing a total 54 credits. For advanced standing students, the entire degree will be online, and only need to complete 30 credits.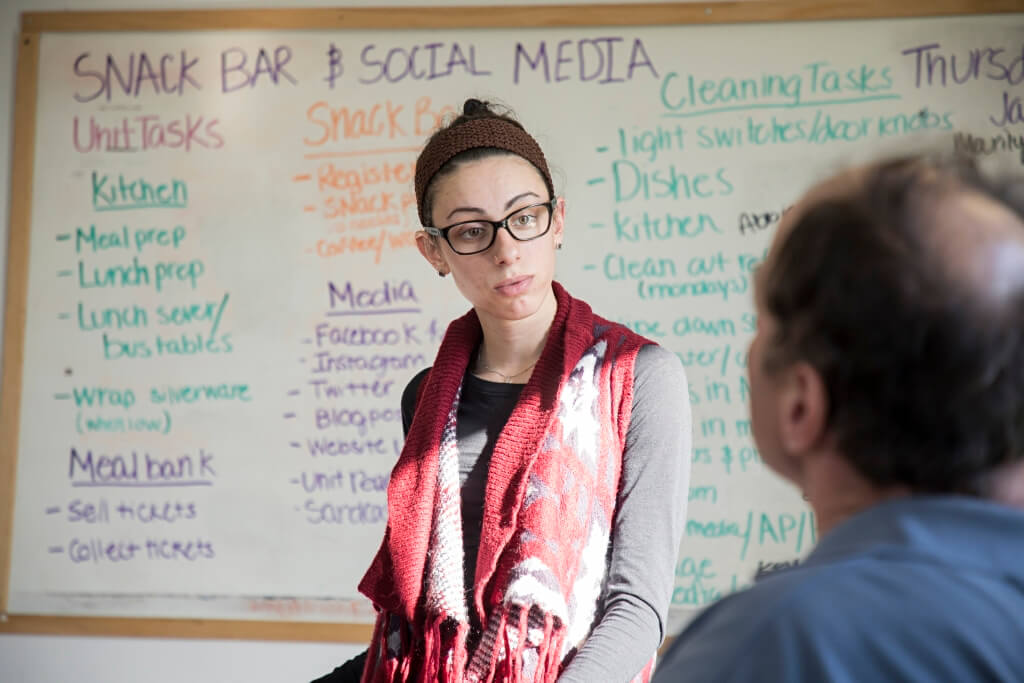 Curriculum & Sequence Charts / Student Handbook
Sequence charts to be used for advising purposes only. Our program is a cohort model. It is important to follow the course sequence that applies to the cohort with which you entered. If you do not progress according to that course sequence, you may need to wait a year before being able to resume classes.