The Bachelor of Social Work Program is an accredited program of the Council on Social Work Education since 1975. The Social Work program at Monmouth University has been designed to provide an understanding of human diversity and society as well as prepare students for careers in Social Work.
Using a curriculum that concentrates on generalist social work practice, the primary mission of the undergraduate Social Work program is to prepare students for beginning professional level social work practice. Secondary goals include introducing other students in the college and individuals in the surrounding community, to relevant social work and social welfare issues, and preparing social work students for graduate social work education. The program attempts to inoculate students with the knowledge, values, skills and ethics necessary for the competent practice of the Social Work profession.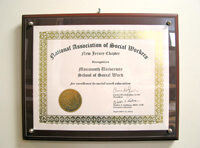 Building upon the liberal arts base, the social work curriculum incorporates and integrates content in five professional foundation areas: Human Behavior and the Social Environment, Social Welfare Policy and Services, Research, Social Work Practice and Techniques, and Field Placement. In each of these five areas, content on professional ethics and values and oppressed populations is included. In addition to the core social work courses, there are supporting classes which supply additional knowledge and background to aid in the effective training of competent social workers. These courses come from the areas of Psychology, Economics, Political Science, Statistics, Sociology, and Anthropology.

A major component of the BSW curriculum is the Field Practicum. Students have three opportunities to practice their social work skills in a supervised field setting:
Sophomore year – 30 Volunteer hours
Junior year – 100 Internship hours (completed during the spring semester)
Senior year – 448 Internship hours (completed during entire academic year)
Field Practicum
Field work is at the core of social work education. It's a rewarding and challenging experience that will prepare you for the start of your professional career in social work. It is also a major commitment and usually generates the most questions. The Office of Field and Professional Education has assembled the most frequently asked questions, along with their respective answers, into a single factsheet.
---
View the BSW Field Frequently Asked Questions.
---
The first step in preparing for a career in social work is choosing a major. Please view our Guide to Choosing a Major (Adobe PDF file).
For more information on the BSW program, see the undergraduate student handbook or contact Christa Hogan, BSW Director, at Chogan@monmouth.edu
Additional Information