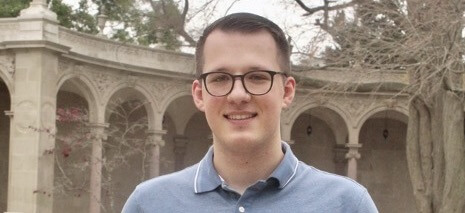 Senior Joe Furmanowski was recently awarded the Association for Computing Machinery (ACM) Upsilon Pi Epsilon (UPE) scholarship. UPE is an international honor society focusing on Computing and Information Disciplines whose mission is to recognize academic excellence at the undergraduate and graduate levels in Computing and Information Disciplines.
Furmanowski was required to submit a comprehensive application, including transcripts, adviser recommendations, and statements describing his contributions to University activities, such as his participation and leadership in the Institute of Electrical and Electronic Engineers/Association of Computing Machinery (IEEE/ACM) club. Since becoming a member, Furmanowski has been instrumental in reviving the high school programming competition, the very event that originally introduced him to Monmouth University and fostered his love for computer science. As vice president, he is undertaking the organization of an Internship Roundtable event, where undergraduate students hear from senior computer science students who will share tips and offer advice on job and internship applications as well as interview preparation. Furmanowski is also a tutor at the CS Tutoring Center on campus, providing support for courses in Java, Data Structure and Algorithms and Computer Architecture.
Furmanowski is committed to raising awareness about the computing profession and the endless opportunities it holds. His goal to become a software developer stemmed from an ongoing internship with the New Jersey Turnpike Authority, where he gained experience in agile software development, researched programming languages and techniques, and built software from scratch. "In short, my long-term plans are to continue as a software developer specializing in mobile and web applications or to choose a career in cybersecurity. I am taking Dr. Weihao Qu's Cyber Security course this semester and have become interested in the subject."
Upsilon Pi Epsilon was first organized at Texas A&M University, College Station, Texas, in 1967. The international organization now consists of chapters in various colleges and universities in North America and overseas.
For more information on the IEEE/ACM club at Monmouth, or any of the events listed in this article, please visit the Computer Science and Software Engineering page.