Creating Curiosity by Breaking Down Walls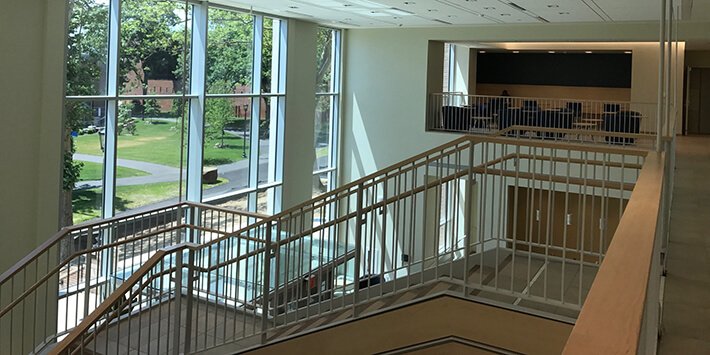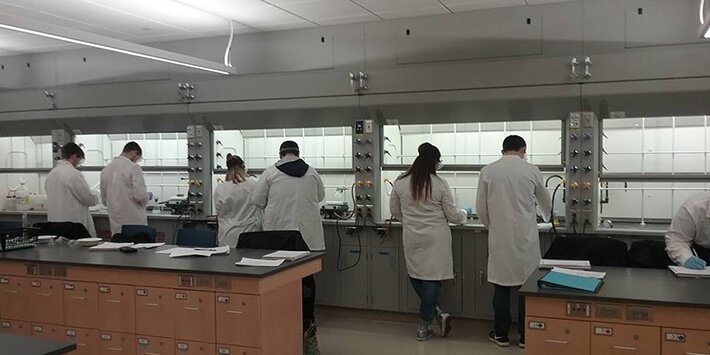 One of the new Science labs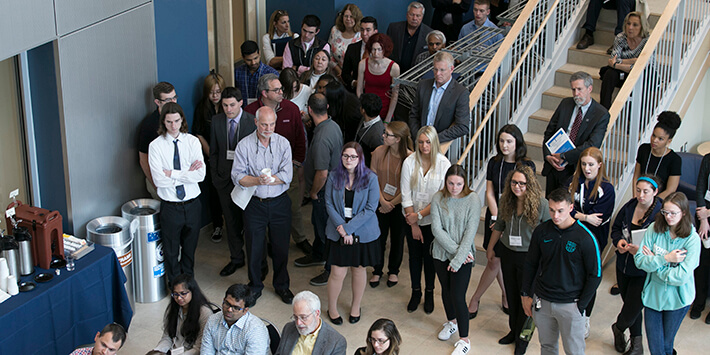 Students gathered to hear speaker in Atrium lobby
Dr. Megan Phifer-Rixey mentoring her students in the biology new lab
Dr. Kathryn Kubera and students conducting research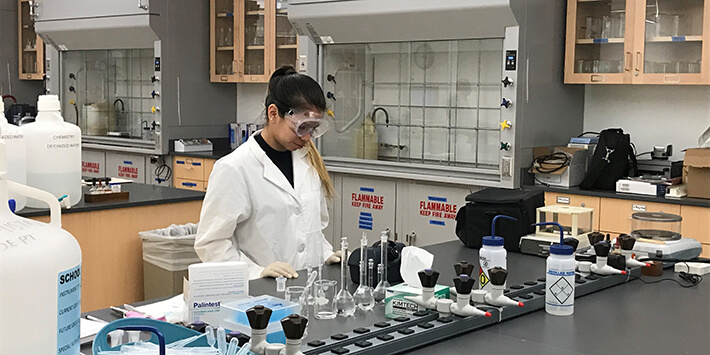 Chemistry student working in the new laboratory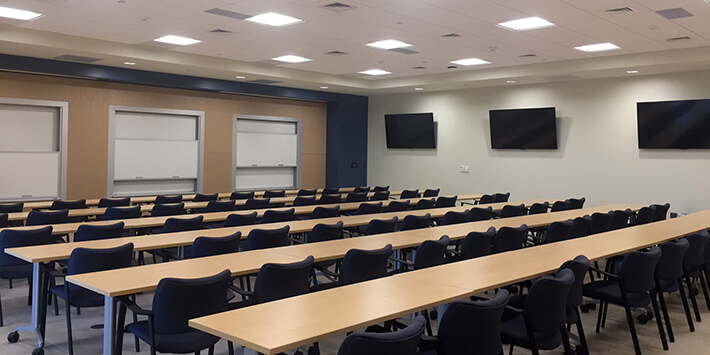 Atrium Multi-Purpose Room
For the past two and half years, the School of Science has undergone major facilities upgrades to the Science Building (Edison) in an effort to achieve the goals of light, space and air. In January 2018 the final phase of that construction was completed and the Science Building is a state-of-the-art, fully-functioning academic space with new and improved teaching, laboratory and office spaces for students and faculty.
The main entrance section of the newly renovated Science Building opened in January 2017 and includes a large multi-purpose room, the School of Science Dean's office suite, Biology and Chemistry offices, a spacious lobby and gathering areas, study rooms, the Urban Coast Institute suite, and several teaching and faculty research laboratories.  The second floor opened in September 2017 and boasts more teaching and faculty research laboratories, write up rooms, as well as faculty and adjunct office space. The first floor will be completed by the end of December, and students were welcomed for the spring 2018 semester.
Students have already given high grades to the new spacious and flexible labs. They really like the glass walls that let light stream in, and find that the space allows for better engagement for collaborative research, improving the overall learning experience. Students from across the University are also taking advantage of the wide-open gathering spaces for meetings, studying, or socializing.
Students learn best when they are actively engaged. With the upgrades students can be in an intellectually stimulating physical environment that encourages greater communication with each other and with faculty, making for an inviting space, where they can work in interdisciplinary teams and observe the work of others. This results in more productive in-class learning.
Learn about all of the amenities by reading this Fact Sheet for the newly renovated Science Building.
The School of Science hosted an Official Grand Opening and Ribbon Cutting Ceremony for the new Science Building facilities on February 13, 2018 in the South Lobby to celebrate this milestone for the School of Science!

All Monmouth students will benefit from the upgrades because science is currently a part of every student's curriculum. We are confident that all students will enjoy making use of the modernized facilities

With this emphasis on encouraging students to become active partners in learning, our new facilities balance institutional and functional spaces to enhance the student experience while demonstrating its firm commitment to teaching and scholarship in the sciences as a cornerstone of the University.
Our new facilities provide students with state-of-the-art surroundings, including walls of glass that make what is happening in labs and classrooms visible, creating curiosity about what is going on; flexibility in spaces with movable lab and classroom components that adapt to diverse teaching and learning styles; and the introduction of "all the time" learning possibilities that allow learning to extend beyond the classroom and lab spaces into social interaction spaces, lounge areas, project and design areas, and more. Specialized spaces include a 90-seat Multi-Purpose Room, computer labs, herbarium, new teaching labs, and student/faculty research facilities for a variety of disciplines.

This technologically solid and sustainable building will feature integrated lab/lecture environments allowing for transparency and greater creativity while connecting students with other disciplines and real world opportunities.