Monmouth University-William Roberts Charitable Foundation Outstanding Teaching Award
2011
Monmouth University honored four outstanding New Jersey secondary school teachers at a dinner on May 12, 2011 hosted by President Paul G. Gaffney II. The 2011 Monmouth University-Roberts Charitable Foundation Outstanding School Teacher Award recipients were Christopher Eberle, Hillsborough High School (Hillsborough, NJ ); John Heyn, Monmouth Regional High School (Tinton Falls, NJ); Robert Lineman, Lawrence High School (Lawrenceville, NJ ); and Dr. Candy Zentz, Frederick Career and Technology Center (Frederick, MD).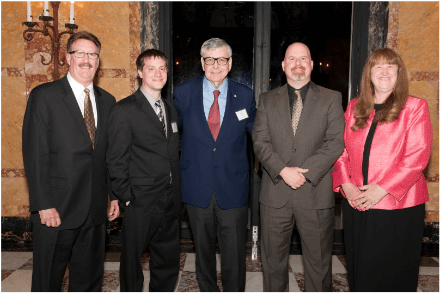 The Monmouth University-Roberts Charitable Foundation Award was instituted in 2006 by life trustee, William Roberts to recognize outstanding secondary school teachers who made an important contribution to the education of current Monmouth University students. Each teacher was nominated by a Monmouth University senior student for their outstanding teaching proficiencies and dedication to education. The selection committee included the Dean of the School of Education Lynn Romeo and Monmouth University professors and students. The teachers received an award of $1500 and were recognized at Monmouth University's commencement on May 18, 2011.
Christopher Eberle has been a History teacher at Hillsborough High School since 2001. From 1997 to 1999, he taught at Northern Valley Regional High School in Demarest, NJ where he was selected as "Teacher of the Year" by the senior class in 1998. He was nominated by his former student Nicole Pierce who stated: "Mr. Eberle's love for U.S. History and passion for teaching was so contagious it was impossible not to enjoy his class. From the moment I walked into his classroom until the moment I left, I was entertained and intrigued by the wealth of knowledge he had to share and his joyful personality."
John Heyn has been a photography teacher at Monmouth Regional High School since 1980. During his tenure, Monmouth Regional High School has become one of the most successful photography programs in Monmouth County. He was nominated by his former student Melissa Katz who stated: "The technical skills I learned in his class gave me a great foundation for majoring in photography in college. His class was my most challenging in high school and also the most fun. His enthusiasm was contagious.
Robert Lineman has been a mathematics teacher at Lawrence High School since 2000. Before his teaching career, he served six years in the U.S. Navy as an electronics technician onboard a nuclear submarine. He was nominated by his former student Sara Dunham who stated: "Mr. Lineman goes above and beyond other teachers to make the subject interesting for students. He uses incentives, real-life examples, and always provides extra help when needed. He taught me to never give up."
Dr. Candy S. Zentz has been a business teacher in the Frederick County Public Schools system for the past thirty-eight years. She is the recipient of the Innovative Teaching Award from the Frederick County Board of Education; the Maryland Vocational Education Teacher of the Year, and she has received the Award of Excellence from the Frederick County Advisory Council. Her marketing program has received the Maryland State Department of Education's Outstanding marketing Education Program Award and the U.S. Department of Education's Outstanding Vocational Education Program of the Year award. She was nominated by her former student Samantha Schanuel who stated: "Dr. Zentz not only prepared me for college, she prepared me for life. From the very first day of class, we stepped in the business world. She provided us with fun-filled days, challenging assignments, and countless extra activities. She would do anything for her students and still would to this day."
For more information about the Monmouth University-William Roberts Charitable Foundation Outstanding Teaching award, contact the School of Education at 732-263-5477.