Monmouth University-William Roberts Charitable Foundation Outstanding Teaching Award
2008
Did you ever wish you could celebrate the high school teacher who really made the difference in your life? Every year Monmouth University seniors have the opportunity to honor their former outstanding secondary school teachers by nominating them for the Monmouth University-William Roberts Charitable Foundation Outstanding Teaching Award, which has been made possible due to the support of Monmouth University Trustee William Roberts.
The award was established in 2006 by Monmouth University and Trustee William Roberts, who provides monetary support through the William Roberts Charitable Trust Foundation. The purpose of the award is to recognize and honor outstanding secondary school teachers who have made an important contribution to the education of current Monmouth University students. Each year up to three outstanding secondary school teachers are selected to receive the award based upon outstanding teaching skills, impact on the nominator's life and dedication to teaching.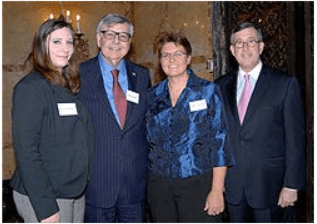 Anne Marie DeRosa paid tribute to the outstanding secondary school teacher in her life when she nominated Anne Marie Tarnowski, one of last year's outstanding teaching award recipients. "When I saw the opportunity to nominate a former teacher for the Monmouth University Roberts Charitable Trust Outstanding Award I jumped on it" said DeRosa. "Even though it has been ten years since I was in high school, it was important to recognize someone who made an impact on my personal, professional, and educational life."
Ms. Tarnowski, a social studies teacher at Brick Memorial High School, said she was amazed when she found out that she was nominated for the award. "I loved the idea of having future teachers think back on their past educational experience-since they will be a part in the lives of so many others." said Tarnowski. "Receiving the nomination letter made me proud of myself and of my student, Annmarie DeRosa. She has worked hard on her education; she didn't have to bother with nominating me, yet she did so anyway."
Nominees are asked to send in a resume, a short narrative summary of their approach to teaching, and any teaching innovations or activities they feel would help the committee understand their teaching strengths. "Filling out the necessary paperwork to be considered was not difficult and provided some interesting reflection for me." Tarnowski said. "Certainly the notification that I had been selected as one of the winners came as a shock, and a very pleasant one at that."
Outstanding teachers receive a monetary award of $1,500. They and their nominating student are invited to a dinner in their honor hosted by President Gaffney. "I hold Monmouth University in the highest regard for the manner in which the entire process was conducted" said Tarnowski. "The communication was excellent, and the attention given to each recipient and their family was fantastic. It was such an impressive dinner reception; I shall never forget how welcomed and honored each and every member of the Monmouth University family made me and my family feel."
Award winners are also invited to the Monmouth University Commencement Ceremony. "It was exciting and wet and cold at graduation, but the day was full of smiles as we sat amongst the younger graduates." Tarnowski said. "I treasure my award at every level, and I commend Monmouth University for its outstanding commitment to education."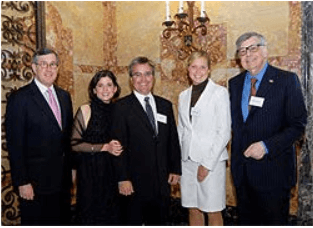 Newton High School science teacher, coach, science coordinator, and a 2008 Outstanding Teaching award winner Jake Mull said: "Being awarded the Roberts Award from Monmouth University was one of the most rewarding experiences of my professional career." Mull was nominated by biology major Brittany Heller for his ability to translate complex scientific concepts into a format that his students could understand and for making science fun. One of his innovations was the "Mull Diagram," a tool that helped students solve complex stoichiometry problems.
"During my career I have experienced teachers being criticized much too often and not praised for doing a good job. To have a former student take the time to nominate me made me realize that I really do make a difference in my students' lives." said Mull. "Never before was I treated with such class, respect, and dignity by an organization. The staff and faculty of Monmouth made me feel as if I was an international dignitary. I cannot say enough wonderful things about the Roberts Award that Monmouth has developed and how Monmouth goes out of their way to make teachers feel worthwhile and important. I doubt I will ever forget receiving my Roberts Award or the wonderful experience I went through to accept the award."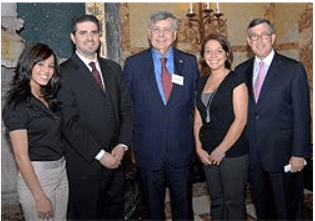 The third 2008 Roberts Outstanding Teaching award winner was Shore Regional mathematics teacher Daniel Nicol, who was thrilled about the nomination and elated when he learned that two Monmouth seniors, Nicole Mancini and Sheena Migliaccio, had nominated him for the award. "To be recognized by Monmouth University instilled in me a sense of pride and accomplishment." He said. "This great learning institution allowed me to bring my family to share a wonderful dinner in my name, also allowed me to attend and be honored at the graduation ceremonies where I saw my two former students receive their diplomas. The expression of joy on their faces was unforgettable."
For those seniors who are considering nominating their outstanding high school teachers, Annmarie DeRosa gives this advice: "… no matter how old you are or how long it has been since you attended high school, those who impacted you the most still count and appreciate your recognition more than you could imagine. Ms. Tarnowski today is an amazing mentor and a wonderful friend. Relationships with those who impact our lives last a lifetime, so take the time to acknowledge and reward those who go above and beyond to be the resilient adults in children's lives."
This year's Monmouth University-Roberts Charitable Foundation Outstanding Teaching Selection Committee members are: Dr. Lynn Romeo, School of Education Dean and Chair of the Selections Committee; Drs. Eugene Simko, Jason Barr, James Konopack, Michael Palladino, and Deanna Shoemaker; and five Monmouth University students selected by Vice President for Student Services Mary Anne Nagy. The most important information used in the deliberation process comes from the student nominating form, which must be submitted no later than December 12.