Monmouth University-William Roberts Charitable Foundation Outstanding Teaching Award
2009
Monmouth University honored three outstanding New Jersey secondary school teachers at a dinner on May 14, 2009 hosted by President Paul G. Gaffney II. The Monmouth University-Roberts Charitable Foundation Outstanding School Teacher Award recipients were Linda Ensor, Shore Regional High School (West Long Branch, NJ); Dr. Robert Marraccino, Department of Education of New York City; and Salvatore Principe, Keyport High School (Keyport, NJ).The Monmouth University-Roberts Charitable Foundation Award was instituted in 2006 to recognize outstanding secondary school teachers who made an important contribution to the education of current Monmouth University students. Each teacher received an award of $1500 and was nominated by a Monmouth University senior student for their outstanding teaching skills and dedication to education. The selection committee included the Dean of the School of Education Lynn Romeo and Monmouth University professors and students.
Linda Ensor has been an English teacher at Shore Regional High School for the past seven years. She serves as the coordinator of the school's International Baccalaureate Diploma Programme, advises the student newspaper staff, coaches the Model UN team, and teaches journalism, world literature, and theory of knowledge. She was nominated by her former student Adrienne Hansen who stated: "Her enjoyment for English was contagious. She ignited my passion for English and inspired me to become a teacher. As much as she taught the content of English, she also taught us life-long skills, for instance, how to study and think critically. I looked up to her as a role model and continue to do so." Ms. Ensor lives in Red Bank, NJ.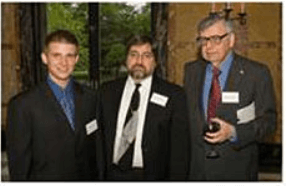 Robert Marraccino, Ph.D., is coordinator of the Career and Technical Education (CTE) program, and since 2001, instructor of the medical laboratory and assisting program in biotechnology (Med-Tech) at the Tottenville High School in Staten Island, New York. As instructor of the Med-Tech program, he developed a two-year sequence and curricula in partnership with biotechnology and pharmaceutical industries and post-secondary institutions. The Med-Tech Program prepares students for medical and allied health professions. He was nominated by his former student Michael Slisz who had him as a teacher at Tottenville High School in Staten Island. Michael will be attending medical school after graduating from Monmouth University this year. Michael stated: "Dr. Marracino was extremely dedicated to his students. He was able to engage the whole class in active learning. In addition, he actively searched for funding for our experiments and research classes and secured several sponsorships. I feel I would have never made it this far without my good grades and research successes, which all stem back to Dr. Marracino." Dr. Marraccino resides in Staten Island, NY.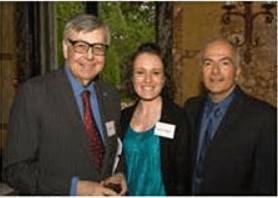 Salvatore Principe has been teaching math and coaching at Keyport High School since 1984. For the past 5 years, he has been the math/school-of-science/ coordinator assisting all of our teachers in both of these areas. He was nominated by his former student, Shannon Higgins who stated: "He is not only able to impart his expertise in mathematics on his students; he is able to give them the confidence to feel that they are able to "do" mathematics. His teaching methods have shaped the future teacher that I want to become. He is more than an educator, he is a role model." Mr. Principe resides in Brick, NJ.