Guide to Living on Campus for New Residents
Table of Contents
Move-In Day Overview for Incoming Students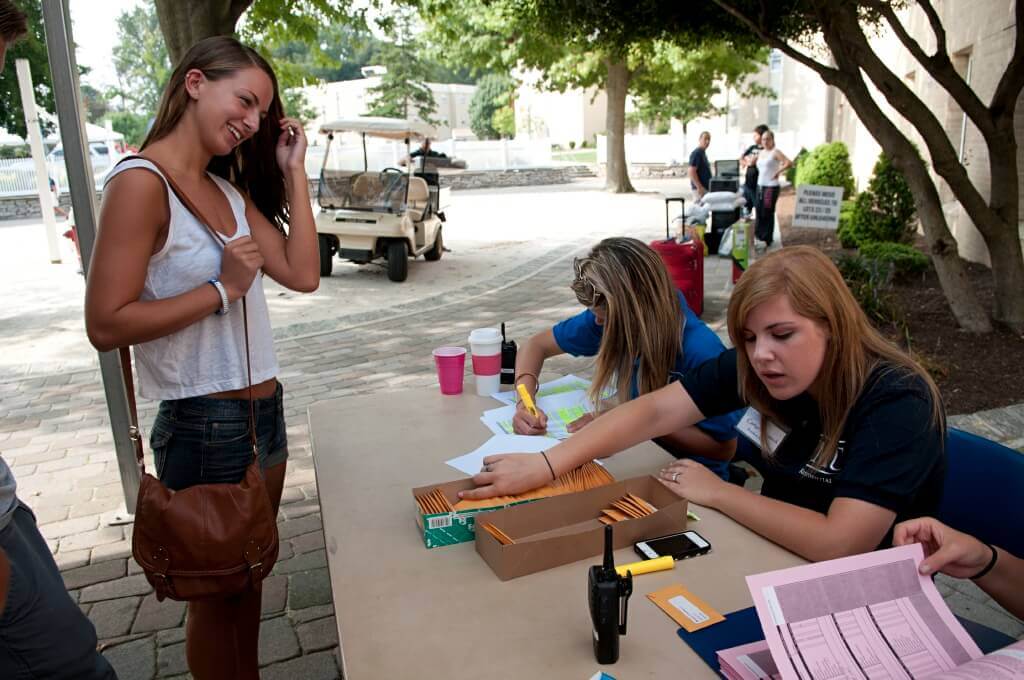 At a Glance
You will report to your assigned building at the time designated in the Move-In Day Procedures section.
Check in at your building's move-in table, which you will find either toward the front of the building or in the lobby.
University staff will provide you with room keys, your student ID card, and Welcome Week information.
Make sure you complete your Room Condition Report once you arrive in your room. A Resident Assistant (RA) will go over the report with you—both you and the RA must sign off on this document.
Once you complete these steps, you're ready to move in your belongings, set up your room, meet your roommate, say goodbye to your family, and attend the mandatory Building/Welcome Meetings.
Move-In Day Procedures for Freshmen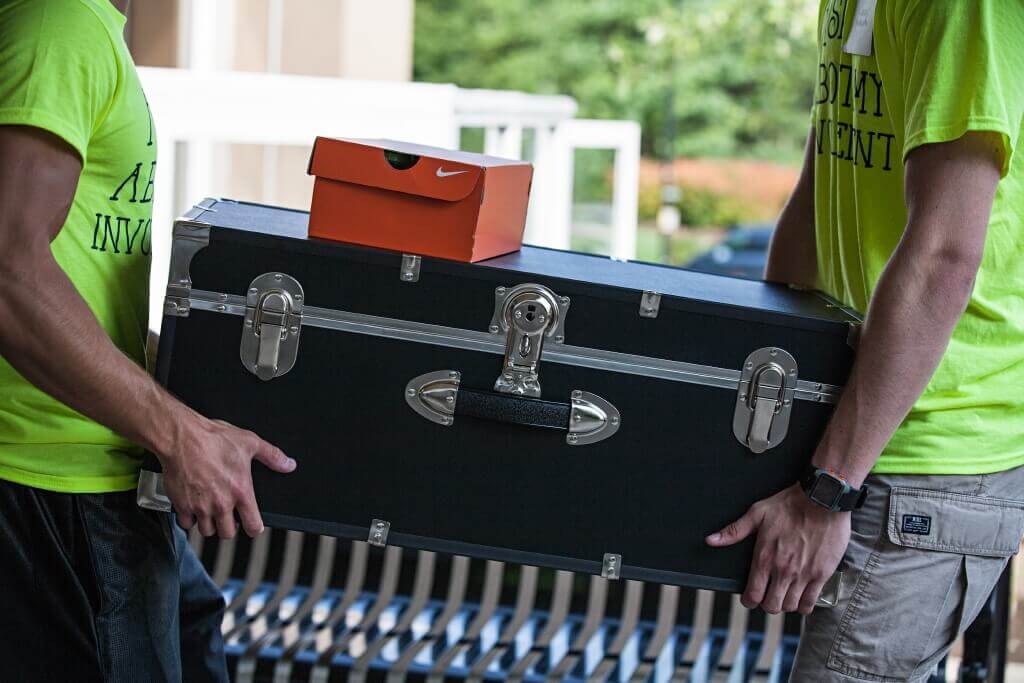 Schedule
In order to facilitate a smooth and efficient move-in process, please adhere to the following instructions. Your understanding and cooperation with these instructions will help create a smooth and efficient check-in experience. Please plan to arrive using the move-in times listed below (early arrivals will not be able to check-in until the assigned times). Note for Transfer Students: Your move-in will take place on Monday, September 2 between 9:00am and 11:00am. Please report to your assigned building to receive your keys.
Sunday, September 1, 2019
| Time | Residence Halls |
| --- | --- |
| 8:30 am | 3rd Floor Beechwood Hall (J,K,L,M,N Suites), 3rd Floor Pinewood & 3rd Floor Elmwood Halls |
| 9:15 am | 2nd Floor Beechwood Hall (E,F,G,H, I Suites), 2nd Floor Pinewood & 2nd Floor Elmwood Halls |
| 10:00 am | 1st Floor Beechwood Hall (A,B,C,D Suites), 1st Floor Pinewood & 1st Floor Elmwood Halls |
| 11:45 am | 3rd floor Laurel Hall (J,K,L,M, N Suites), 3rd floor Mullaney Hall and 3rd Floor Hesse Hall |
| 12:30 pm | 2nd floor Laurel Hall (E,F,G,H,I Suites), 2nd floor Mullaney Hall and 2nd Floor Hesse Hall |
| 1:15 pm | 1st floor Laurel Hall (A,B,C,D Suites) – 1st floor Mullaney Hall and 1st Floor Hesse Hall |
| 1:30 pm | Late arrivals in all residence halls |
| | |
Upon arrival all students are to park in the arrival lots designated for their building.
| Residence Hall | Parking Lot |
| --- | --- |
| Pinewood | Lots #1 and #3 |
| Elmwood | Lots #1 and #3 |
| Mullaney Hall | Lots #1 and #3 |
| Cedar | Lots #5, #6 and #3 |
| Laurel | Lots #1 and #3 |
| Willow Hall | Lots #1 and #3 |
| Beechwood | Lots #5 and #2 |
Note: Please DO NOT park in front of Birch Hall or on University Place
Instructions
By Move-In Day, you will have received a parking placard in the mail—make sure you display this in your vehicle when you park on campus. Before you unload, proceed on foot to the lobby of your residence hall, where you will receive further instructions and complete paperwork to assist with the move-in process. There will be ample staff and University Police available to provide assistance. Please follow their directions and requests.
No student will be permitted to unload and move into his/her room until he/she is formally checked-in, has obtained keys, and received check-in instructions.
Unloading time is expected and limited to 30 minutes per resident. Prior to moving into your room, it is recommended that you first ascertain that keys work properly and observe the condition of your room. Report any abnormalities to the staff in the lobby area.
Upon completion of unloading, you must immediately move your car.
You may move your car from the unloading area to Lot #16 (located near McAllan Hall) and Lot #23 (located next to University Police Station). These parking requirements will be enforced. Please show consideration for those who are just arriving.
Failure to comply with these procedures will delay your check in process
Move-In Day FAQs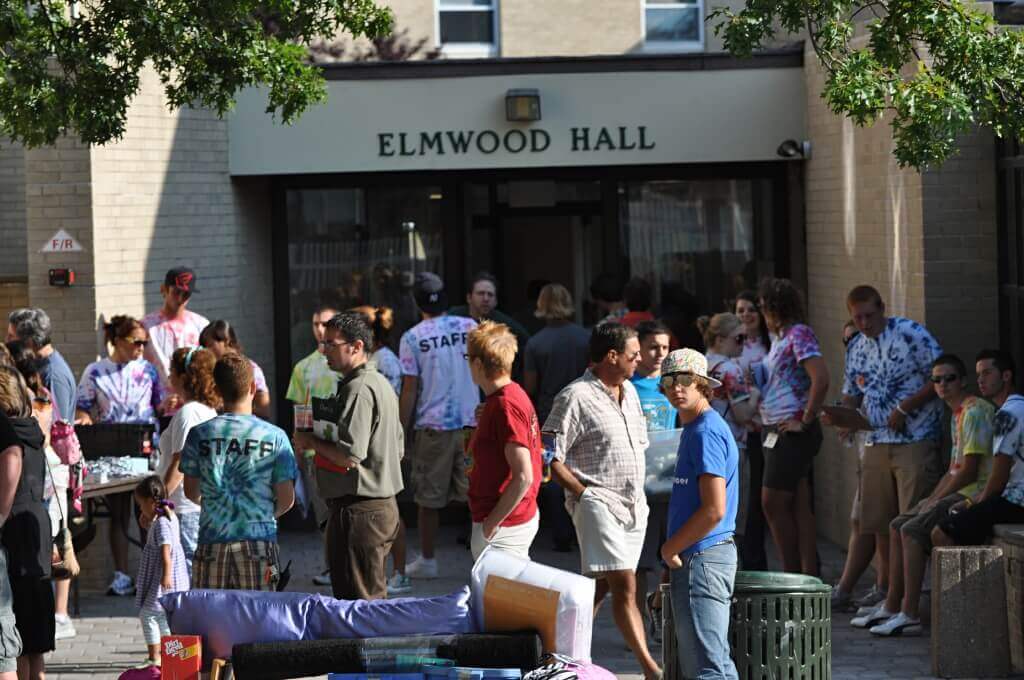 When should I arrive?
Your check-in time depends on the building and floor of your room assignment, as shown in the Move-In Procedures section. Freshmen will move in on Sunday, September 1.  Transfer students will move in Monday, September 2. Remember: before you arrive all your health records must be submitted to Health Services.
What if I arrive early?
If you are a few minutes early, the staff will do their best to accommodate your check-in, but if you are hours early, priority is given to those designated to move in during that specific time.
What if I arrive late?
If you are running a few minutes late, the staff will be happy to help you with your check-in.  If you are delayed hours or shall not be able to move into your building, please call 732-571-3465 so that we can do our best to ensure a staff member will be able to issue you your check-in materials.
What should I expect?
Students:
A hectic and emotional day. Don't panic if it seems to you that everything is crazy and new; the staff will help you get through it.
New people who are also going through the same thing as you. Get to know them!
A lot of boxes, crates, and stuff. Just like you, everybody else has all of their worldly belongings and is pondering how to get them to their room.
Forms to be signed & information to be given.
Having fun. The staff will get you involved in different activities and meetings so you can socialize and begin to get a feel for the lay of the land.
Parents and Guardians:
A long day. Don't panic, you can do it!
New people (both students and their family members) who are sharing in the experience.
There shall be a time when the staff will politely ask you to begin saying goodbye to your student. Your student will be required to go to Building meetings and Welcoming activities to get to know University policies, housing procedures, and their peers.
At times, it may seem chaotic and overwhelming, but just ask and the staff shall do their best to assist you.
Roommates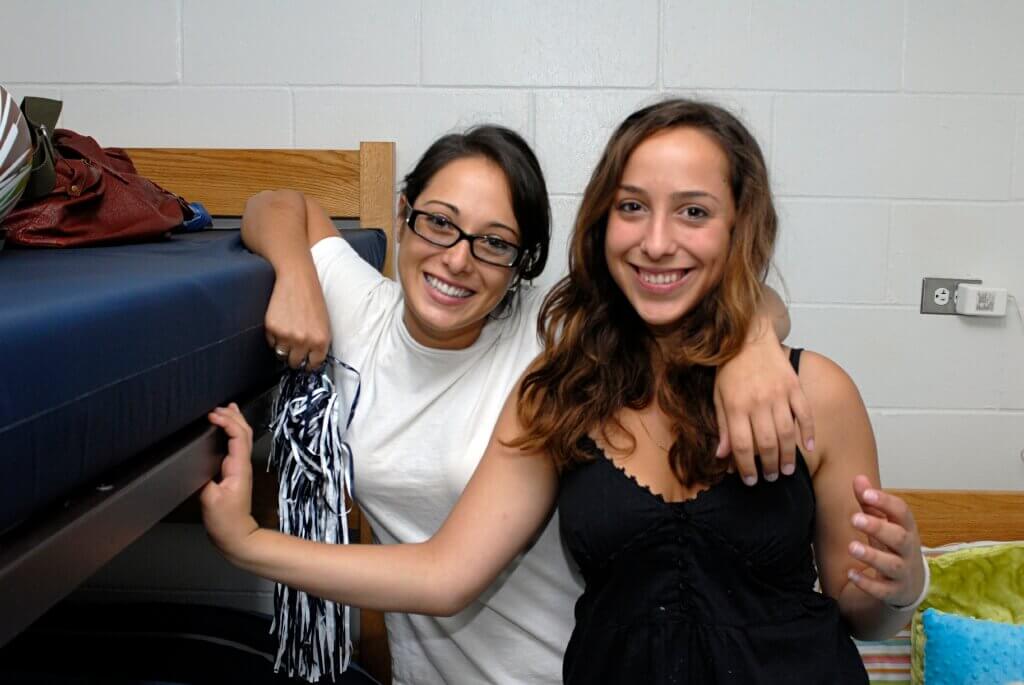 Preparing for Move-In Day
Before arriving to Monmouth, call or meet your roommate! They're probably just as nervous to meet you as you are to meet them. Be sure to ask:
What hobbies and interests they have.
What items each of you will bring (stereo, TV, fridge, so on).
What items they feel comfortable sharing.
How they want to decorate the room.
Who will be helping them move into the room.
Arriving to Campus
When you get to your dorm, make sure that you talk with your roommate about how you would like to set up the room. Meet with your roommate's family and friends if they're around.
After You Get Here
Avoid roommate issues before they start. Your RA will review guidelines and topics to discuss with your roommate when you move in together. Plan to complete the Shared Living Space Agreement! This document will be given out after the first couple of weeks of semester and is an excellent opportunity to outline and address each others expectations about:
Cleanliness of the room.
Noise Levels at specific times.
Borrowing or using each others items.
Times for waking up and going to bed.
Guests visiting the room (learn more about the campus guest policy).
If needed, your Resident Assistant will help you and your roommate with this so that there is a mutual understanding.
Don't expect your roommate to inevitably become your best friend (although it's nice when it happens). You don't need to be lifelong pals to be successful roommates.
Advice for Parents and Guardians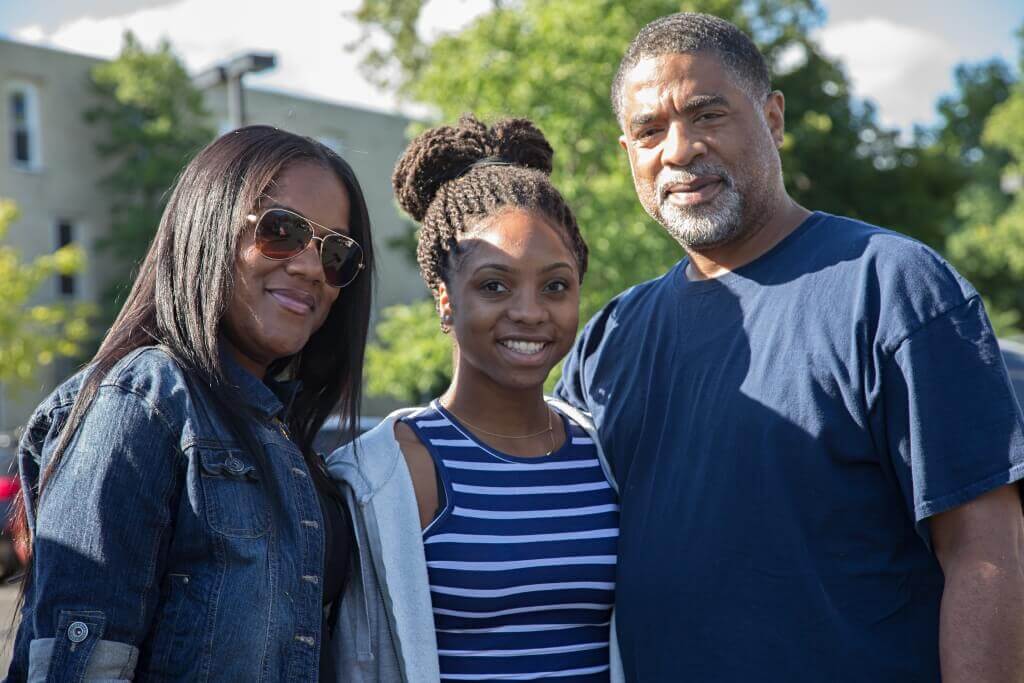 Avoid: Dining or socializing with your student during the crucial first few weeks where he/she needs to be bonding with new friends.
Try: Allowing him/her to experience the new environment on his/her own.
Avoid: Popping in unannounced because your student will be active and engaged in a lot of impromptu activities.
Try: Calling before you visit and meet in the lobby
Avoid: Assuming that your student will get over a romantic break-up, death of a friend, or other personal crises.
Try: Paying close attention to what your student says and urge them to talk to someone on campus if needed.
Avoid: Expecting the University to inform you of financial, academic, discipline, and/or health problems.
Try: Discussing privacy and FERPA with your student since, by law, the University cannot release certain information without consent from the student.
Avoid: "My child is an angel! They would never…"
Try: Accepting that your student may falter during this time of growth and that the University staff shall help them along their way of personal development.
Avoid: Jumping into protection mode and trying to fix any and all problems your student may encounter.
Try: Re-iterating to your student that they need to be active and responsible for addressing their hurdles.
Urgent News Alerts
The Office of Residential Life and Monmouth University want to help ensure the health and safety of all residential students. To accomplish such a goal, a means of mass communication to relay information to students in a near instantaneous fashion was needed. As a result, Monmouth University now utilizes an electronic Emergency Notification System.
Whether it is a school closing due to inclement weather or any other urgent information that needs to be disseminated in a timely fashion, students registered with the Emergency Notification System will be alerted by whatever phone number best fits them. Please DO NOT list your home phone number or a number belonging to a family member.
All residential students are REQUIRED to register for the Emergency Notification System. Resident students who fail to register prior to the beginning of the fall semester will be registered by the University.
For more information please contact The University Police Department at 732-571-4444
Important Acronyms
| Abbreviation | Name | Details |
| --- | --- | --- |
| AC | Area Coordinator | Professional staff responsible for multiple residential halls and directly supervises HRAs and RAs. Lives in residence and participates in nightly crisis response duty. |
| CSS | Center for Student Success | Department that provides academic and career counseling for all students at Monmouth University. |
| DA | Desk Assistant | Undergraduate student who checks guests into the residence halls between the hours of 6:00pm and 1:00am. This student is supervised by the Office of Residential Life. |
| FERPA | Family Education Rights and Privacy Act | Federal Law that restricts university officials to communicate with parents regarding student records. FERPA waivers/releases are available online. |
| HRA | Head Resident Assistant | Elevated student staff member who fulfills requirements of an RA and assists with addressing facility and building issues. Works under the direction of an AC and helps supervise an RA staff. |
| MUPD | Monmouth University Police Department | Department that protects and serves the University community. Officers are recognized law enforcement officials and are able to issue citations and make arrests. |
| OL | Orientation Leader | Student staff that assists in the orientation of new students. Supervised by the office of First-Year Retention, these individuals facilitate programs and events to help new students adapt to the college experience. |
| ORL | Office of Residential Life | Department on campus that deals with all university sponsored housing. Main office located in Pinewood Hall. |
| OTL | Orientation Team Leader | Student Staff that works with the OL's and the Orientation Program. |
| RA | Resident Assistant | Student Staff responsible for floor of residents. Offers guidance to residents. Enforces rules and regulations. Sponsors educational and social programming. Fosters community. Assists in staffing the building nightly. |
| RCR | Room Condition Report | Document inventorying presence and condition of University furniture and fixtures specific to residential room that resident reviews and signs during move-in. |
| RHA | Residence Hall Association | Student group advocating for the needs and wants of residential students. Offers various programs to residential students. All welcome to join. |
On-Campus Resources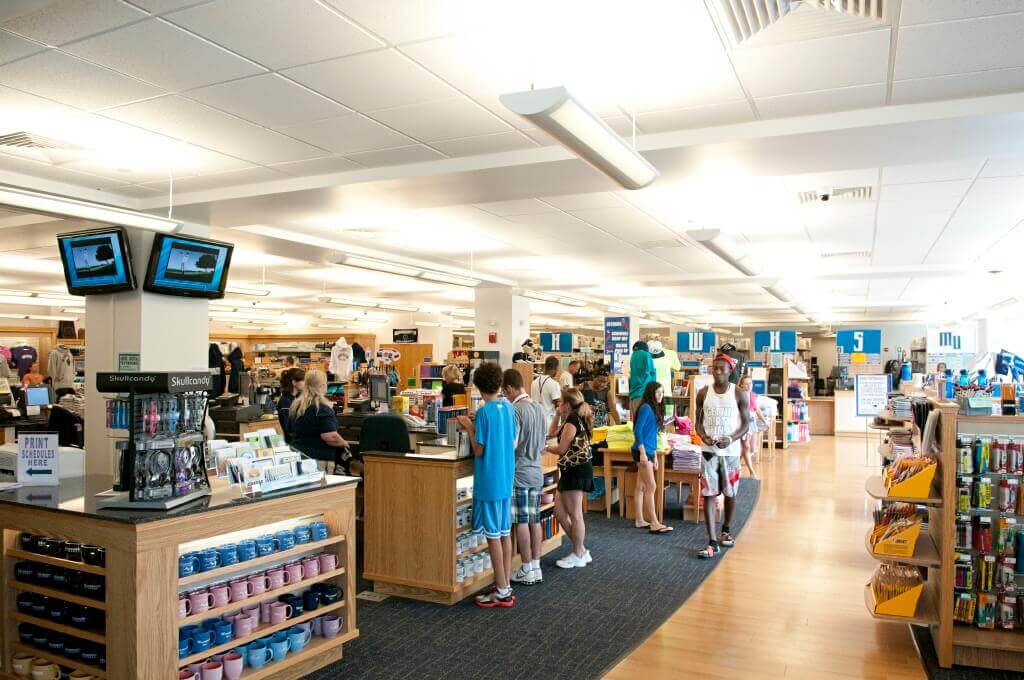 Should you need assistance, there will be staff available to assist you in seeking out the appropriate resources. Here is a short list of some our most commonly utilized offices during move-in weekend!