The Residence Hall Association (RHA) is a campus student group that works with several off-campus vendors to raise money for the organization to help sponsor programs and events in the residence halls every year. RHA will receive a percentage of the profits collected from the purchase of the products listed below. You are not obligated to use any of these companies. Questions can be referred directly to the company or by contacting the Office of Residential Life at 732-571-3465.
Bed Linens
Monmouth University has been offering Residence Hall Linens by Our Campus Market since 2002. Students at Monmouth University require specially sized sheets, blankets, and comforters to fit the campus's extra-long mattresses. These extra-long beds (longer than 76 inches) are intended to maximize the comfort levels of every student. Our goal each year is to make sure students and parents have the right size residence hall bedding for move-in. XL sheets are more difficult to find, so we provide a variety of custom-sized linens sure to fit and guaranteed to last until graduation. We also have a large selection of extra-long comforters, extra-long mattress pads, extra-long thermal blankets, pillows, storage solutions, and anything else you might need for your new room.
Guarantee Your First Choice Today! Our best selection of college bedding and a guarantee of your first choice is available for parents and students who respond early. All our residence hall room bedding and accessories come with a 100% satisfaction guarantee right up to graduation. You may return your linens for a full refund if you are not satisfied for any reason. Visit www.mmu.ocm.com to view our full selection of colors and patterns, and to place your order.
IMPORTANT CHECKLIST UPDATE: The checklist that was sent with your materials mistakenly included a Microwave in the list of items to bring. Microwaves are NOT allowed on campus, so please do not purchase or bring these items to your residence hall.
---
Care Packages
Show your love and support all year long with the Monmouth University care package program. A care package is the best way to remind your student that Mom and Dad are thinking of them on a birthday, a holiday, during final exams, or just a random day during the semester. A care package says it all.
Imagine what a welcome treat our care package will be for your student. It includes fresh fruit, healthy snacks, tasty treats, and fresh baked cookies and cakes. You can also include a personal note so you can be sure your student knows how much you care.
Monmouth University has offered this popular care package program to students for years. We know all the students' favorite items and when they most need a boost each semester.
Don't leave your student out! Every year we try to fulfill our goal of putting a smile on every student's face with at least one care package during the year. We have a wide selection of care package themes and designs for every taste and budget. Does your student need a gluten-free or peanut-free care package? No problem, we have those too!
Here are some of the most popular care packages we can arrange for your student:
Welcome Care Package
Halloween Care Package
Valentine's Care Package
Birthday Cake or Care Package
Midterms Care Package
Final Exams Care Package
Graduation Care Package
Miss You Care Package
Thinking of You Care Package
Peanut-Free Care Package
Gluten Free Care Package
Fresh Baked Cookies or Cakes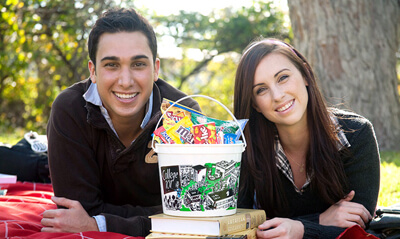 National Student Services, Inc. (NSSI)
NSSI has been family owned and operated since 1971.  Based in Stillwater, Oklahoma, NSSI is a leader in providing college dorm personal property insurance.
Please visit:    https://www.nssi.com/get-started,