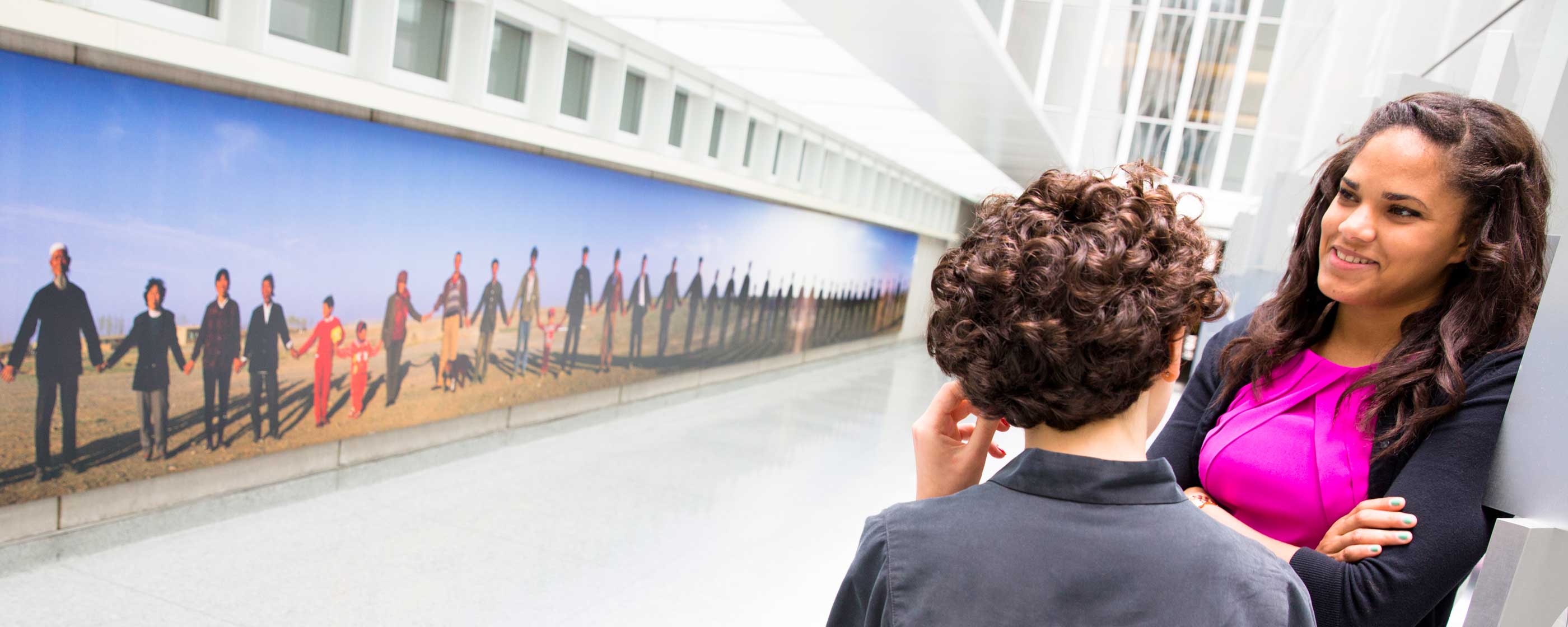 Join students just like you from more than 25 countries around the globe in our supportive international community. Study in world-class facilities alongside nationally recognized faculty and take the next step toward your first job after graduation by building your professional network.
We look forward to meeting you!
Our Location
Monmouth University students live in a place of opportunity. Our vibrant coastal location—only an hour from major U.S. cities like New York and Philadelphia which are accessible via train or bus—provides students with the best of both worlds. Students enjoy a safe and secure learning environment on a historic campus just one mile from the Atlantic Ocean, with direct access to the vast cultural experiences that New York City has to offer. Our central location has also allowed us to develop a network of strong, well-recognized corporate partners throughout the region, providing advanced Practical Training and career placement opportunities for our international students and alumni.
Study in our quiet seaside town, explore the shops and restaurants in the local area, or enjoy the energy of city life. At Monmouth, every opportunity is yours for the taking.
Challenging. Energetic. Experiential. Undergraduate academic programs at Monmouth are designed to bring your education to life, both inside and outside of the classroom. Engage with real-world issues and build practical skills through internships and volunteer opportunities. Use the Monmouth network to make the most of your OPT opportunity by gaining experience with one of our many recognized corporate partners.
Advanced. Innovative. Unique. Graduate Studies at Monmouth create highly trained professional with a vision for the future. Advance your career through rigorous academics that will challenge your perspective and develop your expertise in new areas. Engage with a network of passionate global professionals who bring their energy and enthusiasm into the classroom. Work 1:1 with world-class faculty and gain hands-on experience in the workforce with one of our many corporate partners. Your success is our success!
Join Our International Community
Your Home Away from Home. Here at Monmouth, we believe in creating a supportive learning environment for all of our students. From the moment you arrive on campus, you will receive the personalized assistance you need to transition into life in the United States and the Monmouth community. The Global Education Office (GEO) at Monmouth University supports international students by providing a caring environment of advocacy, assistance with visas, and cultural programming to enable you to achieve your educational goals and realize your potential as leaders.
From thousands of miles away, you've started looking forward. And once you arrive at Monmouth University, you won't stop. You'll make your mark here, and in return, we'll help your future take flight.
Learn more about our international community and how the Global Education Office will support you throughout your time in the United States.