Master of Arts in History
You relish learning about the past and have a knack for connecting the dots between the lessons of yesterday and the challenges of today.
Put that exceptional intellectual curiosity to work by enrolling in Monmouth University's 30-credit M.A. in History. Whether you're seeking a valuable career enhancement or planning to pursue your Ph.D., Monmouth's M.A. in History gives you the power to tailor your degree to your interests and goals. Convenient evening classes let you earn your degree while you work.
In addition to our general degree, the graduate history program offers three detailed specializations. Monmouth's World History focus is a sought-after specialization that most history departments don't offer. Our U.S. and European History specializations offer critical context in an increasingly global economy.
In small seminars, you will work with professors with a wide array of specialties, and you will engage fellow students with a diverse set of backgrounds and interests. The development of research proficiency, humanistic values, and a broad understanding of global issues is also emphasized in this program.
Application deadlines for this program are May 1 for Summer, July 15 for Fall, and December 1 for Spring. View Program Application Requirements.
Thesis or Exam?
Those who wish to specialize in any of the program's areas of study and who are planning to pursue a doctoral degree at another institution may complete a master's thesis. Those with a general interest in history may pursue a broad-based program and can opt to take a comprehensive examination in place of completing a thesis.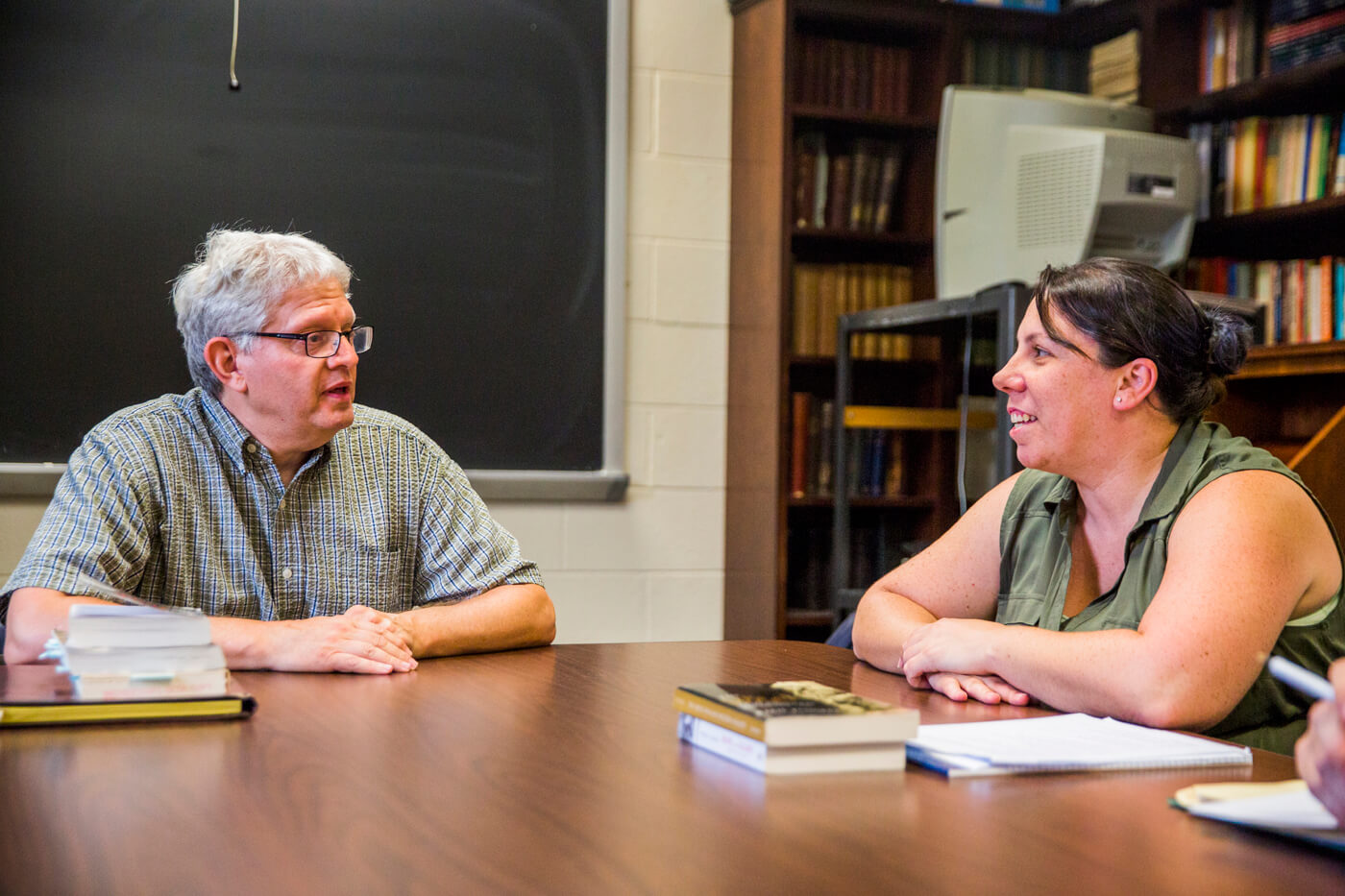 "Under the guidance of several professors here at Monmouth, and building on a paper I wrote about Belfast in my first semester at the program, I have turned my general love of Irish history into several award-winning research papers, a conference presentation, independent research, and my thesis project. I could not be more motivated to continue my education thanks to my experience here." – Jennifer McCue, MA History Grad Student '17
"My love of teaching and researching Middle Eastern and World history has allowed me to explore topics relating the Islam and Islamic feminism, Middle East history, and nationalist history(ies) in comic books and graphic novels in the classroom, in my own research, and at national and international conferences." – Maryanne Rhett, Associate Professor – History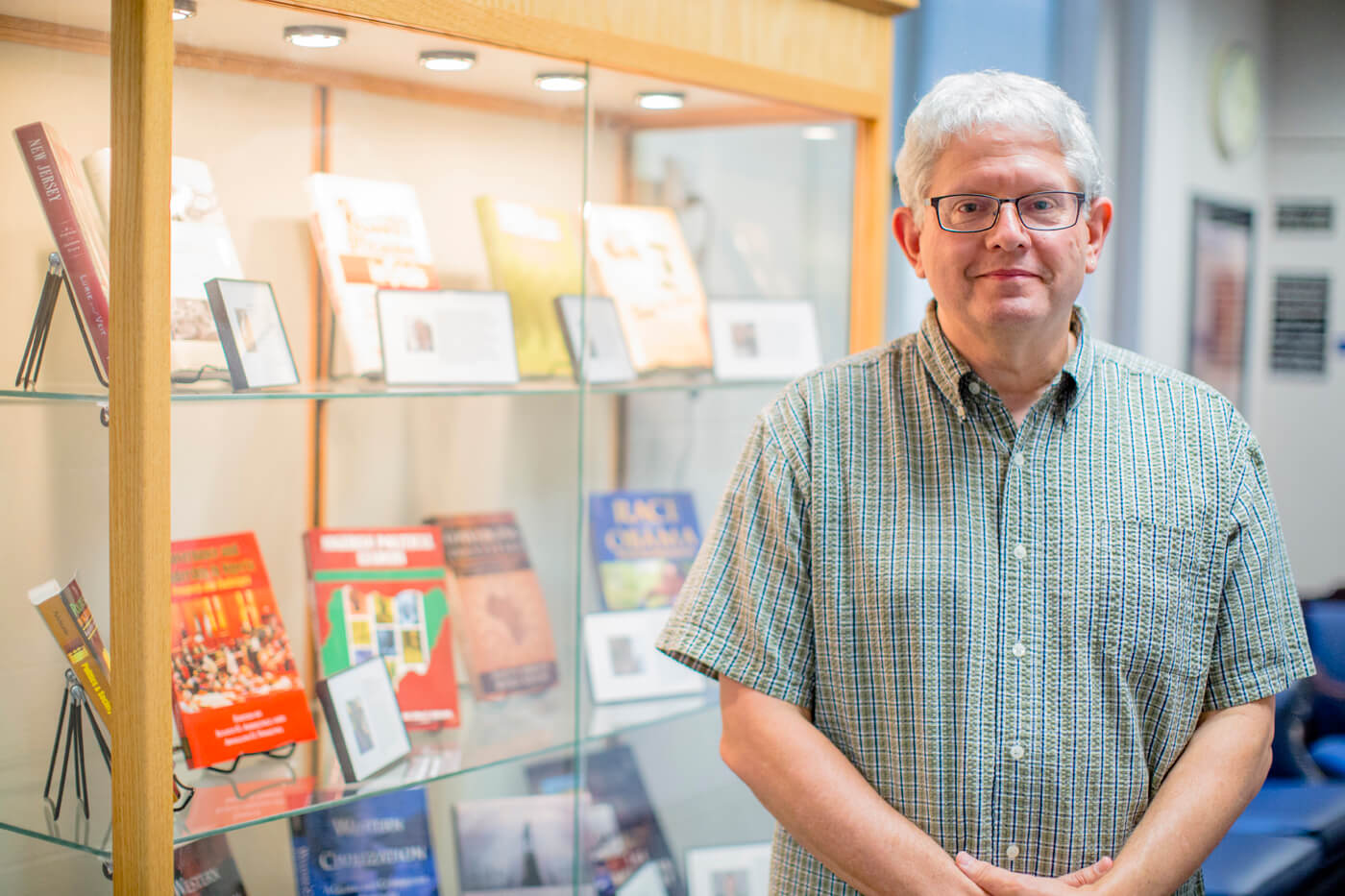 Dr. Ken Campbell teaches graduate courses in British history, historical criticism, and the philosophy of history. His latest book, A History of the British Isles.
Research and Curriculum Opportunities
Students in the M.A. in History program have opportunities to present their work at conferences held both on campus (including the biennial Monmouth University Conference on Race) and off campus.
Students have presented at local, regional, and international conferences on topics including:
Ireland and Dark Tourism
The Caribbean, Race and Imperialism in World History
Women and Family-Friendly Issues on College Campus
The Viking Legacy in Scotland
Race and Asbury Park NJ
White Male Privilege in Academia
Gain valuable real-world experience in presenting in front of faculty, researchers, influencers and peers in exciting and dynamic formats. Monmouth's M.A. in History provides the opportunity to put your work center stage.