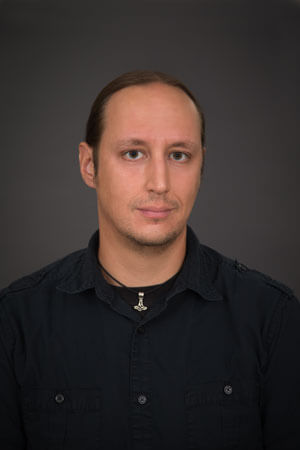 Dr. Heinrich is an archaeologist with a wide array of research interests and experiences which allow him to bring cross-disciplinary methods and perspectives to his research and teaching. His main foci are in historical archaeology and zooarchaeology with particular interest in exploring historic adaptations to new environments and developing market systems. Dr. Heinrich also has extensive experience working with material culture including the use of GIS to identify how artifacts can reveal market connections across colonial New Jersey and the Hudson River Valley of New York. Current research also includes studies of environmental influences on livestock use in the northeast USA as well as advocating for a stronger taphonomic methodology in historical zooarchaeology.
Education
Ph.D., Rutgers University
Research Interests
Historical and prehistoric archaeology; Historical and prehistoric zooarchaeology; Cultural and environmental variation in husbandry and meat consumption; Taphonomy; African and European diaspora and cultural contact; 17th-19th century commemoration; Osteology/Forensics, Archaeobotany (macrobotanicals); Experimental archaeology; Development of mercantile systems; Consumerism in archaeology; Material culture and social process
Books
Book Chapters
Heinrich, Adam R. and Carmel Schrire. 2014. Faunal Analysis and the Development of the VOC Meat Industry at the Cape. In Historical Archaeology in South Africa: Material Culture of the Dutch East India Company at the Cape. Carmel Schrire, editor, pp. 65-99. Walnut Creek, California, Left Coast Press, Inc.
Heinrich, Adam R. and Carmel Schrire. 2011. Colonial Fauna at the Cape of Good Hope: A Proxy for Colonial Impact on Indigenous People. In The Importance of Material Things, Volume 2. Julie Schablitsky and Mark Leone, editors, pp. 121-141. Society for Historical Archaeology.
Scholarly Articles
Heinrich, Adam R. and Teresa Bulger. In prep. The Archaeology of Hannah Glover, an Early 19th-Century Quaker in New Jersey. Historical Archaeology.
Heinrich, Adam R. and Michael J. Gall. 2021. Zooarchaeology and GIS: Enslaved and Free Black Diet at a Late Eighteenth- to Mid-Nineteenth-Century Delaware Farm, New Castle County, Delaware, United States. International Journal of Historical Archaeology. DOI: https://doi.org/10.1007/s10761-021-00622-7
Heinrich, Adam R. 2021. The Archaeology of Morris Cohen, A Jewish Farmer's Victory over a Groundhog in Nineteenth-Century Green Brook, New Jersey. New Jersey Studies 7(2):108-131. DOI: https://doi.org/10.14713/njs.v7i2.252
Gall, Michael J., Adam R. Heinrich, Ilene Grossman-Bailey, Philip A. Hayden, and Justine McKnight. 2020. The Place Beyond the Fence: Slavery and Cultural Invention on a Delaware Tenant Farm. Historical Archaeology 54(2):305-333.
Heinrich, Adam R. 2019. Resource Procurement and Lithic Processing at the Sorbello 1 Site (28-Sa-214) in the Oldmans Creek Drainage, Salem County, New Jersey. Bulletin of the Archaeological Society of New Jersey 74:42-64.
Heinrich, Adam R. 2018. Archaeological Identification of Woodland Period Shelters within the Inner Coastal Plain at the Gloucester City Native American Archaeological Historic District, Gloucester City, Camden County. Bulletin of the Archaeological Society of New Jersey 71-73:68-88.
Heinrich, Adam R. 2016. Lenape Horticulturalists: Moving the "Maize Debate" Forward in the Lower Delaware River Valley. Journal of Middle Atlantic Archaeology 32:9-25.
Heinrich, Adam R. and Brock Giordano. 2015. Late 19th Century Foodways in the 'Garden State' at the Woodruff House, Rahway, New Jersey: Insights from Small Faunal and Large Macrobotanical Samples. Historical Archaeology 49(4):12-29.
Heinrich, Adam R. 2014. The Archaeological Signature of Stews or Grease Rendering in the Historic Period: Experimental Chopping of Long Bones and Small Fragment Sizes. Advances in Archaeological Practice 2(1): 1-12.
Heinrich, Adam R. 2014. Cherubs or Putti? Gravemarkers Demonstrating Conspicuous Consumption and the Rococo Fashion in the 18th Century. International Journal of Historical Archaeology 18: 37-64. DOI: https://doi.org/10.1007/s10761-013-0246-x
Heinrich, Adam R. 2012. Some Comments on the Archaeology of Slave Diet and the Importance of Taphonomy to Historical Faunal Analyses. Journal of African Diaspora Archaeology and Heritage 1(1): 9-40.
Heinrich, Adam R. 2011. "Remember Me…" But "Be Mindfull of Death": The Artistic, Social, and Personal Choice Expressions Observed on the Gravemarkers of Eighteenth Century Monmouth County, New Jersey. New Jersey History 126(1): 26-57.
Professional Associations
Society for Historical Archaeology
Register of Professional Archaeologists
Middle Atlantic Archaeology
Council for Northeast Historical Archaeology
Archaeological Society of New Jersey
Courses
Recently Taught Classes
2023 Fall
Cultures of the World – AN 113
Introduction to Archaeology – AN 107
Native American History and Prehistory – AN 532
2023 Summer B
2023 Spring
Historical Archaeology – AN 506
Introduction to Archaeology – AN 107
2022 Fall
2022 Summer B
2022 Spring
2021 Fall
Cultures of the World – AN 113
Introduction to Archaeology – AN 107
2021 Summer B
2021 Spring
2020 Fall
Historic Artifact Analysis – AN 507
Introduction to Archaeology – AN 107
2020 Spring
Frequently Taught Classes