Interactive Digital Media Concentration
How will you be an innovator in today's digital evolution? Monmouth's Interactive Digital Media (IDM) concentration will allow you to study the convergence of technology, art, and business through up-and-coming digital platforms while learning to produce compelling interactive media, products, and services. As the only program of its kind in New Jersey, Monmouth's IDM concentration will train digital media producers who rely on ingenuity, experimentation, and forward thinking to stay on the cutting edge.
Think Critically and Creatively
Our flexible and multidisciplinary approach to interactive media encourages entrepreneurial thinking and creative problem-solving skills that set our students apart in the job market. Over the course of 30 credits, you will examine digital platforms and tools, collaborate with classmates to analyze real-world problems, and develop a functional business plan while creating your own interactive media product or service.
Your 18 credits of IDM coursework will delve into topics such as game design, mobile technologies, interactive exhibition design, data storytelling, physical computing, and more. With 12 available elective credits in areas like public relations, web development, and motion graphics, you can customize your curriculum and tailor the program to your unique passions.
The program culminates in a capstone course, through which you will conceptualize and develop a functional interactive media prototype. This creative project will demonstrate your comprehensive understanding of technology and problem solving, and may take the form of a mobile app, a video game, or a virtual reality device, among other things. You will also create a business plan for pitching your final product to real world clients that will boost your portfolio and enhance your marketability after graduation.
Build Your Future Career
Graduates of the IDM program are thought leaders and trendsetters in a field that is constantly evolving. With a thorough framework of theoretical knowledge, a diverse portfolio of work, and a creative approach to problem solving, our students are positioned to uncover the next big breakthrough in digital media. You will graduate with the entrepreneurial skills to pursue individual passion projects, develop start-up companies, and find work in traditional areas of the media landscape, including:
Web design and development
Applied animation
Interactive exhibition design
Game design and development
Web content creation
User experience design and development
Virtual reality and augmented reality
Mobile applications
Geolocational services
Ambient computing
Experiential marketing design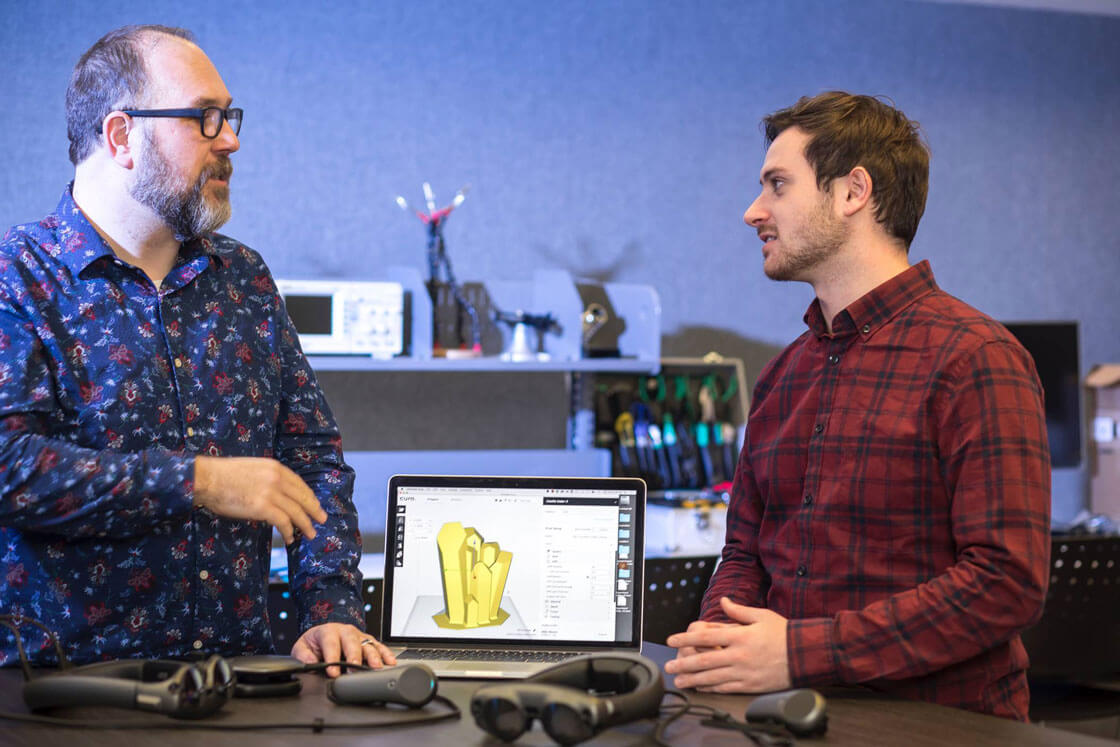 IDM Research Lab
Our state-of-the-art studio and research lab facility features a seminar area, collaboration areas, and an assortment of emerging technology devices for use both in and out of class. This hub of creativity allows for in-depth student-faculty collaboration in areas such as robotics, augmented and virtual reality, artificial intelligence, and more.