IFSW Social Work at the United Nations Initiative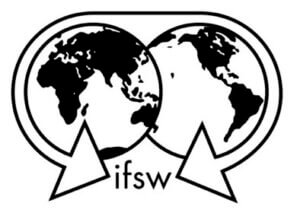 RHEINFELDEN, Switzerland (December 10, 2021) — The International Federation of Social Workers announces the establishment of the IFSW Social Work at the United Nations Initiative at Monmouth University in the School of Social Work. The establishment of the IFSW SW at the UN Initiative fulfills a need to combine international social work experience, networks, and key contacts with the global strategies of the United Nations (UN). This vision has been jointly articulated by Paul Ladd, director of the United Nations Research Institute for Social Development: "Social workers are the frontline community workers on the UN's Sustainable Development Goals, active in all regions of the world, expanding opportunities and ensuring that no one is left behind. The 2030 Agenda for Sustainable Development will simply not be met without their commitment and support."
Since the formation of the Sustainable Development Goals (SDGs), a number of UN agencies are increasingly interested in success models that have been initiated and supported by social work. At the present time, there is no dedicated center that can provide advice and link together the UN or social work bodies that maximizes the opportunities to fulfill the aspirations and objectives of the SDGs. This Initiative will offer a key and high-profile role leading the necessary and essential relationships to achieving the SDGs. An approach of building partnerships between social workers, allied disciplines, and local communities where there is a development focus, alongside the UN has been evidenced as a key requirement for sustainable development.
The International Federation of Social Workers is a membership organization of social work organizations in 143 countries from every continent of the globe, representing more than 3 million professional social workers. IFSW has had membership as a non-governmental organization with the UN since 1959 and has been granted Special Consultative Status by the Economic and Social Council (ECOSOC) of the UN and the United Nations Children's Fund (UNICEF).
"A number of our faculty have been active representatives of the IFSW UN Team in New York for over 20 years," said Robin Mama, dean of the School of Social Work at Monmouth University. "Our expertise working with the United Nations made the Monmouth University School of Social Work the ideal setting for this innovative center."
For more information on the IFSW SW at the UN Initiative, please contact Dean Robin Mama, at rmama@monmouth.edu
---
Advisory Committee
Rory Truell, D.H.Sc., Secretary General, IFSW – Co-Director of the Initiative
Robin Mama, Ph.D., Professor and Dean, Monmouth University – Co-Director of the Initiative
Aniruddha Kulkarni, Child Protection Specialist, UNICEF
Hugh Salmon, Director – Global Social Service Workforce Alliance
Priska Fleischlin, IFSW Global Commissioner for the United Nations
Vasilios Ioakimidis, IFSW Global Education Commissioner
Angelo McClain, Ph.D., Chief Executive Officer – National Association of Social Workers
Randall Abate, J.D., Rechnitz Family Endowed Chair in Marine and Environmental Law and Policy, Monmouth University
Tony Macdonald, J.D., Director – Urban Coast Institute, Monmouth University
Activity Areas
These are our activity areas that the initiative will begin to focus on which are not in order of priority:
Engaging social workers globally with the United Nations and its work, through collaboration with IFSW, IASSW and ICSW;
Strengthening partnerships among universities and practitioners between UN and social work and multidisciplinary partners to promote sustainable strategies at the global, regional and national levels;
Strengthening interdisciplinary partnerships to promote research, policy analysis, and scholarship for the United Nations and social work education and practice;
Advising UN agencies on social development strategies;
Preparing social workers and other allied professionals to work with the United Nations through the development of training programs and joint publications;
Collaborating with other community partners at the local, state, and national levels that support the work of the Center;
Advocating for best practice methodologies for social development within the UN agendas;
Monitoring and evaluating the effectiveness of social work and other interdisciplinary approaches in UN development strategies;
Capacity building of human rights leadership through postgraduate education and dissemination of best practice models.
"Social work is a practice-based profession and an academic discipline that promotes social change and development, social cohesion, and the empowerment and liberation of people. Principles of social justice, human rights, collective responsibility and respect for diversities are central to social work. Underpinned by theories of social work, social sciences, humanities and indigenous knowledge, social work engages people and structures to address life challenges and enhance well being. The above definition may be amplified at national and/or regional levels."

Definition approved by the IFSW General Meeting and the IASSW General Assembly in July 2014