Summer Research Program 2022
Biology || Chemistry and Physics || Computer Science and Software Engineerings || Mathematics
---
Biology
Endowed Associate Professor of Marine Science
Email: jadolf@monmouth.edu
Project Title:
Phytoplankton and Harmful Algal Bloom (PHABLab) Research
Project Description:
PHABLab research aims to understand the relationship between coastal marine ecosystems and environmental variability. Phytoplankton are an essential component of aquatic ecosystems, transforming sunlight and inorganic nutrients to food for numerous species at higher trophic levels. However, a handful of the ~25,000 species of phytoplankton can cause troubling 'Harmful Algal Blooms' (HABs) that affect human health, sicken or kill aquatic organisms and disrupt aquatic ecosystems. Marine, estuarine and freshwater systems have seen an increase in HABs in recent decades, related to climate change and eutrophication. This summer's project will build on PHABLab research that started in 2017 in Coastal Lakes associated with the Coastal Lakes Observing Network and the Hudson-Raritan Estuary (HRE) including the Shrewsbury and Navesink Rivers. These projects will provide students with hands-on field and laboratory experience and will aid our understanding of how natural and anthropogenic variability impacts marine ecosystems.
---
Associate Professor, Biology
Email: pdaneshg@monmouth.edu
Project Title:
Ecological Restoration of Climate Change Impacted Coastal Ecosystems
Project Description:
Climate change induced sea level rise and storm related flooding events have had a dramatic effect on the coastal ecosystems of New Jersey. Salt water intrusion into coastal forests that are normally buffered by salt marsh ecosystems forests results in extensive tree die offs leaving behind what has been termed a "ghost forest," a novel marsh hybrid ecosystem filled with dead trees. Saltwater inundation into normally freshwater-dominated ecosystems results in changes in forest community composition from plants to wildlife to the microbial community. The ecology of ghost forests has yet to be described by the scientific community. This summer we will explore ghost forest communities and compare their ecology to healthy coastal forests.
Climate change induced sea level rise and storm related flooding events have had a dramatic effect on the coastal ecosystems of New Jersey. Salt water intrusion into coastal forests that are normally buffered by salt marsh ecosystems forests results in extensive tree die offs leaving behind what has been termed a "ghost forest," a novel marsh hybrid ecosystem filled with dead trees. Often these ghost forests are invaded by non-native species like phragmites, which completely alter the function of the ecosystem. This summer, Dr. Daneshgar's Plant Ecology Research Lab will explore restoration and conservation strategies to prevent flooded coastal ecosystems from degrading into invaded areas with less ecosystem function through greenhouse experiments.
---
Assistant Professor, Biology
Email: kdunton@monmouth.edu
Project Title:
Conservation and Demographics of New Jersey Coastal Fishes
Project Description:
The coast of New Jersey has been shown to be a migratory corridor for many species including sturgeons, coastal sharks, and rays. By collecting information on their population demographics (size, age, sex, species) and spatial/temporal habitat uses along the New Jersey Coast, we can gain a greater understanding of their population ecology, which is essential for both conservation and management issues.
Sharks and Rays: The NJ coast is home to numerous shark species that support a large recreational and commercial fishery. Sandbar sharks (Carcharhinus plumbeus) and Sand Tigers (Carcharias taurus) are of particular interest because they are currently prohibited from harvest and also have the potential to overlap with humans (e.g. bathing beaches) since they typically occupy shallow coastal waters. Although prohibited, these species are also incidentally captured in the recreational, land-based hook-and-line shark fishery, which has been increasing in popularity in recent years. Due to the nature of this fishery, the collection of information about specific species can be difficult. We will work directly with the recreational community to collect information on population demographics as well as tag sharks with conventional and acoustic tags to monitor movements after release. Understanding the population demographics of specific shark species as well as migratory pathways along the coast of New Jersey can lead to better management and conservation efforts for the shark fishery.
Sturgeon: Atlantic Sturgeon (Acipenser oxyrinchus) are listed as endangered under the Endangered Species Act. However, while endangered, large aggregations of this species occur in nearby coastal waters and the Hudson River (essential nursery and spawning area). Sandy Hook Bay is an urbanized embayment important for commercial and recreational fishing, trafficked by high-speed ferries, and the location of Naval Weapon Station Earle, a weapons loading terminal for the US Navy. Earle is located within close proximity to these areas of known Atlantic Sturgeon aggregations and freshwater spawning/nursery sites. While Atlantic Sturgeon have been historically documented to occur in Sandy Hook Bay, no formal surveys have been conducted to identify their presence/absence. We will use acoustic telemetry to detect Atlantic sturgeon within this region.
---
Associate Professor and Professor, Biology
Emails: dhutter@monmouth.edu and mack@monmouth.edu
Project Title:
Effects of Specific Essential Oils and Methylglyoxal on the Growth and Proliferation of a Variety of Human Cancer Cell Lines and Specific Multidrug Resistant Bacteria
Project Description:
One project to be addressed is the influence of specific essential oils and methylglyoxal on the proliferation and survival of normal and cancerous cells grown in culture. Previous research in this laboratory has indicated that kumquat essential oil treatment leads to decreased proliferation and apoptosis in a variety of human cell lines. This summer, we would like to continue to study the effects of essential oils and methylglyoxal on the regulation of apoptosis in cancer cell lines, and to compare all results to normal cell lines.
Here at Monmouth, there has been work performed to characterize the anti-bacterial role of essential oils, but we have the ability to expand this work to determine the effects on human cells. The proliferation and rate of apoptosis of normal human cells and cancerous cells exposed to essential oils will be measured. This work may lead to further evaluation of signaling pathways influenced by essential oil treatment.
We will also address the effects of specific essential oils (Cassia, Oregano, Cinnamon, Cypress, Madagascar Vanilla, Citrus Bloom, Sensitive Skin, Siberian Fur, etc.) and Methylglyoxal on the growth of multidrug resistant bacteria including Acinobacter baumanni, Enterobacter cloacae, and Klebsiella pneumonia.
---
Assistant Professor, Biology
Email: mphiferr@monmouth.edu
Project Title:
Evolution in New Environments
The house mouse is one of the most widely distributed mammals and one of the most widely used genetic model organisms. Nevertheless, there is still much to learn about how house mice have so successfully spread into new environments. Recently, house mice have expanded their range in association with humans establishing populations in a variety of novel habitats, providing an exceptional opportunity to study the genetic basis of rapid evolutionary change. This summer, we will continue projects focusing on adaptation to different climates and start a new NSF funded project focusing on the genetics of urbanization on house mice. Student researchers will have the opportunity to participate in a variety of different projects ranging from fieldwork to benchwork to data analysis. Students enrolled at Community Colleges are especially encouraged to apply.
---
Assistant Professor of Wildlife Ecology
Email: ssterret@monmouth.edu
Project Title:
Reptile and Amphibian Ecology and Conservation in Urbanized and Suburbanized Ecosystems
Project Description:
Reptiles and amphibians are diverse groups of vertebrates undergoing global declines due to anthropogenic effects. Urbanization and suburbanization are types of development that create challenging threats for these animals to persist (i.e. habitat loss, increasing levels of disease, noise pollution). This collection of projects aims to explore ecological research and conservation for reptiles and amphibians in New Jersey and represents an opportunity to investigate how populations fare alongside high human density populations using several specific study systems. Coastal lakes are among the only remaining habitats for wildlife aquatic species that are able to persist in highly developed, urban areas. First, we will continue sampling freshwater turtles that inhabit coastal lakes and manmade canals in New Jersey. For this, we will intensively study Lake Takanassee using capture mark-recapture techniques to estimate density and annual survival and complement this with rapid sampling of 6-8 other coastal lakes to understand variation among lakes.
Diamond-backed terrapins are also a turtle species living in habitat highly modified and are among the most visible turtles in coastal marsh habitats especially during seasonal mating aggregations, making them easily visible from unmanned aerial systems (i.e., drones). Partnering with two NJ conservation groups, and building on a previous experiment of terrapin detection using 3D printed terrapins, we will sample real populations of terrapins to understand how this novel method of detection can be leveraged for population estimation. Lastly, we will begin a new project aimed at understanding the movement ecology and habitat use of a threatened species, the Eastern box turtle (Terrapene carolina), in Weltz Park, a 169 acre county park situated in a matrix of suburban development.
---
Chemistry and Physics
Assistant Professor, Chemistry and Physics
Email: djose@monmouth.edu
Project Title:
Biophysical Analysis on the Effect of Ligands on Fluorescently Active G-Quadruplex Structures
Project Description:
The formation of G-quadruplex (GQ), a non-canonical nucleic acid secondary structure, can inhibit the elevated telomerase activity that is common in most cancers. The global structure and the thermal stability of the GQs are usually evaluated by spectroscopic methods and thermal denaturation properties. However, most of the biochemical processes involving GQs involve local conformational changes of GQs at the guanine tetrad (G4) level. Previously we developed a method to study the local conformations of individual G4 layers in GQs that uses 6-methylisoxanthopterine (6MI), a Circular Dichroism (CD)-active fluorescent base analogue of guanine in synthetic GQs. Using this method we explored the local conformational changes of individual G4 layers and found that individual G4 layers, depending on their location on the GQ, have different accessibility to solvents and other molecules. In the current proposal, we aim to expand our studies to the human telomeric 22AG sequence (5′-AGGGTTAGGGTTAGGGTTAGGG-3′).
We propose to utilize optical spectroscopy methods with fluorescent and CD-active base analogues and cyanine dyes, site-specifically placed into the nucleic acid frameworks, to monitor the global conformational changes and the more specific local conformational changes. We plan to replace the guanines at positions 3,9,15 and 21 with 6MI monomers and follow the CD and fluorescence properties of the GQ structures with and without the ligands that were characterized under various conditions. The uniqueness of the site-specific CD-active fluorescent base analogue approach is that it is possible to track the local conformational changes of individual base pairs at specific locations on the GQ construct without the interference of canonical bases. Probing the local conformational change will give insight into the details of the stacking of individual G4 layers and their interaction with ligands and solvents. Detailed knowledge of this GQ-ligand interaction will help us to design new drugs for cancer and other diseases.
---
Assistant Professor, Chemistry and Physics
E-Mail: ijung@monmouth.edu
Project Title:
Cell Motility Changes in Swimming Paramecia under Varying Viscosity and in Escherichia coli (E. coli) under Varying External Load
Project Description:
Motile flagella and cilia of swimming microorganisms at low Reynolds numbers have been under scrutiny due to their multi-functional roles such as sensing extracellular signals, nutrient uptake, and exerting propulsive force and torque for their locomotion.
1) Paramecium is a unicellular protozoan covered by thousands of cilia. It is commonly studied in biology as representative of the ciliates due to its being widespread in nature and its relatively large size. Moreover, it shows clear quantifiable responses to environmental stimuli such as gravity, viscosity, magnetic field, electric field, temperature, light, and chemical gradients. Of particular interest has been its response to gravity, called Gravikinesis, under varying viscosity that play important roles in cell life. In spite of its importance and many studies of responses to those environmental stimulations, some crucial properties such as ciliary motor characteristics have not been clearly elucidated. This project will investigate a detailed ciliary behavior of swimming paramecia and their gravity sensing under varying viscosity.
2) The bacterial flagellar motor (BFM) in Escherichia coli (E. coli), a tiny rotary engine (~ 40 nm) that powers microorganisms, is one of the most complex and the largest biological motors. Its components such as a rotor, stators, a flexible hook, and filaments consist of ~ 25 different proteins. In particular, the complex of rotor and stators constitutes a torque-generating unit. In the model bacterium E. coli, for example, the rotor is connected to a hook and surrounded by approximately 11 stators, and the estimated maximum torque when fully loaded is ~ 1260 pN·nm. However, much remains to be investigated, in particular, the torque generating mechanism of the BFM. In this study, we will investigate the torque generating mechanism of the BFM in E. coli using innovative instrumentation, Magnetic Tweezers (MT).
---
Associate Professor, Chemistry and Physics
E-mail: dkosenko@monmouth.edu
Project Title:
Machine Learning in Chemistry: Molding Biological Molecules
Project Description:
Excitation energy transfer (EET) is a fundamentally important process for light harvesting and utilization by natural (e.g. photosynthesis) and artificial systems (e.g. photovoltaics, molecular sensors, etc.). Elucidation of excitation energy transfer mechanisms in molecular fluorescent probes (MFP) is crucial for targeting proteins, DNA sequences, and sensing of intracellular environments. In this proposal we focus on novel bioorthogonal boron dipyrromethene (BODIPY)-derived probes that offer a revolutionary tool for visualization of cell organelles, intracellular drug distribution, and offer potential phototherapy through controlled generation of cytotoxic singlet oxygen under light activation. Excitation energy transfer (EET) is a key process for operation of these MFPs. Light from a LED or laser source is initially absorbed by a photosensitizing molecule (e.g. BODIPY) that acts as a donor of EET.
Molecular modeling software based on novel quantum-mechanical methods will be used to obtain detailed molecular-level knowledge of the key mechanisms of light capture by biological and organic molecules—chromophores. High performance/supercomputing systems will be employed to carry out the simulations.
The proposed project aims to advance computational methods for modeling electronic excitation energy transfer dynamics in complex molecular systems by the incorporation of deep learning methods. The challenge in application of traditional, purely ab initio methods or density functional theory is the size and complexity of the molecular systems under consideration. To overcome these restrictions, an original, versatile computational methodology, developed in the proposed research project, will offer a unique combination of highly scalable ab initio based fragmentation methods, such as Effective Fragment Potential (EFP) and Fragment Molecular Orbitals (FMO), with deep learning algorithms using quantum dynamics theories. The proposed methodology will enable an accurate description of electronic excitations and reveal the mechanisms of excitation energy transfer in complex molecular systems. The deep learning component will significantly accelerate computations and enable high-throughput screening of molecular systems. In particular, the proposed project will be focused on the elucidation of the mechanisms of excitation energy transfer in molecular fluorescent probes (MFPs). The computational methodology developed in the course of this research will be incorporated into our original PyFREC software. The proposed project will advance computational methodology by enabling high-throughput screening evaluation of electronic couplings and exciton energy transfer mechanisms in molecular fluorescent probes. The results obtained in this research will improve our understanding of fundamental mechanisms of excitation energy transfer in MFPs. Moreover, the implementation of computational tools that combine fragmentation methods, quantum dynamics and deep learning algorithms will enable sampling of a wide variety of molecular chromophores for evaluation of target features, such as a specified direction and/or rate of the excitation energy transfer.
---
Lecturer, Chemistry and Physics
E-mail: ykholod@monmouth.edu
Project Title:
Computational Survey of Bioorthogonal Reactions of BODIPY-based Probes
Project Description: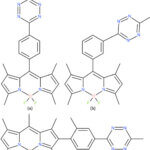 Visualizing biomolecular processes, photodynamic therapy, optogenetics, and photopharmacology are novel techniques of medical treatments with light. In this research, a series of light-sensitive molecular probes will be surveyed computationally to determine their properties and potential for photodynamic therapy via bioorthogonal processes (reactions that are not interfering with natural biochemical processes inside living cells). Chemical properties of the molecular probes will be obtained with ab initio and DFT simulations on separate molecules or molecular clusters. Then, equilibrium molecular conformations will be studied with novel hybrid quantum mechanics/molecular dynamics methods. The simulations will be performed with high-performance computing systems that enable simulation of complex chemical systems consisting of molecular probes surrounded by solvent-protein environments.
---
Computer Science and Software Engineering
Assistant Professor, Computer Science and Software Engineering
E-mail: skhamais@monmouth.edu
Project Title:
Neural Network-Enabled Image Recognition With FPGAs
Project Description:
Currently, software security bugs are the main source of cyberattacks. The hackers try to find any security flaws that can be used to launch an attack. Even worse, 17% of software security bugs were injected intentionally into the source code. Finding security bugs is not similar to finding functional bugs. It requires extensive work and security knowledge. Hence, being dependent on humans to find the security bugs has been proven to not be an efficient way of securely validating our source code. During this project, we are aiming to develop a novel technique that can inspect the source code of an application to find and report security vulnerabilities using deep learning and natural processing techniques.
Recently, different studies have shown that most of the cyber-attacks are caused by security flaws in our source code. Therefore, tremendous efforts have been made to develop different vulnerability identification techniques. Due to the limitations of the dynamic analysis and static analysis techniques, some studies have shown promising results in utilizing deep learning (DL) approaches and natural language processing (NLP) to discover the security flaws inside the software source code. Despite their promising results, the current approaches suffer from different shortcomings including but not limited to the types of the discovered security flaws.
In this project, we will try to address the following challenges:
Create a secure code dataset. Unfortunately, there is no publicly available secure code dataset to the search community. We will try to develop medium size dataset of secure codes.
Apply deep learning and natural language processing to develop a new vulnerability detection method that can detect different types of security vulnerabilities.
Evaluate the developed approach on different open-source projects
---
Professor, Computer Science and Software Engineering
E-mail: jwang@monmouth.edu
Project Title:
Emergency Healthcare Performance and Impact of Resource Availability
Project Description:
A health emergency is a situation that poses an immediate risk to health and life and requires urgent intervention to prevent its worsening. Emergency healthcare service is a real-time service, where timeliness is critical to mission success. Workflow management technology has received considerable attention in the healthcare filed in recent years for the automation of both intra- and inter-organizational healthcare processes. However, more work on the timeliness and resource analysis of emergency healthcare is needed. This research will explore the use of resource-oriented timed Petri nets in emergency healthcare service modeling, timing performance assessment and resource requirements analysis.
---
Mathematics
Associate Professor, Mathematics
E-mail: dmarshal@monmouth.edu
Project Title:
Triangle Configurations in Cubic Comparability Graphs
Project Description:
Comparability graphs, sometimes called transitively orientable graphs or divisor graphs, are graphs that model partially ordered sets. Equivalently, they are graphs that admit a transitive orientation. For regular graphs of degree two, the question of whether a given example is or is not a comparability graph is easily answered. Our summer project will focus on making progress on the same question/problem for regular graphs of degree three, also called cubic graphs. The configuration of triangles inside a cubic graph can affect whether the graph admits a transitive orientation, so particular attention will be given to the study of triangle configurations.
A graph theory background is not needed for participation in the project. Students will spend time in the early portion of the project learning the necessary background material. Students will also learn to typeset their work using LaTeX, a document preparation software system that works particularly well for mathematics and other technical writing.
---
Associate Professor, Mathematics
E-mail: smarshal@monmouth.edu
Project Title:
Heronian Shapes
Project Description:
A Heronian triangle is a triangle with integer side-lengths and integer area. These shapes have been studied by mathematicians over the centuries, using tools from both number theory and geometry. We can generalize the idea of a Heronian triangle to other shapes by insisting various associated quantities are integers. For example, a Heronian quadrilateral is a quadrilateral with integer side-lengths and integer area, whereas a Heronian tetrahedron is a tetrahedron with integer side-lengths, integer face areas, and integer volume. The goal of this project is to take known results about Heronian triangles and extend them to other Heronian shapes.
For example, Yui proved in 2001 that every Heronian triangle is a lattice triangle. This means that we can place any Heronian triangle in the xy-plane so that each vertex has integer coordinates. This was extended to Heronian tetrahedra by Marshall and Perlis in 2013. During the 2021 SRP, six Monmouth students addressed the research question "Is every Heronian quadrilateral a lattice quadrilateral?" and made progress on special types of quadrilaterals such as parallelograms and Brahmagupta quadrilaterals. This summer, we'll continue to explore this question. Other opportunities for research include determining the number of distinct integer placements of a Heronian shape and extending classification results to various types of Heronian shapes.
---
Associate Professor, Mathematics
E-mail: wpang@monmouth.edu
Project Title:
Reconstructing Fragments in R
Project Description:
Reconstructing none fragments is not simple and 3D printing is a new trend on handling this problem but it is still in manual handling. I would like to build automated 3D programming codes in R to speed up this reconstructing process.
---