Career Choices Roundtable: Spring 2020
This page features a listing of School of Science alumni and friends; professionals working in a myriad of science careers, who returned to Monmouth University to discuss their unique career paths and opportunities with students at the Spring, 2020 Career Choices Roundtable event. Career Choices is a peer mentor-led event that gives insight to current students on various career paths. The spring Career Choices event offers panels for careers in Computer Science and Software Engineering, Health, and Biology.  More information about this event can be found on the Career Choices Roundtable Schedule.
---
Computer Science and Software Engineering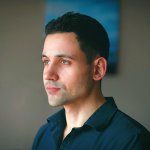 CEO, CTO, Founder
Saoud Khalifah attended Monmouth University for both his Bachelor's and Master's degree in Software Engineering from 2011-2015.  He graduated top of his class for both degrees and won first place at the IEEE Second Mobile Security Conference for his Master's thesis in 2015.  His Master's thesis followed Dual-System Biometric Recognition Entry which was a proprietary biometric gesture recognition system to verify humans, replacing password credentials.
Aside from his time at Monmouth University, Saoud was a lead security engineer for iFuzzer where he found security vulnerabilities in software programs from 2008 to 2015.  Additionally, he was a software engineer for HHC and Goldman Sachs until he took his own path to become the CEO, CTO, and founder of Fakespot in 2016. Fakespot has been an active application for the last four years and is used to analyze reviews found on popular websites to identify if they are real or fabricated.  Most recently, Saoud can be found as one of the top young entrepreneurs in the Forbes magazine "30 Under 30-Retail & eCommerce" list. Approximately 15 million people have used the free service and Saoud has recently introduced Sentinel, which is another service that assists enterprise clients to find falsified concerns and reviews.
Software Engineer
Taylor Klodowski attended Monmouth University and graduated in 2016 with a degree in Software Engineering and minors in Mathematics and Computer Science.  Her senior year practicum project won the Senior Capstone Symposium and she attended the Grace Hopper Celebration, one of the largest Women in Tech conferences, in both 2015 and 2016.  Taylor can be credited with starting the IEEE/ICM club that remains on campus today to bring together those in computing.
Taylor's career path began at American Express in New York City as an intern, during the summer of her junior year of college.  After her internship, she took a full-time position at American Express. She worked there for three years after college, working on their most highly trafficked asset, americanexpress.com.  This site has roughly 20 million unique users everyday! Taylor recently left the corporate world to join a startup called theSkimm as a Software Engineer.  theSkimm is a membership company that helps millennial women live smarter lives.  Taylor works on a team of 5 managing the entire web experience for the company. Taylor works mainly on the front-end technologies involved with the website, including React, Node, GraphQL among others.
Software Quality Assurance Engineer
Courtney Locke graduated from Monmouth University with a Bachelor's Degree in Software Engineering in 2015 and is pursuing a Master's Degree in Systems Engineering at Stevens Institute of Technology.  She was able to attend the Grace Hopper Celebration of Women in Computing and the American Association of University Women National Conference. While still in college, Courtney worked as an Associate Programmer at Wakefern Food Corporation where she led the development of Test Scripts, updated self-checkout register virtual keyboards for over 80 stores to enable new configuration, and gained hands-on experience managing a team of three interns.
Following her graduation from Monmouth University, Courtney began working for Verizon and has been there for a little under five years.  As a Software Quality Assurance Engineer, she works on a team that defines and conducts enterprise testing for critical functions in order to eliminate negative customer experience.  She and her team mainly focus on end-to-end functional testing, load/performance testing, application interoperability testing, and network simulation testing. In her daily routine, she uses many different coding languages such as Java, Python, Groovy, Go, Javascript, Web Services (SOAP/REST), HTML/CSS, XML, JSON, and many others.  Courtney has recently been selected by Verizon to participate in their Women's Leadership Development Program – Women of the World.

Assistant Vice President/Business Intelligence Developer Supervisor
Ashley graduated from Monmouth University in May 2015 with a Bachelor's degree in Software Engineering with a minor in Mathematics and Asian Studies.  She also received her Master's degree in Computer Software Engineering a year later from Monmouth while also working as a Social Media Admin for the School of Computer Science and Software Engineering.  She began her connection with OceanFirst Bank when she was a Business Intelligence Intern in May 2014 until May 2016.
After college, Ashley proceeded to stay with OceanFirst Bank and started as a Business Intelligence Analyst in May 2016.  After two years, she was promoted to Assistant Vice President/Senior Business Intelligence Developer and currently works as an Assistant Vice President/Business Intelligence Developer Supervisor since November 2019.  In her area of work, she is able to look over the building of new API's and software updates that could be implemented at OceanFirst Bank and their systems.

Interactive Web Designer
Michael Palazzo attended Raritan Valley Community College and received an Associate of Arts degree in Graphic Design.  He went on to graduate with a Bachelor of Fine Arts in Graphic Design from Kean University in 2014. He has been a freelance web designer since August of 2011 and currently works as an Interactive Designer for DefinedLogic where he has been since August of 2014.
---
Health

3rd Year Medical Student
Rowan University School of Osteopathic Medicine
My name is Erin Hoag and I graduated Monmouth in May 2017 with a Bachelor's Degree in Biology with a Concentration in Molecular Cell Physiology and a minor in Chemistry. During my time at Monmouth, I was an SI leader for Anatomy and Physiology, and was a part of Dr. Kosenkov's computational chemistry research team.  I am currently a 3rd year medical student at Rowan University School of Osteopathic Medicine in Stratford, NJ.  While at Rowan, I traveled to Ghana on a medical volunteer trip and I have been a tutor for the underclassmen. I was born and raised in Berlin, NJ with my parents and younger sister.  I currently am looking to pursue a career in Emergency Medicine.
Director, Genetic Counseling Master's Program (GCMP)
Jessica Rispoli Joines is the Director of the Genetic Counseling Master's Program (GCMP) at Rutgers University.  Ms. Joines and her team established the first accredited genetic counseling master's program in New Jersey at Rutgers University.  The program accepted its first class in 2017 and is preparing to graduate its second class this May.
Ms. Joines obtained a Bachelor's of Science from the University of Richmond and a Master's in Genetic Counseling from the University of Maryland, Baltimore.  She is certified by the American Board of Genetic Counseling and licensed in the State of New Jersey.  Ms. Joines has worked in a variety of clinical genetics settings including cancer, pediatrics, and neurology.  She has over fifteen years of experience working with families who may carry an inherited susceptibility to cancer.  Her interests include cancer genetic counseling and genetic counseling professional development.
In her role as Director of the GCMP, she oversees the administration, curriculum, and clinical placements of the graduate genetic counseling students.  Ms. Joines has also taught an undergraduate genetics course, Implications of the New Genetics, that examines the ethical, social, and legal issues surrounding genetic and genomic testing.

First Year Anesthesiology Resident
Dr. Jazmin Elizabeth Juarez is a first year anesthesiology resident at Johns Hopkins Hospital in Baltimore, Maryland. An alumna of Monmouth University and the Honors school, she graduated in 2013 with a degree in Molecular Cell Physiology and a minor in Health Studies (and was part of the first cohort of School of Science Peer Mentors!). She matriculated into a post-baccalaureate program at the University of Buffalo through the Associated Medical Schools of New York program prior to enrolling in medical school. She received her MD degree from Albert Einstein College of Medicine in New York in 2019 with distinctions and publications in the field of anesthesiology. She is presently finishing a 12-month preliminary internal medicine program at Mercy Medical Center in Baltimore prior to starting her advanced anesthesiology years at Johns Hopkins Hospital. Her research interests span the fields of cardiothoracic anesthesiology, pain management, and physician well-being.
Manual Physical Therapist
Current Rehab Physical Therapy
Dr. Michelle Pires graduated from Touro College with her Doctorate in Physical Therapy and BS in Science in 2008. She quickly set out to pursue her passion as a manual physical therapist. She opened Current Rehab Physical Therapy in 2011 with the intent to focus all treatment on the patient and the individualized care. After working with patients in orthopedic medicine, she felt there was a gap in a patient's recovery with return to their previous level of activity. After brainstorming and researching, the idea was hatched for a recovery facility for all individuals to access for preventive care, post-rehab care, as well as sports performance. Her focus is on the maintaining efficiency of the body, as well as an attention on recovery from activity – no matter the level of performance.
Dr. Pires has served as a medical volunteer, treating athletes for Ironman and CrossFit competitions, as well as local athletic competitions. Dr. Pires is certified in Functional Release, Kinesio Taping, and Trigger Point Dry Needing. She is an FRC® Mobility Specialist (FRCms) & KINSTRETCH certified, as well as DBC Level One certified, Fight Science Level I certified and a certified running coach with through the Pose method. She is also working towards her Certification in Spinal Manipulation and Diploma in Osteopractic Medicine.

Dentist, Researcher
Rutgers School of Dental Medicine
I attended Monmouth University from 2011-2014 and graduated Summa Cum Laude with a Bachelors in Biology. I was also humbly awarded the highest GPA in my major. I then matriculated on to Rutgers School of Dental Medicine and received my doctorate in dental medicine in May 2018. After dental school, I began my residency at Rutgers where I will be awarded a certificate in orthodontics and MDS in May 2021. I am currently involved with several programs including Gateway To Dentistry and Give Kids a Smile. Gateway to Dentistry is a fantastic program where college students apply to take part in a two week crash course in the field of dentistry. During these two weeks students attend lectures given by faculty from each department within the dental school (orthodontics, prosthodontics, general dentistry etc.). Give Kids a Smile is particularly my favorite event. Each year I dress up at the Tooth Fairy and help to screen and educate over 500 students from the under-served population of Newark. I also am currently conducting research in the field of orthodontics to determine a correlation between bone density quantified from Cone-Beam Cat Scan (CBCT) and rate of tooth movement.
In my spare time you can always find me at the gym!
---
Biology
Senior Associate Scientist
Aracelis Lantigua graduated from Monmouth University in 2011. During her undergraduate career at Monmouth, she worked as a student research assistant in the Department of Chemistry to help develop a method to extract hexavalent chromium from drinking water supply.  As an undergraduate, Aracelis also held a position at MDS Pharma Services as a Clinical Conduct Associate for two years. After graduating from Monmouth, she held lab technician positions at Accutest Laboratories, the University of Tennessee and Evotec. In 2014, she was hired as an Associate Scientist at Pfizer and held that position for 3.5 years. In 2017, Aracelis become Senior Associate Scientist at Pfizer and received a degree from Rutgers University for a Master of Business and Science. Since January 2019 she continues to hold her position at Pfizer as Senior Associate.
Research Technician
Michael Mazzucco graduated from Monmouth University in May 2019 and currently works at Weill Cornell Medicine as a research technician. His position contributes to the investigation of Multiple Sclerosis (MS) mechanisms under the direction of Dr. Jennifer Linden in the Vartanian Lab at the Brain and Mind Research Institute. Michael also volunteers at the New York Presbyterian Hospital in the Ortho/Vascular Surgical Unit.  Before graduating Monmouth, he worked as an Emergency Room Shadow Intern at  Riverview Medical Center and as a Natal/Pediatric Cardiology Shadow Intern at Monmouth and Ocean Children's Heart Center. Michael was also an undergraduate researcher for two years during his time at Monmouth. He performed research in Dr. Martin Hicks' laboratory that focuses on exosome delivered DNA vector encoding RNA therapy against Glioblastoma Multiforme by VEGFR/EGFR TKR alternative splicing. Michael also worked under Dr. Jeffrey Weisburg to investigate NF-kB, EGFR and inflammatory cytokines (IL-6/1B) changes in oral cancer after exposure to nutraceuticals to prevent chronic inflammation. His long-term career goal is to become a physician.
Senior Manager, Health Economics and Outcomes Research Institute
Dharm S. Patel, PhD, is currently Senior Manager, Health Economics and Outcomes Research at LEO Pharma, a medical dermatology focused company in Madison, NJ, where he supports evidence and value generation for in-line and pipeline assets. He entered the pharmaceutical industry at LEO as Manager, Medical Affairs after completing his PhD from Rutgers University – New Brunswick in Molecular Biosciences and certificate in Pharmaceutical Management. He is a proud alumnus of Monmouth University Class of 2012, where he completed his BS in Molecular Cell Physiology. At Monmouth, he conducted research in the Palladino Lab, was a student of the Honor School, and worked as a technician in the Biology Department.

Medical Technologist
Jersey Shore University Medical Center
I transferred to Monmouth University in September 2015 as a Biology Major. Halfway into my first year at Monmouth, I learned about the major in Medical Laboratory Science. I was looking for a career I could start right after graduation. During my senior year of college, I participated in my clinical internship at Jersey Shore University Medical Center. The clinical internship is focused more on information we need to learn for our career. I started working as a Student Clinical Aide during my internship, working in specimen processing and started to learn the different departments of the laboratory. I graduated in August 2018 and have been working full time for about 1.5 years now. We perform routine and specialized laboratory tests in chemistry, hematology, and blood bank. We support massive transfusion events for trauma patients and surgical cases.