This page features a listing of School of Science alumni, professionals working in a myriad of science careers, who returned to Monmouth University to discuss their unique career paths and opportunities with students at Career Choices Roundtable in 2016. Career Choices is an annual peer mentor-led event that gives insight to current students on various career paths. There were panels for careers in Biology, Chemistry, Computer Science and Software Engineering, Mathematics, Environmental and Marine Biology, Mathematics and Health Careers. More information about this annual event can be found on the Career Choices Roundtable Homepage.
BIOLOGY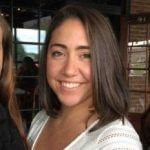 Jessica Acevedo O'Brien '11
Associate Regulatory Specialist
Revlon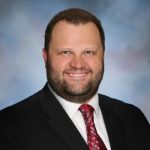 Christopher Day '98
Manager of Microbiology
Bristol-Myers Squibb
Christopher Day graduated from Monmouth University in 1998 with a Bachelor's Degree in Biology. He began his career as a microbiologist at Gibraltar Labs from 2000-2002. He then worked as a Quality Assurance Microbiologist at Immunomedics until 2005 when he joined Medarex as a Microbiology Quality Control Technician. Chris began working for Bristol-Meyers Squibb in 2010 as a Quality Assurance Microbiologist. Currently, he is a Manager of Microbiology and a Senior Research Scientist at BMS.
Christopher Varley '97 '99
Executive Director
HCV Marketing at Bristol-Myers Squibb
CHEMISTRY
Alexander Gorka, Ph.D. '08
Postdoctoral Fellow
National Cancer Institute
Alexander Gorka earned his B.S. in Chemistry from Monmouth University in 2008. Here, he performed research into synthetic methods to generate new G-quadruplex stabilizing agents under the direction of Prof. Massimiliano Lamberto. He briefly served as a visiting researcher at the University of Miami, under the joint mentorship of Prof. Lamberto and Prof. Francisco Raymo. Alex went on to obtain a Ph.D. in Chemistry in 2013 with Prof. Paul Roepe at Georgetown University, where he studied drug pharmacology and resistance in Plasmodium falciparum malaria. He is currently a postdoctoral fellow with Dr. Martin Schnermann in the Chemical Biology Laboratory at the National Cancer Institute. His research interests are in developing and applying near-IR light-based uncaging strategies for drug delivery and control of gene expression. Alex has co-authored numerous high impact publications and been the recipient of several awards and honors. He hopes to further develop new theranostic approaches for cancer and malaria.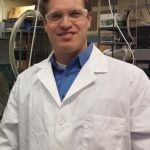 Robert Powoski, M.S. '08
Analytical Chemist
Advanced Biotech
Robert Powoski is a chemist who graduated from Monmouth University with a double major B.S. degree in Chemistry and Education. While at Monmouth, Rob engaged in summer research through the NSF-REU program at the University of North Texas. He then worked in the QC lab at Church and Dwight Inc. one year before earning his M.S. degree in Chemistry-Analytical at the University of North Texas (UNT). His M.S. thesis examined molecular structure of acyl chloride hydrocarbons and their fluorinated counterparts using advanced FTMW spectroscopy instrumentation.
After graduating from UNT, he worked many years in a R&D / QC lab as a chemist testing crude oil and source water in the Microbial Enhanced Oil Recovery (MEOR) industry. Upon this company's successful Initial Public Offering (IPO), he relocated back to the North East. He landed two short term contract chemist positions; one for the Space Systems division of United Technologies supporting the NASA space suit and space technology, and another for the QC-Analytics division of Eli-Lilly and Company. He is employed as a chemist at Advanced Biotech, a supplier of flavor and fragrance raw materials that specializes in the natural organic markets.
Throughout Rob's career his main focus is in Analytical Chemistry and Instrumentation. He and his team rely heavily on Gas Chromatography (GC) and Gas Chromatography – Mass Spectrometry (GCMS) to insure that their products conform to their customers' specifications and expectations. His favorite part of his career is applying and troubleshooting diverse instrumentation for important projects with talented subject matter experts (Microbiologists, Geologists, Engineers, Scientists, Executives). He also valued working during exciting times such as the first launch of the ORION space program, new Biotherapy drug developments, and growth of a start-up company.
Lisa Salvemini '07
Senior Chemist
L'Oreal
Lisa Salvemini graduated from Monmouth University in 2007 with a Bachelor's degree in Chemistry and as part of the Italian Honors Society. In her senior year, she worked on BioDiesel (a research project geared toward developing diesel from cooking oils).
Her first post-graduation position was as a lab technician at Benjamin Moore & Co. There, she learned the ins and outs of quality testing of paints – making sure all of the plant batches of finished goods passed an array of testing prior to being released to the market.
In 2008, and after a year at Benjamin Moore & Co., she started at L'Oreal USA – hired as an Associate Chemist in the Hair Color division and working primarily on patent pending innovation projects. This was her first real glimpse into corporate life and expanded on many specific skills: formulating hair color bases, general corporate life, and interacting with support groups (analytical, safety, microbiology, toxicology, patent attorneys, etc). In 2012, Lisa was promoted to Chemist and started working in development for Redken (a smaller company under L'Oreal USA in the professional division). Here she learned how to bridge taking care of business as usual, while working very closely with other internal groups/labs such as marketing, and the compatibility lab. Another key part of the position, was to learn hair color nomenclature (how to read color on models and swatches). Today, Lisa has been recently promoted to Senior Chemist and still working under the Redken brand with the addition of another professional brand – L'Oreal Technique. Some examples of products currently on the market that Lisa is responsible for – Redken Blonde Idol Hi Lift Color, Blonde Idol Base Breaker, and L'Oreal Technique Excellence Chroma.
MARINE AND ENVIRONMENTAL BIOLOGY AND POLICY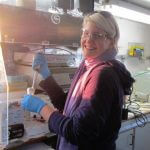 Josette Hutcheson '12
Laboratory Technician
New Jersey Division of Fish and Wildlife
Josette Hutcheson graduated from Monmouth University with a Bachelor's degree in Marine and Environmental Biology and Policy. She received a Master's degree in Biology from the University of West Florida in 2015. Currently, Josette is a laboratory technician in the Fish Pathology Laboratory with the NJ Division of Fish & Wildlife. As a technician she works on variety of projects including hatchery health inspections as well as field and laboratory tasks associated with diseases affecting fish populations.
Sandra Meola '12 '16
Communications and Outreach
NY/NJ Baykeeper
Sandra manages the legislative messaging, communications, social media, and is currently leading the Plastic Reduction Campaign. Sandra has a Bachelor's of Arts in Political Science and History and a Masters of Arts in Public Policy from Monmouth University. Prior to joining the Baykeeper team, Sandra was an analyst at Luthin Associates, an energy consulting firm.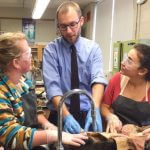 Eric Wasnesky '03 '05
Science Teacher
Manasquan High School
After earning his Biology degree with a concentration in Marine and Environmental Biology and a minor in Chemistry from Monmouth University in 2003, Eric Wasnesky stayed and completed the Master of Arts in Teaching program in 2005.  During that time and since he has worked for the NJDEP's Endangered and Non-game Species program, NJ Sea Grant Consortium, was a sea kayak guide in Alaska and is currently a science teacher at Manasquan High School.  For the last ten years he has been teaching Marine Science, Environmental Science and a college accredited Anatomy and Physiology course in the school's Academy of Health Careers program.  Eric also advises the Environmental and Photography Clubs as well as participates in a class that helps students transition into high school.
MATHEMATICS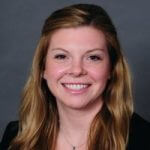 Lisa Catanzaro '11
Senior Associate
KPMG
Lisa's current role is Senior Associate Credit Risk Advisory for KPMG. This role as a consultant allows her to work for a variety of clients. The coolest part of this job is the exposure that she gets to different business models and projects within different industries. Her current engagement is at a large investment bank while her most recent engagement was at a large car company. The client needs at both of these projects are very different. Some projects she has been involved with the entire model build process from the ground up which includes assessing client needs, compiling data, preparing data, building and testing the model, and providing in depth documentation. There are other projects where she evaluated the model that the client has built the client has had another vendor build for them. Being involved with such a variety of clients has really given her the opportunity to learn and expand my skill set beyond what she would if she was working for a single company. Also, being a consultant and working for different companies she is able to work in a variety of settings (large investment banks, mid size regional banks, car companies) and experience different office culture and styles.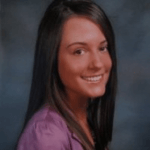 Lauren Dean '06 '11
Vice President
ZAIS Group, LLC
Lauren Dean serves as a vice president of leveraged finance at ZAIS Group, LLC, an investment management company focusing on specialized credit strategies. Prior to joining the leveraged finance team in July of 2015, Lauren was a member of the client relations team, primarily responsible for managing and developing client relationships, coordinating on-site due diligence and project management. Lauren earned a M.S. in Financial Mathematics and a B.S. in Mathematics and Secondary Education with a minor in Finance from Monmouth University, receiving both degrees summa cum laude.
Lauren joined ZAIS in July of 2008, as an analyst and cross trained in trade support and operations for Rumson Capital LLC, an investment advisor that engaged in a variety of global arbitrage strategies. Lauren's responsibilities at ZAIS included responding to client inquiries and due diligence questionnaires, maintaining the investor database and client reporting.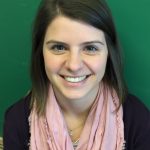 Erin Humphries Knox '09 '11
Math Teacher
Woodbridge High School
Erin M. Knox graduated from Monmouth in 2009 with a B.S. in Mathematics and Education with Endorsement in Secondary Education in Mathematics. She continued her education at MU and graduated in 2011 with a Master's of Education with a concentration in Curriculum Studies. Erin is currently in her sixth year of teaching at Woodbridge High School, Woodbridge, NJ. Her favorite subjects to teach are Algebra 2 and Precalculus.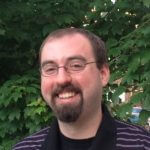 Colby Mueller '09
Statistician
Church and Dwight
Colby Mueller is a Statistician at Church and Dwight.  There, he works with gummy vitamins to confirm the stability of the product and verify analyte levels are above label claim. This involves creating graphs, statistics, building decay models, and writing detailed reports for the FDA.
---