Dean's Digest Spring 2018

Spring 2018
Table of Contents
A Springsteen Symposium Success
Springsteen conference offers reflective look at icon.
Springsteen has always called the Jersey Shore home and now, ever since the creation of the Bruce Springsteen Archives and Center for American Music back in the beginning of 2017, his legacy has had a home at Monmouth University. That relationship was only strengthened by this spring's "Bruce Springsteen's Darkness on the Edge of Town: An International Symposium" — a three-day, in-depth look to celebrate the 40th anniversary of Springsteen's 1978 album Darkness of the Edge of Town.
Dean Kenneth Womack of the Wayne D. McMurray School of Humanities of Social Sciences, along with Monmouth University President Grey Dimenna, opened the symposium, which ran from April 12-15.
"The event was a tremendous success, drawing in students, faculty, and fans from across the world! We are honored that the symposium has found a home at Monmouth University," said Dean Womack. "When I co-founded this event in 2005 with Mark Bernhard and Jerry Zolten, I could never have imagined that it would lead to the conference's vaunted place in Springsteen studies. Our Monmouth University team has given wonderful life to this superb symposium. The papers and performances were uniformly excellent, establishing an atmosphere at MU that made for an incredible learning community on our campus."
As a addendum to the symposium, Vini "Mad Dog" Lopez and Gary Cavico with Sentimental Gentlemen and Blue Hawk Records' artists had the opportunity to peform at the Wonder Bar in Asbury Park on Friday, April 13. Lopez backed Springsteen in a number of bands — including the E Street Band — in the late 60s and early 70s. He also can be heard on Greetings from Asbury Park, N.J. and The Wild, the Innocent & the E Street Shuffle.
Students Open for Bon Jovi
Monmouth University students play the show of a lifetime, open for Jersey legend.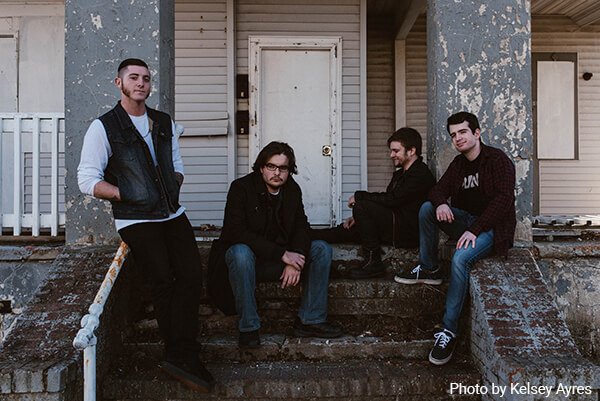 Current Monmouth University student Zachary Sandler and university alumnus Jonathan Chang-Soon took part in a once-in-a-lifetime experience of opening for Bon Jovi at their Prudential Center concert in early April with their band, Bobby Mahoney and the Seventh Son. The band's lineup includes guitarist and vocalist Bobby Mahoney; drummer James McIntosh; guitarist and backing vocalist Andrew Saul; bassist and backing vocalist Chang-Soon and saxophonist Sandler.
Sandler said the experience was like something out of his dreams.
"To be able to jump around on the same stage as my heroes and inspirations has been amazing. When we were sitting backstage in our green room, they had pictures hanging on the walls of all the other musicians who have stood on that same stage — Tom Petty, Bruce Springsteen, Demi Lovato …" Sandler said. "I remember scalping last-row tickets to see Springsteen at the Prudential Center a couple years ago. It's amazing how full-circle the journey has come."
Jo Rapolla, Chair of the Music & Theater Arts Department at Monmouth, said he was "thrilled' for the students to have this type of opportunity.
"We put our students in the field a lot. Whether it's working with executives and alumni at major music or media companies, or working directly with faculty leading high-profile initiatives, to performing with active touring artists and Rock & Roll Hall of Famers, like Vini 'Maddog' Lopez, and now, Jon Bon Jovi," said Rappolla. "We try to instill a level of confidence in our students that has them thinking of themselves as professionals. We ask them to take on projects that go beyond the classroom and forge innovative paths to success."
Hawk Talks Highlight of Student Scholarship Week
Ted Talk-style event showcase interdisciplinary studies.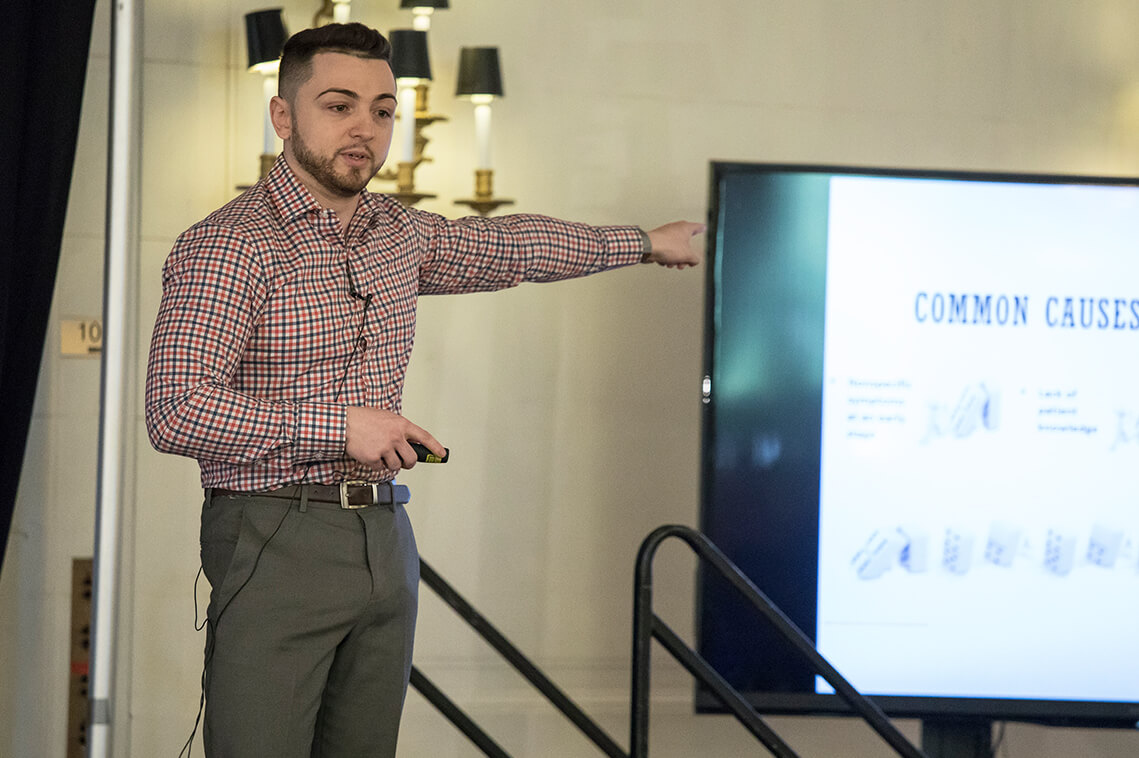 Hawk Talks — the Ted Talk-style event — took center stage at Student Scholarship Week this year, as students crossed disciplines to present thoughtful and innovative projects and research in a relaxed, casual environment.
Student Keith Lee, who presented their talk Un Mundo Igual: Writing for Change with Valentina B. Sanchez and Opeposi A. Adentunji, said it was a "fantastic experience."
"We are very passionate about our studies and connecting them to different people. This Hawk Talk gave us that chance to inspire others to take a look at a different perspective in regard to global issues and the world around us," Lee said. "Seeing how many people were interested in our presentation was very fulfilling. It was great to see others engaged in a topic that I care so much about. Sharing our studies and lessons with others made this Hawk Talk experience one that I will not forget." Watch the video of their performance here.
Dr. Priscilla Gac-Artigas, Professor of Spanish and Latin American Literature in the Department of Foreign Language Studies oversaw the project.
"In the case of Un Mundo Igual: Writing for Change, three students of my Spanish course FS409 presented the work the group did during the semester in a class dedicated to developing critical thinking skills through the enhancement of oral communication, writing abilities and creativity," said Dr. Gac-Artigas. "Throughout the course, we fostered independence of thought and creative ways of expressing it in writing, after individual and group reflection. By so doing, they made their voices heard, and from passive readers, they developed into inquisitive critical readers, active writers, and confident presenters all of which was exhibited in their presentation."
Dr. Gac-Artigas said Hawk talks were a "highlight" of Student Scholarship Week.
"It showcases the best of the research and creative works by student of different disciplines, what they are doing in labs or courses," said Dr. Gac-Artigas. "The presentations, evidently modeled off the Ted Talks, showcase students´ presence on stage, their ability to present the fruit of their research or creative work in a presentation that is logically organized and prepared in a creative manner so to persuade the audience to listen and stay with them."
In their presentation, the audience was able to see how they had been able to apprehend the world surrounding them, interpret it and present it in the form of a creative work, a poem, which was also expressed through visual language, and connect the whole into a presentation that while thrilling, made the public reflect on the issues presented: gun violence, corruption, injustice.
Two poems, were read in Spanish with English subtitles: "Yesterday Was My Graduation, But I Couldn´t Attend" by Odalis Caraballo, Valentina Sánchez, and Kilber Ruiz and "Coward Is the One Who Hides" by Valentina Sánchez. One poem represents the result of individual work, the other, the result of collective work for which we followed the following methodology: individual interpretation of literary and /or popular culture texts – class discussion – individual writing of a new text; individual interpretation of texts – class discussion – group consensus – collective writing of a new text. In addition, a booklet with samples of works written during the semester and more details on the methodology was available the day of the presentation. The presentation was an example of the mastery of critical thinking, creativity, confidence skills.
The following projects were presented during the Hawk Talk segments:
Scott A. Fiorini, Listening to your patient: The Invaluable History and Physical Exam
Taylor M. Klemm, The Secret to Being Happily Single
Brittany A. Macaluso, Relationship Status
Keith M. Lee; Valentina B. Sanchez; Opeposi A. Adetunji, Un Mundo Igual: Writing for Change
Nicholas R. Verzicco, EOF: My Extra Outstanding Family
Amanda D. Vidal, Joshua B. Goetz; Do Dads Really Deserve Paternity Leave?
Student Profile: Elizabeth Carmines
Winner of the 2018 Dean's Award for Academic Excellence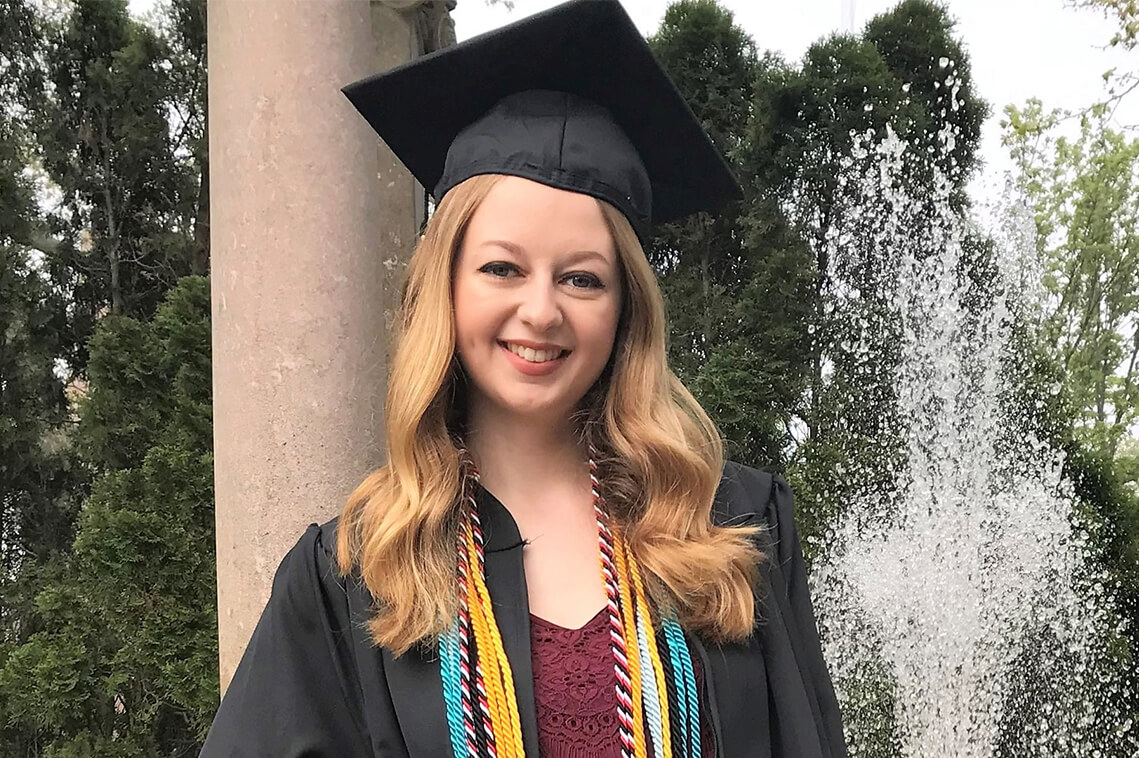 Elizabeth Carmines was the 2018 winner of the Wayne D. McMurray School of Humanities and Social Sciences Dean's Award for Academic Excellence. This award is presented each year to the student who has demonstrated superior academic work and contributions to the School. The award reflects the student's creative and scholarly work, which can include academic writing, creative writing, visual arts, and musical performance.
In addition to achieving a remarkable 3.95 GPA, Elizabeth has used her academic training to positively influence the campus community in many ways. Her work with the MU Academic Exchange Program and its partnership with the NJ Department of Corrections showcased her unique ability to share her passion for academics with others. Her work with this unique program garnered the attention of Jersey Matters star Jack Ford who recently featured an in-depth televised interview with Elizabeth alongside Dr. Johanna Foster. Her work has undoubtedly helped many incarcerated students change their lives for the better.
As President of the Sociology club, her hard work and dedication helped to improve our campus climate through various awareness and action campaigns which tackled critical issues such as indigenous rights, campus sexual assault, binge drinking and environmental concerns. Her involvement with the club contributed greatly to her impressive record of on-campus civic engagement. Her noteworthy role as a PLA for the first-ever End Racism in Schools first year seminar course helped to launch a campaign to end sexual violence on campus and advise students on a successful petition drive to end zero tolerance policies in K-12 schools. Her tireless efforts also ensured our students' voices on campus were heard in support of a range of civil rights, women's rights and human's rights issues impacting our campus and the larger community. She is the also cofounder of The Promise: The Undergraduate Research Journal in Sociology. This student research journal is the first of its kind at Monmouth University and one of only a handful of peer-edited undergraduate research journals in sociology in the nation.
Next year, Elizabeth will continue her service globally as she travels to Morocco as a member of the Peace Corp. Elizabeth's Monmouth career captures the essence of an engaged student and will undoubtedly serve as an inspiration for others for many years to come.
Student named VJ for MTVU
Sophia Parola tapped by MTV for host role.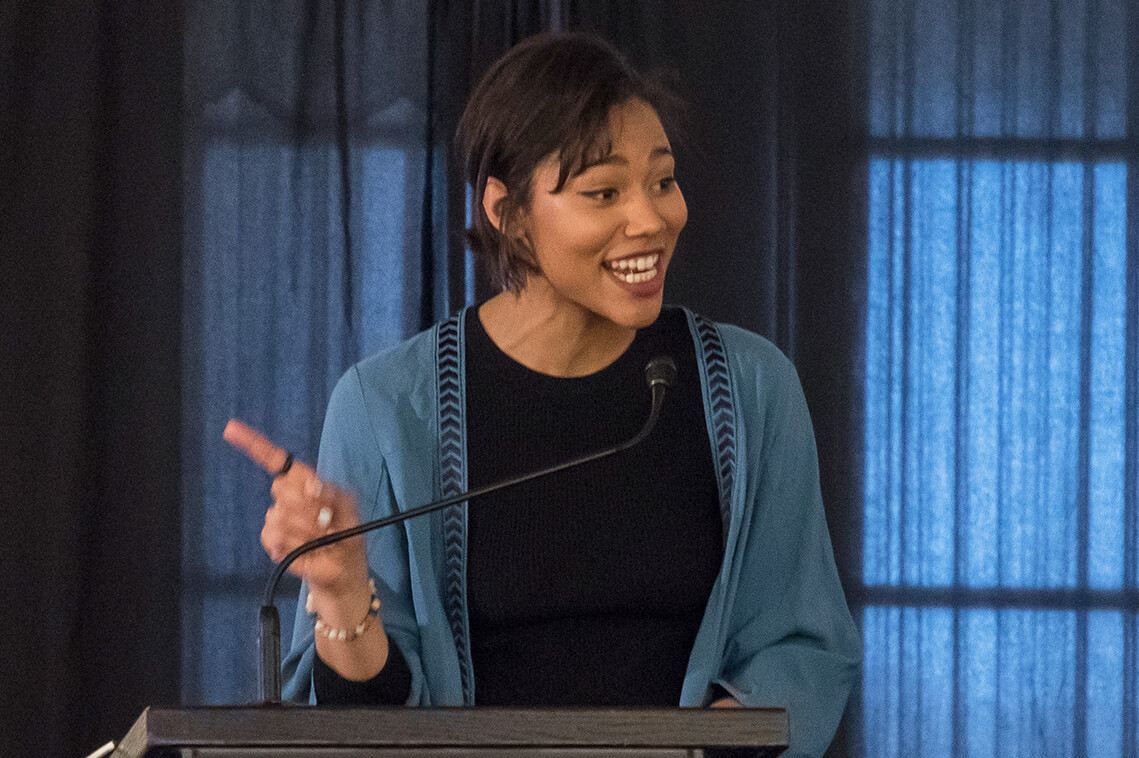 Graduating senior communications major Sophia Parola was tapped to be MTVU's newest VJ this year, beating out hundreds of others would-be hosts. Parola, who auditioned at Brookdale community College in September, wasn't allowed to tell anyone about her new gig until late in October, and since then has been scheduling shoots in between classes and exams.
Parola said juggling the new job with her schoolwork and her two other jobs was difficult, but she said the college channel was "very flexible" and worked hard to accommodate her busy school schedule.
"The most difficult part for me was trying to balance it all in my mind. I would be thinking about MTVU when I had to focus on school and at times I was very stressed, I even felt like giving up," Parola said. "But I would push through and it always worked out in the end. Also, it helped that my boss was very sweet and understood that school always came first."
University life helped prepare her for the new role, Parola said, but cites her role in CommWorks as one of the most helpful.
"I think the experience that prepared me most was being president of CommWorks: Students committed to Performance. It really helped me build my leadership, team building, and creative skills. All of which I have to apply to my job at MTVU," Parola said.
The Monmouth community rallied around her on the days when she felt overwhelmed, giving her the support she needed to push through.
"Some people here believed in me more than I believed in myself. I have been given a lot of opportunities here, and I've become much more confident in myself and in my work," said Parola. "They push you as a Monmouth student, and they push you not because they have to, but because they know you can do it."