November 2016
Psychology Prof Almost Meets Big Bird
Psychology professor Lisa Dinella's work has taken her, in just the past six months, from the home of President Barack Obama to the home of the Cookie Monster. In April, she was invited to attend a White House event called Helping Our Children Explore, Learn, and Dream Without Limits: Breaking Down Gender Stereotypes in Media and Toys. There, she spoke about her research on how children's interactions with toys and media can have profound, lifelong effects. While at the White House, Dr. Dinella met women who are in positions to put her research into action, women like Valerie Jarrett, Senior Advisor to the President, Sarah Hurwitz, speechwriter for Mrs. Obama, and Rosemary Truglio, Vice President of Education and Research for the Children's Television Workshop. It was Ms. Truglio who invited Dr. Dinella to travel this September to Sesame Workshop. There, the professor had an opportunity to present her research to writers, marketers, and educators, "people," she said, "from all divisions of Sesame Workshop, including digital media."
Dr. Dinella says that Sesame Workshop wants to learn "how to engage kids without gender labels," and she made recommendations to them based on the research she has done here at Monmouth. These recommendations include reducing the labelling of kids' toys and activities as either "for boys" or "for girls," normalizing "cross-gender" play, and showing boys and men in "nurturing" roles. Women, says Dr. Dinella, have made great strides in recent decades by becoming more "masculine," but gender equity will also require men to become more "feminine." Awareness of these gender roles begins as early as preschool, so it's important for organizations like Sesame Workshop to consider the images they present to the youngest viewers.
For Dr. Dinella, Monmouth undergraduates have served both as research subjects in her work on media portrayals of princesses and superheroes, and as invaluable research assistants. Her student research assistants do field work, write up research findings, and even help present at conferences. Everyone who visited Sesame Workshop, however, is sworn to secrecy about what the next season's programming holds. "But I promise," Dr. Dinella said, "that it will be cool!"
Dr. Paul Humphrey Attends Festival del Caribe in Cuba
This summer's renowned "Festival del Caribe: Fiesta del Fuego," in Santiago de Cuba, featured a speaker from Monmouth University: Professor Paul Humphrey of the World Languages Department. The Festival, with its focus on the religious and cultural practices of the Caribbean, is "both academic and fun," reported Dr. Humphrey. His research focuses on gender, sexuality, and African-derived religions in Caribbean literature, and he spoke at the Festival's Popular Religions Workshop about Rita Indiana's novel, La mucama de Omicunlé, a work "stressing pan-Caribbean unity and recognizing differences." However, both outside the Festival and as part of it, Dr. Humphrey had time to continue his research into Vodou and Santaría. In Havana he even had the opportunity to stay with a Santaria priestess. He said that some Cubans wonder about his interest in Vodou, which they see as darker and more dangerous than Santaría, but Dr. Humphrey says he has a "fascination with studying these cultural aspects and how they influence literature."
Dr. Humphrey, who, as a citizen of the UK, has travelled to Cuba several times with relative ease, says he sees changes in the country since the easing of US travel restrictions and the arrival of the Internet. But he says "it seems like it has changed on a personal level. On a wider level it hasn't changed." He described seeing groups of Cubans crowded around "wireless spots" in Havana, where they could access the Internet for about two dollars per hour. That's still a lot for some Cubans, where goods remain hard to find and the attitude of "making do" is still prevalent. He reported seeing tattoos and new hairstyles on this visit, as well as people wearing clothing with the American flag, in honor of Obama's visit to the island in March. Although travelers from the US still face some hurdles in going to Cuba, Dr. Humphrey was glad to report that this year's Caribbean Festival included an American delegation. And he is hopeful that someday in the not-too-distant future even student groups might be able to study and learn in Cuba.
Art of 1973 Chilean Coup on Display at Guggenheim Library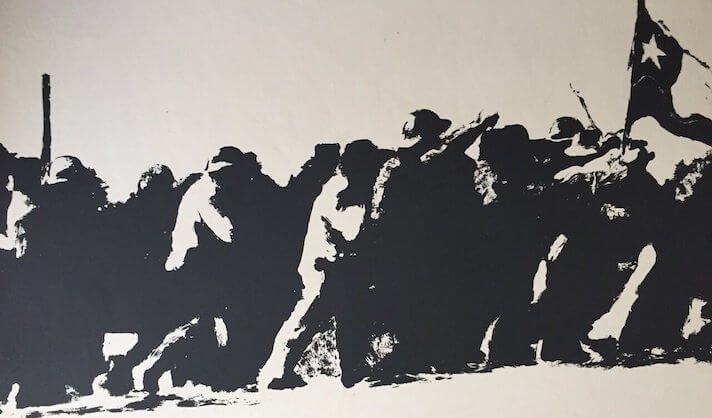 In observance of Hispanic Heritage Month, Dra. Priscilla Gac-Artigas, of the World Language Department, and her husband, the Chilean writer Gustavo Gac-Artigas, mounted an exhibit in the Guggenheim Library entitled Memorias—Geography of a Decade: Chile 1973-1983. The serigraphs, paintings, and photographs in the exhibit had not been seen in almost 35 years, and they had never before been displayed in the United States. They were exhibited in Europe and Northern Africa after the 1973 coup which overthrew Salvador Allende's government in Chile. Dra. Gac-Artigas was delighted with the support she received from Monmouth's Hispanic Heritage Committee and from the Library in planning for the exhibit. "Monmouth is my community, my home," she said. "It's so important that the exhibit was so welcome."
The exhibit's serigraphs and posters included works by José Balmes, Guillermo Núñez, Gracia Barrios (three Chilean National Art award winners), Joan Miró, Alejandro Marcos, Ernest Pignon-Ernest, Eduardo Berroeta and Jack Ottaviano. The striking photographs were taken at the time of the coup in Chile by photojournalists with the Gamma agency, one of the most renowned press agencies in the world in the seventies.
The last play performed in Chile before the coup, Libertad, Libertad, was directed by Gustavo Gac-Artigas, who had responded to a call from poet Pablo Neruda for Chilean artists and intellectuals to oppose Pinochet through their work, by speaking for "the people who have no voice." Because of his opposition, Gac-Artigas was jailed and eventually forced to flee to France. On Monday, October 3rd, he read from his forthcoming novel, And We Were All Actors: A Century of Light and Shadow, as part of the Memorias exhibit. "We are dinosaurs," he said of those who were in Chile at the time of the coup, "and we don't have a role. The only thing we want is to show people what happened." He hoped those who learn about his experiences will also say, as he does: "Nunca más. Never, never, again."
From Monmouth, Dra. Gac-Artigas hopes the works will travel to the Institute of Cervantes in New York and then to the University of Pennsylvania. She said many Monmouth professors had brought their art and political science students to see the exhibit in the Library, recognizing "the importance of learning this history."
Tuesday Night Record Club
Monmouth University's partnership with the GRAMMY museum in Los Angeles has inspired the University's new Tuesday Night Record Club, an event that's like a book club featuring albums instead of books.
Because of the way we now listen to music, through devices, apps, and streaming services, the concept of the "album" is becoming obsolete. The goal of the Tuesday Night Record Club, according to Communications Chair, Professor Aaron Furgason, "is to present albums that are significant culturally and resonate with as wide an audience as possible." Albums in the program this year include Blondie's Parallel Lines, The Beatles' Sgt. Pepper's Lonely Hearts Club Band, Bruce Springsteen's Nebraska, and Blonde On Blonde by Bob Dylan, this year's Nobel Laureate in Literature.
Just like in a book club, audience members are asked to listen to the album before the meeting, and to come prepared to discuss it. September's discussion of Nirvana's Nevermind included about fifty participants. Panel members included Rich Robinson and former PANTERA manager Kimberly Zide Davis. "If you truly love music," said Dr. Furgason, "then the actual artist or album should not stop you from participating in the club. Every type of popular music is connected in one way or another, and the discussions are meant to highlight relationships that might not be apparent to all listeners."
The Tuesday Night Record Club will continue through the Spring. All events are free, but seating is limited so please register in advance.
Professor Alex Gilvarry Discusses 14th Norman Mailer Conference
In late September the Norman Mailer Society held its 14th Annual Conference here at Monmouth University. This was the first time that the Conference had been held here at the place of Mailer's birth, so a special panel discussion on the history of Long Branch, NJ, and a tour of the Mailer family gravesite were offered. Mailer scholars from all over the country, as well as the author's family and friends, were in attendance. Assistant Professor Alex Gilvarry of the English Department said that "the conference is about honoring Mailer but also about debates about his work and choices." Mailer, Professor Gilvarry points out, "wasn't always on the right side of history." For example, his novel Prisoner of Sex took on second-wave feminism. Discussing the author's works gives panel members a chance to explore the politics and history of the decades in which Mailer worked. Professor Gilvarry said that "the purpose of the Society and Conference is to spread Mailer's work and influence. In my case it definitely worked."
In 2009 Prof. Gilvarry was writing his first novel and "needed space and time to write without working." He applied for and won a fellowship to live and work at a writer's colony located at Mailer's house in Provincetown, Massachusetts. He read Mailer's novels and his biographies before going, and while at the colony he was inspired by Mailer's family and friends, including Lawrence Schiller. "I found a little piece of history," he said of the experience. In part thanks to this fellowship, Professor Gilvarry went on to win the National Book Foundation's Five Under Thirty-five Award in 2014, for his novel From the Memoirs of a Non-Enemy Combatant.
Professor Gilvarry's forthcoming novel, Eastman Was Here, is "loosely based on Norman Mailer's life, and it's about a war correspondent in Vietnam who suffers a crisis of confidence," he says. It is a story about journalism, and not about war. As part of his research for the novel, Prof. Gilvarry travelled to Saigon and Hanoi in 2015, and even stayed at the Continental Hotel, where the journalists stayed during the war. "It's still there," he said with some awe.
On the last night of the conference, Professor Gilvarry gave a reading from Eastman Was Here. He acknowledged that hosting the Conference was an excellent thing for the English Department, but that it was also important for students in areas like film and women's studies to consider Mailer's influence. And he was especially proud that all Conference events were free to Monmouth Graduate and Undergraduate students.
Peace Corps Prep at Monmouth
On October 4th, Professor Frank Cipriani and Dean Nancy Mezey met with two representatives from the Peace Corps and a roomful of Monmouth students who are considering serving as Peace Corps volunteers after graduation. To make that transition from student to volunteer easier, the faculty members are encouraging students to become part of Peace Corps Prep, which Professor Cipriani likens to ROTC. "It's sort of the minor leagues" of the Peace Corps, he said. It is a certificate program for undergraduates which encourages students to develop skills valuable to successful Peace Corps volunteers, such as proficiency in foreign languages, leadership skills, and intercultural awareness. Monmouth is the only New Jersey university which participates in this program. The certificate will be valuable not only for the Peace Corps but for any job in the non-profit sector. In addition, Professor Cipriani reminded the students, Peace Corps Prep holds lots of great on-campus events, such as Practical Primitive, coming up later in October.
According to Peace Corps recruiter Daniel Turkel, who spoke to the students, the Peace Corps' main mission is "to promote world peace and friendship." The organization's goals are to increase the self-reliance of communities around the world, to share American culture, and to bring back to the United States knowledge of those cultures that the volunteers visit. Volunteering in the Peace Corps is a "life-defining leadership experience," Mr. Turkel said.
The students also heard from Quinn Hargitai, a returned Peace Corps volunteer who spoke about his experiences working in Albania. "Albanians aren't used to foreigners," he told them. "They aren't used to hearing their language spoken with an accent." He explained that the volunteers' first three months are spent in an intensive language class. "It's a really hands-on, good, effective language program," he said. Over his twenty-seven months in Albania he became so proficient in the language that he was able to read Harry Potter in Albanian. "I ended up with a really magical vocabulary!"
After being sent to Berat, Albania, a beautiful tourist destination, Mr. Hargitai got to work teaching English and working for the department of education. His secondary projects, which were just as rewarding, included establishing a youth center, organizing a book club and a creative writing club, working with girls through GLOW (Girls Leading Our World) Outreach, working with immigrant children through Roma and Egyptian Outreach, and starting an Ultimate Frisbee team. He said that saying goodbye to his Albanian friends and students was the hardest thing he did in the Peace Corps. He closed by reading a college application essay that one of his students had written about the youth center that the volunteers had started in Berat. The student's words brought some in the audience to tears, and led to many eager questions from Monmouth students considering taking this "life-defining" step of joining the Peace Corps.