April 2017
Springsteen Archives Come to Monmouth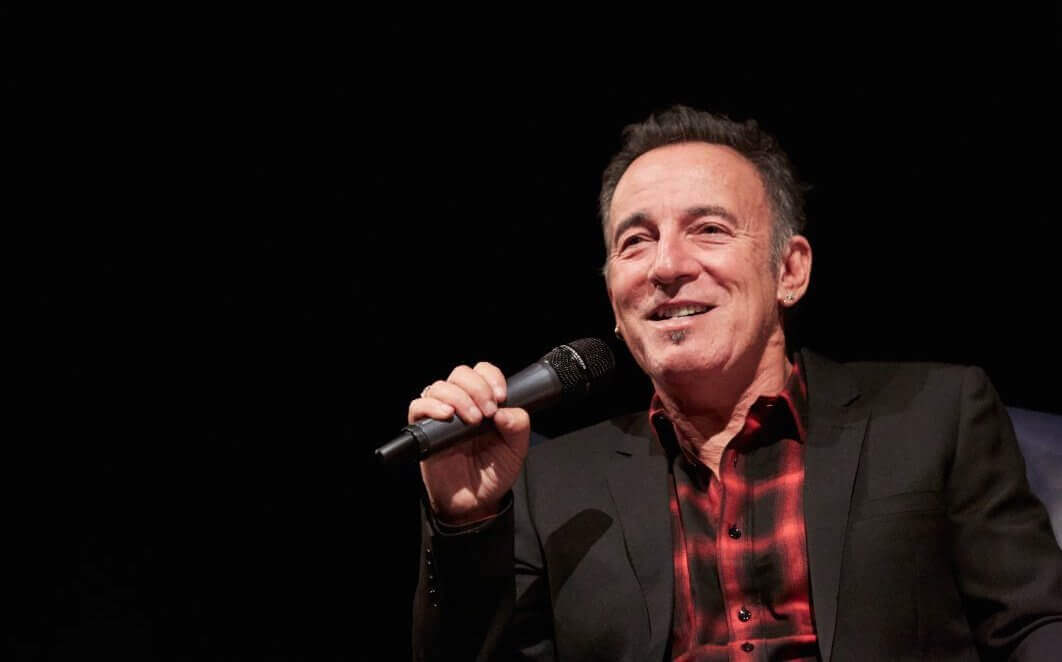 On January 10, 2017, a new partnership was announced which created the Bruce Springsteen Archives and Center for American Music here at Monmouth University. The Center will serve as the official repository for the Springsteen archives, which include artifacts dating from 1927 to the present day. The goal of the Center is to preserve the legacy of Springsteen and to celebrate and promote his important role in American music. The Center will also honor the work of other American music greats like Woody Guthrie and Frank Sinatra. "This will be a great harbinger for our students," says Dean Ken Womack. "They will have the opportunity for years to come to work with primary archival materials in the making of new knowledge about arts and music."
The Bruce Springsteen Special Collection, which is housed at the Center, contains nearly 35,000 items which have been brought together here from forty-seven different countries. It includes artifacts ranging from vinyl recordings, songbooks, and posters to historical memorabilia and academic journals and papers. Each item in the collection, down to the smallest ticket stub, is individually filed in an archival folder, and then each folder is stored in an archival box. This ensures that the artifacts will be in good condition for years to come. The Collection has been designed to meet the needs of everyone from fans and students to serious music scholars and researchers with an interest in the life and work of the Boss.
The Center's goal for the future is to build exponentially upon the ability to provide scholars and fans from around the world with public access to an expansive array of archives and programming. The Center will be the destination for researchers seeking stimulating academic discussion and discourse about Springsteen's work. It will provide not only entertainment, but insight into the work of the Boss and other legendary figures of American music. According to Dean Womack, "we now have an incredible opportunity to enhance MU's reputation in numerous exciting ways."
Research access to the Bruce Springsteen Special Collection is available by appointment only. Research appointments should be made at least two weeks in advance. To make an appointment, please email Eileen Chapman at echapman@monmouth.edu.
Music, Communications, and Business Students Visit LA
This March, Professor Joe Rapolla, of the Music and Theater Department, with Music Industry student Aja Armstrong, organized a trip to Los Angeles for 16 students from the Music, Communications, and Business programs. Accompanying them was Professor George Wurzbach. While in LA, students had private tours and meetings with executives at the GRAMMY Museum, the Microsoft Theater at LA Live, the Broad Museum, Universal Studios/CityWalk, and Capitol Records.
At the Grammy Museum, students learned of the many resources available to them through Monmouth's Grammy Museum affiliation. They participated in a real-time music sampling and recording session and had private access to the Museum as well as a career panel with the museum's Director of Education, Curator, and Director of Communications.
Next, students had a private tour and discussion with Russell Gordon of the Microsoft Theater, where superstars like Stevie Wonder and Christine Aguilera have performed. They discussed production and talent and venue management, and visited VIP backstage areas.
A personal tour and presentation by executives at CityWalk Universal Studios was arranged by Armstrong, who had interned at Universal. There, students discussed the full operation of CityWalk and its Main Stage production management. While at Universal they also visited the set of Entertainment Tonight while a segment of the show was being filmed.
"The LA trip was organized to help students build their music industry network and give them a glimpse of west coast entertainment. With new connections made at Universal Studios and Capitol Records, I'd say the trip was a huge success and should continue to be made by the music department for years to come", commented Armstrong ('19).
Professor Rapolla arranged for personal tour by senior-level management at Capitol Records and Studio at the famous Capitol Records tower. Students sat in the control room and performance space of the famous Studio A and in the archive where master tapes of the Beatles, the Beach Boys and Frank Sinatra are being digitized.
"I'm thrilled that we are able to give students this kind of unique access and experience. Developing and maintaining relationships and their personal brand is key to their career development. I always want them to see the many ways that they can apply their training in the music and arts-related industries," said Professor Rapolla.
The music students are now organizing a trip to Nashville to attend the Music Business Association Conference. Last spring 23 students made this trip, supported by the Student Activities Board. They met major artists and executives, including Warner Music Nashville Chairman John Esposito, and they visited Warner headquarters in Nashville.
Alum Katharine Gibson Wins Emmy Award
Katharine Gibson, Class of 2013, is an alumna with two great passions, and she's well on her way to fulfilling her dreams in both of them. Her first passion is baseball. "Ever since I was a little girl," says Gibson, "I knew that I wanted to be in sports in one shape or form." At Monmouth, she discovered the Communications field, a perfect avenue for her interest in sports. She majored in TV and Radio, with a minor in Sports Broadcasting. "I wanted to be the next Kim Jones. She was an old sideline reporter for the Yankees," says Gibson. "Knowing that I couldn't play on the field, I always wanted to be around it."
After graduation, Gibson went to work as a broadcast associate on the assignment desk at the daily sports show, MLB Tonight. Her main job was following breaking baseball news, such as major trades and player injuries. She followed news stories and got them to the producers in time to get on the air, and booked the guests who would appear on the show. As part of this team on MLB Tonight, Gibson won an Emmy award at the 37th Annual Sports Emmy Awards in 2016.
"Winning an Emmy is an amazing feeling," Gibson said. "You dream of something like this when you are a little kid, but I never in a million years thought that I would win an Emmy." She attributes much of her success to her time as an undergraduate at Monmouth. She felt prepared for the world of sports broadcasting, she says, because of the dedication and enthusiasm of her professors here, especially Specialist Professor Matthew Harmon of the Communications Department. "He was a very 'real' professor," says Gibson, "I can't thank Professor Harmon enough."
Gibson has now moved on to what she calls her "second passion," which is the city of Asbury Park and its redevelopment. She is now a marketing analyst for iStar, a company which is working to develop the Asbury Park waterfront. Gibson says that she has loved Asbury Park since she began going there in college, and wants to play a role in improving the city. "I'm very happy with where I am today," she says. "And now I know that if you work hard enough, anything is possible."
Mural by Sociology Professor Recognizes Student Activism
February saw the installation of a mural in Bey Hall which commemorates Monmouth University's history of student activism. Sociology professor Dr. Johanna Foster was the lead painter of Out of the Classrooms and Into the Streets: 50 Years of Student Activism at MU. "The mural," says Dr. Foster, "will give students an opportunity to learn about the university's history of activism on issues of peace and justice, and to see how students have worked together over the years to promote campaigns for equality."
Dr. Foster sees mural art as a vehicle for community-building and a way for people to learn about historical events through a visual format. She hopes her mural will be able to convey a history that is not generally known. The mural depicts the waves of student activism on campus, beginning with a sit-in opposing segregated student housing that existed at Monmouth at the time of Dr. Martin Luther King Jr.'s historic visit in 1966. Current students and alumni served as models for the student activists in the mural, who hold signs demonstrating opposition to the Vietnam War, apartheid in South Africa, cuts to funding for higher education, and violence against women. The most current issues raised in the painting, reflecting Dr. King's long legacy, are those of racial justice.
For inspiration and information, Dr. Foster turned to the archives of the Outlook, and looked for historical images of real signs carried by Monmouth students. In its short time on display the mural has had a significant impact, she says. "The mural has led to faculty having a sense of hope, and to overwhelming excitement from students who see themselves, their friends, and their concerns represented there." Professors from the Sociology, History, and Psychology departments have brought their classes to view the mural and discuss its relevance to social research and history. "The mural," says Dr. Foster, "has already become a teaching tool."
English Professor Attends International Poetry Festival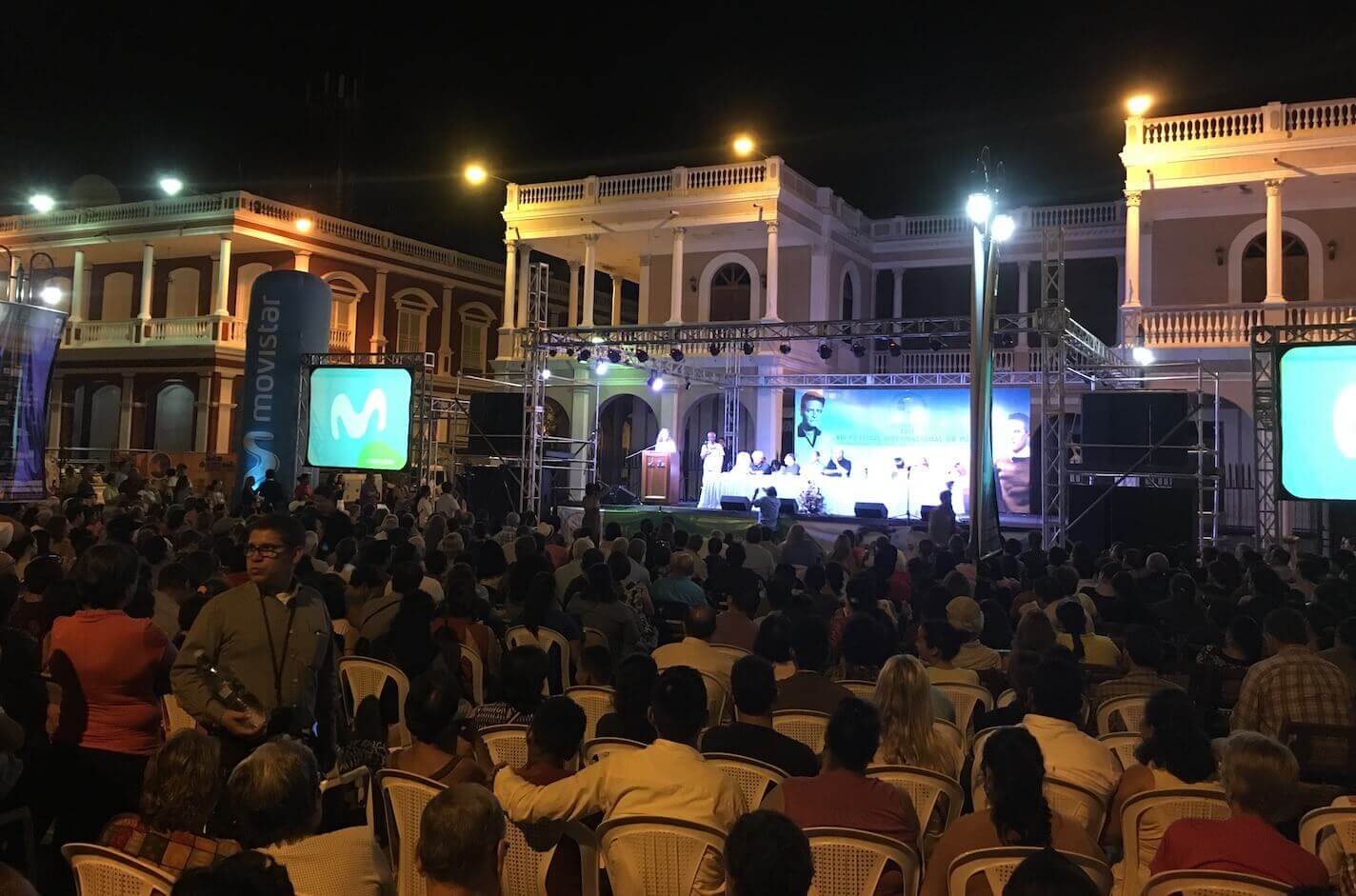 In February, Dr. Mihaela Moscaliuc attended the thirteenth annual International Poetry Festival of Granada in Granada, Nicaragua. This year's Festival commemorated the 150th anniversary of the birth of the Nicaraguan poet Ruben Darío. Dr. Moscaliuc was invited to join more than 160 poets who attended, from more than 60 countries around the world. The poets read their work in outdoor venues throughout the city, and poems in languages other than Spanish were translated for the hundreds of audience members who attended each night of the Festival. Dr Moscaliuc was amazed by the audiences, "the sheer number of people who came to listen and find beauty, hope, comfort, healing, escape, strength, and a sense of solidarity." She said the Festival was an example of "poetry in action, poetry at work on bridging class and cultural divides."
Dr. Moscaliuc read her poetry from the central stage in the city's main plaza, and also from a platform along the carnival parade route. On one day of the festival she travelled with a small group of poets to the town of San Juan del Sur Bay, on the Pacific coast. The poets read their work, met with local writers, and enjoyed a taste of the famous Flor de Caña rum. The townspeople took the poets to see a sculpture of Ruben Darío sitting on a bench with Mark Twain, which overlooks the bay. Twain had visited Nicaragua just after the death of Darío in 1916.
Dr. Moscaliuc says that the veneration of poetry that she saw in Granada reminded her of her youth in Romania. "In the midst of all kinds of deprivations, poetry came to represent the touchstone of our humanity, both a tool and a weapon, the one thing nobody could take away." She returned from the Festival determined to work to help both students and professors at MU overcome their fear of talking about poetry. "I want people to feel comfortable with poetry, and I want to get students, especially graduate students who also teach, to be passionate about it."
Students Explore Job Opportunities with Homeland Security, Criminal Justice Pros
The Criminal Justice Department held its fifth annual networking event last month in the Great Hall. Students there met with working professionals from local, state and federal agencies to discuss employment opportunities in the field. HawkTV's Jenna Frain caught up with some of the attendees to find out their thoughts on the event and how it could benefit students building careers in criminal justice and homeland security.