Day 1


Being in a Situation: The Art and Science of Resilience

Monday, March 21, 2022
7:00 – 8:30 p.m. EST
Session Description
This June 1 marks the beginning of yet another Hurricane Season. How Hurricane Smart are You?
In this session, Dr. Merrie Koester, Founder and Director of Kids Teaching Flood Resilience (KTFR) for the University of SC Center for Science Education, will share how youth in highly flood prone schools Title 1 schools in Charleston, SC, are learning what to Notice, Know, and Do to avoid getting into a Disaster Situation. Empowered by their new STEM literacy, students are invited to develop their Artistic capacities to create actionable messaging to help mitigate their community's flood hazard risk. They then become protagonists in their own Resilience Stories, even in the presence of extreme situational vulnerabilities. They also learn to advocate for sustainable development practices—especially those that don't continually put racially segregated communities at greatest risk of harm. Participants will explore community resilience education tools as well as collaborate to design Get Hurricane Smart innovations of their own!
STEAM literacy skills: The ability to locate and evaluate data, build arguments based on evidence and clearly communicate those ideas to others. All learning experiences will be centered around an ethic of care, as students move through the following learning progression: Observe/ Record / Analyze / Imagine / Create / Communicate / Empower.
Itinerary for Monday
| | |
| --- | --- |
| 7:00 – 7:05 p.m. | Welcome |
| 7:05 – 8:10 p.m. | Presentation and Workshop |
| 8:10 – 8:25 p.m. | Question and Answer Period |
| 8:25 – 8:30 p.m. | Closing Remarks |
Presenter
Merrie Koester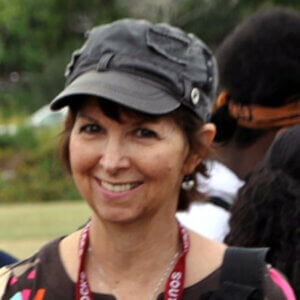 Merrie Koester, Ph.D. is a veteran science teacher and educational researcher, whose work centers building research practice partnerships between higher education, schools, community programs, and civic leaders to effect positive change in historically underserved schools and communities. In 2016, as part of her ongoing work with the University of SC Center for Science Education, Merrie initiated an action research study called Kids Teaching Flood Resilience, an educational outreach which foregrounds an awareness of the disproportionate impacts of climate change and unsustainable development practices on low-income, historically marginalized communities.
A poet, painter, and novelist, Merrie is a STEAM curriculum specialist and the founder of Read for Science, a woman-owned small business dedicated to bringing students into empowering relationships with reading, science and the arts. She is the author of a series of nationally implemented science education novels and curricula for middle grade readers. Her text, Science Teachers Who Draw: The Red Is Always There, recounts the research and narratives of science teachers who learned to use drawing and visual thinking pedagogies to meaningfully engage struggling readers, all previously failing their science classes.
Watch the Presentation