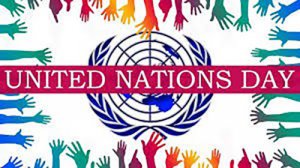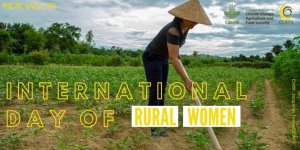 United Nations Activities: October 2021
This Month's Themes: No Poverty & Zero Hunger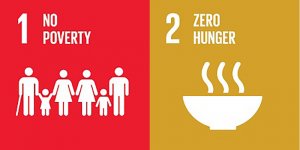 For the month of October, the United Nations (UN) focuses on the promotion of Sustainable Development Goal (SDG) 1, "No Poverty," and SDG 2, "Zero Hunger." Making progress toward achieving these two goals has become a challenge with the presence of the COVID-19 pandemic. It is necessary to implement a new approach in combating poverty and hunger during a pandemic that continues to detrimentally impact all corners of the globe.
Prior to the COVID-19 pandemic, poverty rates were on the decline; however, poverty rates are increasing at an alarming rate during the pandemic. The United Nations stated that, "COVID caused the first increase in global poverty in decades" and that over "71 million people were pushed into extreme poverty in 2020." These facts highlight the toll that the pandemic has had on fulfilling this SDG.
Intertwined with poverty is hunger. Access to food is a human right, but over one-fourth of our world population is food insecure (The United Nations, 2019). The COVID-19 pandemic has only perpetuated the economic and structural barriers in accessing food. The UN has proposed a "Global Humanitarian Response Plan," which provides the steps that will be taken to address poverty and food insecurity during the COVID-19 pandemic. To access the Global Humanitarian Response Plan and additional resources please use the links below.
Additional Resources:
Zero Hunger (Theme)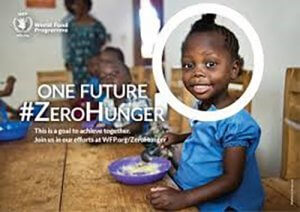 World Food Day celebrates the founding of the United Nations Food and Agricultural Organization of 1945. This year the United Nations is focused on spreading awareness of the impacts of the COVID-19 pandemic on the food system and increased levels of food insecurity. The United Nations encourages all to get involved through action or attending a virtual event to learn more about what citizens are doing worldwide to promote sustainable agri-food systems.
Get Involved: World Food Day Action Guide
World Food Day Events
Junior World Food Day (Virtual)
October 5, 2021
Time: 8 a.m. ET
An upbeat event filled with stories, music, dance, and presentations from internationally recognized food heroes. Guest speakers will include innovators and agri-preneurs, food activists, chefs, astronauts, actors, leaders, and students from across the globe.
World Food Day Global Events (Virtual)
October 15, 2021
Times:
World Food Ceremony (4 – 5 a.m. Eastern Time)
World Food Day Lecture by Klaus Schwab, Executive Chairman, World Economic Forum (5 – 6 a.m. ET)
A Dialogue of Tea and Coffee (8 – 9 a.m. ET)
Global leaders, FAO Special Ambassadors, heads of the Rome-Based UN agencies, and other keynote speakers will join FAO Director-General QU Dongyu to mark the World Food Day ceremony on Friday, October 15. The event will call for the transformation of agri-food systems to ensure that everyone, everywhere has access to enough, affordable, safe, and nutritious food to lead active and healthy lives.
2021 Borlaug Dialogue: Gaining Momentum: Food Systems Transformation in the Decade of Action (Virtual)
October 18-22, 2021
Time: To be announced
This three-day conference features an array of global experts who will discuss current issues related to food security and nutrition.
United Nations Day (76th Birthday!)
United Nations Day celebrates the official recognition of the United Nations dating back to 1945. The United Nations is by far the most well-known and influential global organizations in the world. Currently the United Nations strives to achieve the following:
Maintain international peace and security
Protect human rights
Deliver humanitarian aid
Promote sustainable development
Uphold international law
View video from last year's United Nations Day virtual event.
United Nations Day Event
UN Day 2021: Creating a Blueprint for a Better Future
October 25, 2021
Time: 3:30 p.m. ET
Celebrate the United Nation's 76th anniversary with a special virtual program, bringing together UN officials, young change-makers, and the most essential piece to our movement—you, our members.
World Mental Health Day
World Mental Health Day is an international day for global mental health education awareness and advocacy against social stigma. Through the World Health Organization, a specialized agency within the United Nations, World Mental Health Day provides an opportunity for individuals to consider their mental health and how their environment, whether at work, home, or elsewhere, might have an impact. It was first celebrated in 1992 at the world federations for mental health, a global mental organization.
World Mental Health Day Event
UN World Mental Health Day
October 10, 2021
Time: All-day event
This event is supported by the United Nations to raise public awareness about mental health worldwide.
Additional Resources: World Health Organization: Mental Health
International Day of Rural Women
The United Nations International Day of Rural Women celebrates and honors the role of rural women each year on October 15. It recognizes the major role that rural mothers, daughters, and grandmothers play in producing food and building agricultural and rural development worldwide.
Additional Resources: