Department of Professional Counseling
Department of Professional Counseling
Departmental Mission Statement
The department's graduate level programs are designed to train a diverse body of highly qualified students to be practitioners, leaders and advocates in the field of mental health. Our programs are designed to be accredited and are based on humanistic values promoting prevention, wellness, personal growth and human development, and on the benefits of counselor-client interaction. Our students will be individually supported to receive an effective educational experience tailored to their needs. Our graduates will meet the academic and skill requirements for state and national licensing and certification, and given a foundation for further education in the field.
The graduate programs in the Department of Professional Counseling aim to develop mental health professionals who can effectively address issues of wellness, personal growth, and pathology for the benefit of a diverse population.
The department offers three unique graduate degree options:
The Master of Science in Clinical Mental Health Counseling prepares students for licensure as Licensed Professional Counselors (LPC). This 60-credit program is accredited by the Council for Accreditation of Counseling and Related Educational Programs (CACREP).
The Master of Arts in Addiction Studies prepares students for licensure as Licensed Clinical Alcohol and Drug Counselors (LCADC). This 33-credit program is accredited by the National Addiction Studies Accreditation Committee (NASAC) and the International Coalition of Addiction Studies Educators (INCASE).
The Graduate Certificate in Professional Counseling is an eighteen-credit program designed for students who are completing or have completed a CACREP-accredited Master's degree in counseling and are in need of additional hours to complete the educational requirements of the Licensed Professional Counselor (LPC) licensure in NJ.
These programs satisfy academic requirements for the LPC and LCADC by providing course work in the core areas required for licensure. Our graduates are expected to contribute to and be leaders in their field through practice, education, and professional excellence.
Why is getting a master's degree so important? Learn more about the reasons and how it can help your career here.
---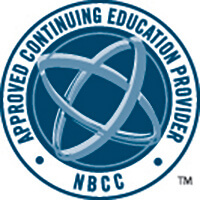 Monmouth University Department of Professional Counseling has been approved by NBCC as an Approved Continuing Education Provider, ACEP No. 4242. Programs that do not qualify for NBCC credit are clearly identified. Monmouth University Department of Professional Counseling is solely responsible for all aspects of the programs.
---
Students Awarded NBCC Fellowships
Clinical Mental Health Counseling students Sunanda Sharma and Samuel Shields were selected for the 2018 NBCC Minority Fellowship Program. Applicants for this program "must demonstrate knowledge of and experience with racially and ethnically diverse populations, and commit to providing mental health services to underserved minority transition age youth (16-25) populations," according to the NBCC website. Each student is given a monetary award to use towards their counselor education. We congratulate Sunanda and Samuel for this outstanding accomplishment!
Students Take First Place in ACA Ethics Competition
Department of Professional Counseling students Sunanda Sharma, Helene Maliko-Abraham, Madison Lawn, and Emily Ramos, under the supervision of Assistant Professor Dr. Sarah Springer, won first place in the American Counseling Association's Graduate Student Ethics Competition.
They were honored at a National Awards Ceremony and the essay was published in Counseling Today. Congratulations to them on this great achievement—we are incredibly proud!
Learn More about the Competition
---
Alumna Contributes to American Counseling Association Blog
Department alumna, Christine Hennigan Paone, wrote a blog for the American Counseling Association:
---
"Students enrolled in our programs learn to look at a problem from a variety of angles. By the time they graduate, they have a more comprehensive view of what makes people tick."
George Kapalka, Ph.D.
Professor
Department of Professional Counseling