Pre-Law Club/Mock Trial Team
Pre-Law Club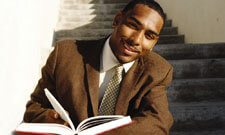 Monmouth's Pre-Law Club serves as the central information clearinghouse for all students interested in attending law school and learning more about the legal profession. The club meets regularly throughout the year and facilitates numerous law-related events, such as guest speakers, Monmouth alumni, and law student roundtables and visits from law school representatives.
Area law schools—including Seton Hall, Rutgers-Newark, Villanova, Drexel, Temple, and Rutgers-Camden—regularly send representatives to speak to the Pre-Law Club about admission questions. Meetings cover a range of topics, such as…
What in the Monmouth curriculum would best prepare students for law school.
Specifics about law school applications and the LSAT.
Workshops on surviving the "1L" year, including applied exercises on first-year law school aspects such as Socratic method, case briefing, outlining, and preparing for law school final exams.
The club also sponsors social functions that encourage the spirit of legal studies, such as Pre-Law "Movie Night," and serves as the organizational sponsor of the mock trial and moot court teams.
Mock Trial and Moot Court Teams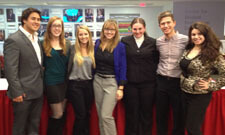 Monmouth's mock trial program consists of groups of six to eight students that compete nationally in the American Mock Trial Association's (AMTA) tournament. Teams receive a civil or criminal trial problem at the beginning of the year and work collaboratively to develop trial strategies. The program builds strong oral advocacy skills, as well as litigation skills critical for practical success in law school and beyond. Students are introduced to trial procedure, the law of evidence, and proper courtroom appearance and professionalism.
Competing in a series of invitational tournaments in the fall and early spring, AMTA regionals generally take place in February of the spring semester. Moot court competition is the equivalent of appellate advocacy in the legal profession. Students are charged with writing a legal brief laying out in detail a legal argument before a mock appellate judge panel, and also engaging in an oral argument on the merits of the brief.
All students interested in mock trial or moot court are encouraged to contact Professor Ryan Tetro